High Court to decide on Pell appeal bid this week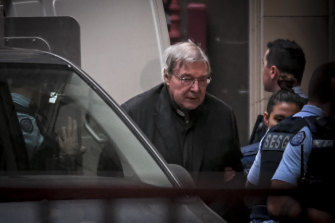 A decision on whether disgraced cardinal George Pell can appeal his child sexual abuse conviction in the High Court will be made this week.
The court will announce its decision at 9.30am on Wednesday in Canberra.
Pell, 78, was found guilty by a jury of the rape of a 13-year-old choirboy and sexual assault of another at St Patrick's Cathedral in Melbourne in 1996 but Australia's most senior Catholic has always denied any wrongdoing.
Pell was convicted by a Victorian County Court jury in December last year of one charge of rape and four charges of an indecent act with a child.
He was sentenced to six years' jail and is not eligible for parole until late 2022.
The charges arose from allegations first made to police in 2015 by a former choirboy who said that Pell raped him and sexually assaulted his friend nearly 20 years earlier inside the priests' sacristy of St Patrick's Cathedral when the boys were 13.
Pell is seeking to take his case to the High Court, arguing that justices Ferguson and Maxwell failed to properly weigh the testimony of the choirboy against evidence given by church figures who testified to the near impossibility of the offences taking place as described.
AAP