Fiona McIntyre does not necessarily claim the label "horse whisperer", but she confesses to a knack of being able to help high-strung racehorses "learn how just to be a horse again".
First, she takes them off a diet suited for a "highly tuned athlete", then she simply puts them in a paddock at home in Bannockburn for a couple of months to let them feel what it's like to relax before gradually starting to train them for a slower life.
Fiona McIntyre and ex-racehorse Caravan Rolls On, one of 24 horses she cares for.Credit:Jason South
"I think I was really lucky to have parents who handed the gift on to me," says Ms McIntyre, who was named the 2020 Racing Woman of the Year for her work with retired thoroughbreds.
"My parents were incredible horsepeople [her father a stud-master and her mother also a re-trainer of racehorses] and loving compassionate people.
"They showed me the way you treat the horse is the way it will react to you. It's about being patient with them."
Having grown up around horses, and as one of 57 people registered with Racing Victoria's Off the Track program to retrain thoroughbreds for other equestrian sports, Ms McIntyre still feels "scarred", as large numbers of Australians were, by the ABC's shocking expose last October on maltreatment of racehorses sent to knackeries by the industry.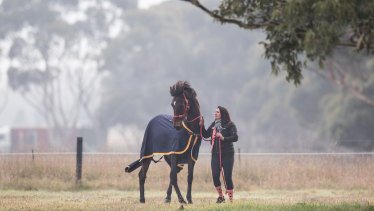 Ms McIntyre helps former racehorses learn to live a calmer life.Credit:Jason South
But she, along with Equestrian Victoria (the body that covers Olympic horse sports such as dressage and eventing, as well as showing) say one positive since is an increase in the number of horses bred for racing that are finding homes and fresh starts in other disciplines.
Equestrian Victoria CEO, Matthew Brown, says as people become aware of the availability of retrained racehorses they are being embraced by horse sport competitors across age-groups.
"There are kids aged from 14 up who are getting access to these beautiful Off the Track thoroughbreds, getting them retrained and absolutely loving them," he said.
At Equestrian Victoria's Masters Games in February, 30 per cent of the 200 horses that competed were former racehorses, double their numbers in previous years.
The way you treat the horse is the way it will react to you. It's about being patient with them.
The RSPCA policy and advocacy manager, Mhairi Roberts, said the number of horses being bred for racing still needs to be reduced and the fact too many are born is "a real concern to us".
She said there have been good steps taken to improve and safeguard horse welfare since the 7.30 program, including establishment this month of the Equine Welfare Advisory Council, of which the RSPCA Victoria's CEO, Dr Liz Walker, is a member.
"There's definitely been an impetus for change," said Ms Roberts. "We want to make sure more changes keep happening to really ensure some of these welfare issues are addressed ... including issues such as the risk of injury in racing."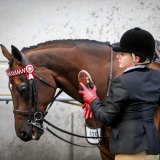 Ms McIntyre and her horse Sirmione, a former racehorse trained by Bart Cummings, at the Melbourne Show competing in Garryowen. 22 September 2015. The Age NEWS. Photo: Eddie Jim.Credit:Eddie Jim
The RSPCA is advocating for the establishment of a national, public horse traceability register which "will help provide community assurance that information is available to review the fate of horses after they leave the industry" and allow horse welfare to be tracked throughout their lives.
In the meantime, Ms McIntyre is working one horse at a time to help deliver long, second lives to her charges. One of those, four-time Melbourne Cup starter Precedence, took show horse honours at the Queen's Royal Windsor Show (held virtually) in May.
She has also worked with UK-bred racehorse Caravan Rolls On – now known as "Rollo" (pictured) – which she has transformed into a show horse who came to her via Off the Track (which along with the Team Thoroughbred NSW will shortly receive $100,000 raised by sales of socks in racing colours).
Had he not been able to adapt, Rollo could have joined 23 other horses Ms McIntyre keeps and works full-time at an employment agency in Geelong to support – at a cost of $2200 in feed a month.
"I've had horses over the years that haven't transitioned, they're too highly strung ... two of those are with me, still, living a life of luxury.
"I have dear darlings. One is 26 or 27 and still going great guns."