It's half an hour before opening time on the second day of trading and already customers are rattling a door handle that's still locked.
"We're open at 12," service manager Andrew Duong mouths through the window, a couple of people wander off, but a few take a seat on the bench outside which faces Alinga Street, more than happy to wait for their lunch.
He gathers the staff for a briefing, explaining how it all works: the menu, where to put both takeaway and eat-in customers, who's responsible for what. There is a slight pre-service tension in the air.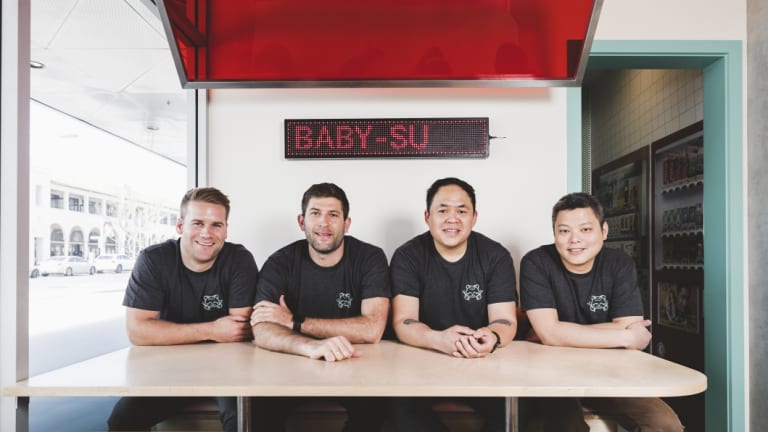 The Baby Su team, from left: Jared Calnan, Ben Ilic, Andrew Duong, and Shao Yi Kuek. Photo:

Photo: Jamila Toderas
There'll be no chance to be lazy at Baby Su, that much is guaranteed.
The brainchild of the team behind Braddon's Lazy Su, Baby Su, on the corner of Alinga Street and West Row in the Mayfair building, is the latest addition to the No Name Lane precinct, opening from noon til 10pm seven days a week.
With glowing red neon, the quirky lucky cats, peach, pink and green notes, a pumping soundsystem and friendly staff, it's already exuding the same vibe that has made Lazy Su such a success.
And that's a big part of the reason why co-owners Duong, Jared Calnan, Ben Ilic and chef Shao Yi Kuek took the chance on this new quirky diner.
"The concept of Baby Su came from feedback from customers at Lazy Su," says Calnan.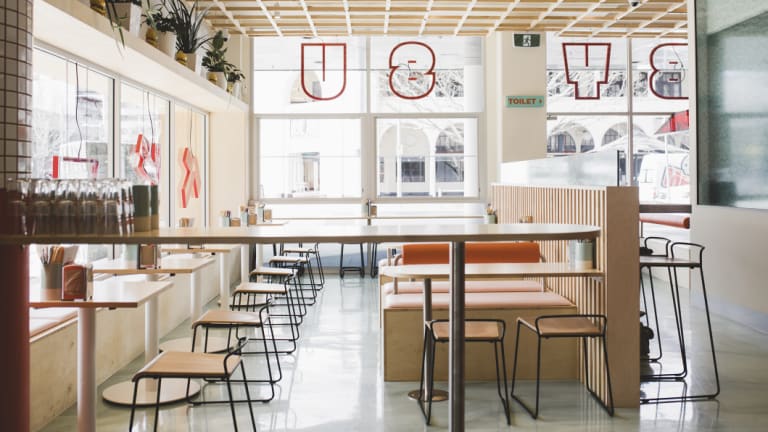 There's a funky vibe to the latest venture from the team that brought you Lazy Su.

Photo: Jamila Toderas
"A lot of them were saying we want to come here more than once a week or we want your food more than once a week but we don't necessarily want to sit down and order it in traditional restaurant style.
"They were saying why can't you guys do takeaway and delivery and have a place we can go out in our trackpants and ugg boots and still get the same food."
The always had plans to do delivery from Lazy Su but soon realised the kitchen would be too busy to cope with more. They talked about finding a kitchen hidden away in Braddon somewhere that would just do delivery but that wasn't the solution either.
"We started to think about lunch as well and started looking closer to the ANU and when we found this spot it was perfect."
The menu reflects the Pan-American-Asian flavours that are a trademark of Lazy Su. You can get a few favourites, the Wagyu cheesesteak springroll ($6), as are the Bao-gers and the Fried chicken is "done in a different way", says Calnan, "but we had to have it on the menu here".
There's also a range of new bowls, noodle soups and rice bowls, and a matcha and white chocolate craquelin cream puff if you know it's going to be a long afternoon at work.
Or try a Lucky Pack ($17) with your choice of Boa-ger, some waffle cut fries, a fried chicken drumstick, with the option of a "tap softie" in lychee or passionfruit flavours.
Indeed, the drinks menu is a great one. There's four beers on tap, including a Capital Brewing Summit XPA, a good range of packaged beers, including some Asian ones, and spirits and highballs and sake.
The drinks menu is a great one, and it will surprise you, from beer on tap, to special edition wines from Nick O'Leary.

Photo: Jamila Toderas
Nick O'Leary has helped the team with a couple of signature wines, a Mr Roboto Riesling and a Pinot "Meow" Noir. There's also a Nick Spencer rose.
While the whole concept of Baby Su is about that quick and casual dining, this team knows how to create a venue where you would want to hang out. And if it is in your trackpants and uggs, what could be more perfect.