No more hotel quarantine for Victorian arrivals as McGowan urges visitors to download app
People arriving in Western Australia from Victoria will no longer have to quarantine in a hotel as of Monday.
WA's chief health officer advised the hotel quarantine for Victorians was no longer necessary, as long as they had somewhere to self-quarantine safely. Travellers and returning residents must still quarantine for 14 days on arrival.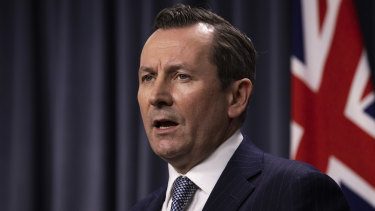 WA Premier Mark McGowan.Credit:Getty
They will be COVID-19 tested on arrival in Perth and again on day 11 of their quarantine period. People currently in hotel quarantine will need to complete their stint.
From the same day, New South Wales arrivals will be subject to the conditions that apply to arrivals from all other states.
Loading
Premier Mark McGowan said people coming to WA should download a new 'G2G Now' app, which would allow police to check in on people remotely while they are in self-quarantine.
The app was a national first, Mr McGowan said.
The outlook in Victoria was improving significantly, but a cautious approach was still needed, he said.
"We have come so far in our COVID journey, we don't want all our efforts ... to go to waste," he said.
The government announced the tougher border regime in July, based on advice from the chief health officer with cases rapidly growing over east.
WA reduced the exemptions available to people coming from Victoria to slow the flow and arrivals had to quarantine in a hotel at their own cost.
Shortly after, Mr McGowan strengthened measures for people from two more states and reduced the exemption list for people coming from NSW.
"We recognise that these measures were extremely tough ... I want to thank everyone for their commitment to doing the right thing," Mr McGowan said on Tuesday.
Mr McGowan said the measures were successful in protecting West Australians, with the hard border still one of the most effective measures in place.
WA has now gone 171 days without community transmission.
"It has meant in WA, life is virtually back to normal," Mr McGowan said.