Melbourne's trains will not be shut down for four hours next week, with the public transport union dropping plans to go on strike.
The Rail, Tram and Bus Union has withdrawn plans for a four-hour work stoppage on Tuesday, August 27, saying it was making positive progress in its negotiations with the rail operator.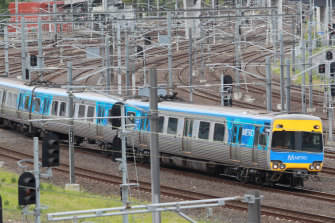 However, Yarra Trams workers are still on track to walk off the job on Friday, August 30.
The train strike cancellation comes amid warnings from Metro's chief executive Raymond O'Flaherty that the stoppage would cause commuter chaos, leading to cancellations and delays across the network.
"This is a great result for our passengers – and a strong sign that negotiations for a new enterprise agreement are moving in the right direction," Mr O'Flaherty said.
Metro's offer is a 2 per cent annual pay increase over thee years, with the union seeking 6 per cent a year. Negotiators are meeting up to five times a week, with both sides agreeing that bargaining is being done in good faith.
"We are pleased that the pace and intensity of negotiations is lifting towards a fair and reasonable agreement for our employees," Mr O'Flaherty said.
"As we have said from the outset, new agreements can be reached at the bargaining table, and without disrupting our passengers."
RTBU state secretary Luba Grigorovitch said the decision doesn't stop the union from launching further strikes if negotiations sour again. She said the union must give seven days notice if they do decide to walk out.
But she said the two parties were now in "serious negotiations" and she was hopeful of an outcome soon.
"We would like to think that these negotiations will continue progressing at a steady rate, however if there is stalling by Metro or we believe that we're not in a good position, then we will reassess our options."