Champion stallion Redoute's Choice has died aged 23 in his paddock at Arrowfield Stud.
The stallion had been a dominant force in the Australian breeding industry for more than two decades and leaves a legacy that includes 34 group 1 winners, including the likes of Snitzel, Miss Finland, Samantha Miss, Lankan Rupee and star colt The Autumn Sun.
Redoute's Choice was humanely euthanised after suffering a traumatic loss of mobility, despite intensive care by Arrowfield's veterinary and stallion teams.
His most recent win came courtesy of perhaps his best son, when The Autumn Sun took out the Rosehill Guineas on Saturday. Arrowfield boss John Messara has long rated The Autumn Sun as the natural successor to Redoute's Choice, whose death will surely mean the end to his three-year-old son's on-track duties, with his stud career now a priority.
"It is a great consolation to me that Redoute's Choice leaves us at the top of his game, having sustained his greatness as a sire from start to finish, across the full span of his career," Messara said.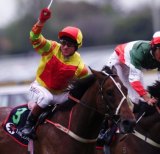 "His legacy to Australian breeding and racing is immense, through his sire sons, his broodmare daughters, his final crops still to come and all the people he touched over the past two decades."
Redoute's Choice was a son of Danehill, a stallion Messara brought to Australia before he became a worldwide star. On the track, Redoute's Choice won the Blue Diamond at only his second start and would add group 1s in the Manikato Stakes, Caulfield Guineas and Orr Stakes in a storied career.
But it was as a stallion that his influence will be felt for generations to come with 163 stakes winners. Redoute's Choice was Australian champion sire three times and also produced Snitzel, which has also won that crown.
He was the rock on which Arrowfield's success was built but his influence will continue.
Along with Snitzel, the Hunter Valley nursery also stands Redoute's Choice sons Not A Single Doubt, Scissor Kick and Pariah. They will soon be joined by The Autumn Sun.
"Redoute's Choice is such a big part of all our lives, and right now it's hard to imagine Arrowfield without him," Messara said.
"He has given us so much. Arrowfield has been built on his back and he's allowed all of us and many, many other people to fulfil our dreams and ambitions.
"I thank Muzaffar Yaseen for allowing us to buy into Redoute's Choice almost two decades ago. Our partnership has always been amicable and it has achieved all that we could hope for, and more.
"I'm grateful to all my team, past and present, who are part of his story, especially those who have cared for and worked with Redoute's Choice every day, and have ensured that he's had the long and wonderful life he deserved. There are many tears being shed at Arrowfield today.
"I also thank everyone who helped us launch his stud career, his shareholders, and those who bred to him, and bought, raced, trained and rode his progeny. He has blessed us all."
Redoute's Choice
GROUP 1 WINS ON THE TRACK
Blue Diamond
Manikato Stakes
Caulfield Guineas
Orr Stakes
PREMIERSHIPS
Champion Sire of Australia, 2006, 2010 & 2014
Champion 2YO Sire of Australia, 2005 & 2006
Champion First Season Sire of Australia, 2004
TOTAL PROGENY EARNINGS $157.2 million
STAKESWINNERS 163 (81 colts, 82 fillies)
2YO STAKESWINNERS 38
STAKES WINS 329 (261 Australia, 25 NZ, 20 South Africa, 6 France, 5 Dubai, 3
each UK, HK & Japan, 1 each Macau, Turkey & Germany)
GROUP WINNERS 106 (50 colts, 56 fillies)
GROUP 1 WINNERS 34 (16 colts, 18 fillies)
GROUP 1 WINS 54
CLASSIC WINNERS 16
CLASSIC WINS 21 (9 Guineas, 7 Oaks, 5 Derbys)
2YO G1 WINNERS 9 (6 colts, 3 fillies)
MILLION-DOLLAR EARNERS 17
LEADING EARNERS
MISS FINLAND - $4,632,775
LANKAN RUPEE - $4,129,510
THE AUTUMN SUN - $3,489,121
CHAMPIONS
LANKAN RUPEE – Horse of the Year, Champion Sprinter
MISS FINLAND – Champion 2YO & Champion 3YO Filly
SAMANTHA MISS – Champion 3YO Filly
FASHIONS AFIELD – Champion 2YO
STRATUM – Champion 2YO Colt
GOD'S OWN – Joint Champion 3YO
NADEEM – Joint Champion 2YO Colt
MAJMU – Champion 2YO Filly (SAF)
MUSIR – Champion 2YO Colt (SAF); Champion 3YO Miler (UAE)
MUSTAAQEEM – Champion 2YO Colt (SAF)
LIFETIME YEARLING SALE AVERAGE $417,000
MILLION DOLLAR YEARLINGS 79