Washington: She was the 11-year-old girl who smeared the blood of a dying friend over her own body in a bid to stay alive.
Now, two weeks after surviving the Uvalde mass shooting, Miah Cerrillo has recounted the terror of that day as the US Congress comes under growing pressure to act on gun violence.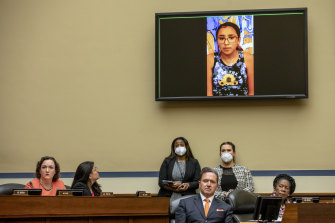 Miah Cerrillo, a survivor of the mass shooting, appears on a screen during a House Committee on Oversight and Reform's hearing on gun violence.Credit:Jason Andrew/The New York Times via AP, Poo
In a pre-recorded message to a bipartisan committee looking into America's controversial gun laws, the fourth grade student at Robb Elementary School explained how she and her classmates hid in terror from gunman Salvador Ramos, only to watch as he opened fire in a horrific attack that ended up killing 19 children and two teachers.
"We went to go hide behind the teacher's desk, behind the backpacks," Miah told the House Oversight and Reform Committee, adding that she no longer felt safe at school.
"Then he shot a little window and then he went to other classrooms. There's a door between our classrooms. He went there, followed my teacher and told my teacher 'goodnight' and then shot her in the head. Then he shot some of my classmates and the whiteboard, and then he shot my friend.
Loading
"I thought he was going to come back so I grabbed her blood and put it all over me and stayed quiet. Then I grabbed my teacher's phone and called 911. I told them that we need help and to send the police."
Miah's harrowing testimony came as the House prepared to vote today on a bill to establish so-called "red flag" laws that would allow police and individuals to seek extreme risk protection orders in the federal court.
The House is also set to debate a bill later that would raise the minimum age from 18 to 21 on purchases of certain firearms and toughen prohibitions on untraceable guns.
The proposals are among several being pushed by House Democrats, but their success is ultimately going to come down to the evenly-split Senate, where the Democrats - who have 50 votes out of 100- will need to find at least 10 Republicans to support a bill in order for it to pass.
Senate negotiations are also separately taking place, looking at measures such as upgrades to school security, strengthening mental health services, and doing more to keep guns out of the hands of people who are legally barred from owning them.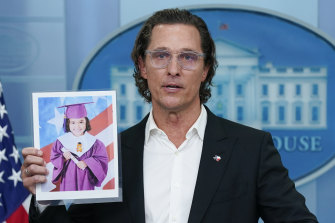 Actor Matthew McConaughey holds a picture of Alithia Ramirez, 10, who was killed in the mass shooting.Credit:AP
While momentum has been building for change across the country, most Republicans strongly support the Second Amendment right to keep and bear arms, and many have made it clear they do not want broad-ranging restrictions on the sale of guns - even the assault-style rifles that were used in the Uvalde massacre.
The shooting by an 18-year-old gunman at Robb Elementary took place merely 10 days after another 18-year-old opened fire at a supermarket in a predominantly black neighbourhood in Buffalo, New York. The racially motivated attack killed 10 people, and wounded three others.
Last week, another mass shooting also occurred at a medical facility in Tulsa, Oklahoma, when a man gunned down his doctor and three others before killing himself.
Loading
Other people affected by the recent shootings also appeared at today's committee hearing. Among them was Miah Cerrillo's father, Miguel, who told the committee how his daughter had not been the same ever since the massacre.
"I've lost my baby girl," he said, choking back tears. "She is not the same girl that I used to play with and do everything with … I thank y'all for letting me be here to speak out but I wish something would change, not only for our kids, but every single kid in the world because it's not safe."
Other witnesses included Felix and Kimberly Rubio, the parents of Lexi Rubio, who was one of the 19 children killed in Uvalde; Zeneta Everhart, the mother of Buffalo shooting survivor Zaire Goodman; and Roy Guerrero, a pediatrician who treated many of the victims in Uvalde.
In chilling detail, Dr Guerrero recalled the sight of the first two dead children who arrived at the hospital, "whose bodies had been pulverised by bullets fired at them. Decapitated, their flesh had been ripped apart."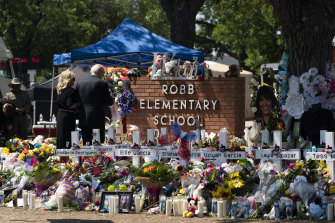 President Joe Biden and first lady Jill Biden visiting a memorial at Robb Elementary School in Uvalde on Sunday.Credit:AP
"Innocent children all over the country today are dead because laws and policy allows people to buy weapons before they're legally old enough to even buy a pack of beer," he told the politicians in Washington.
"I do my job ... please, please do yours."
Get a note directly from our foreign correspondents on what's making headlines around the world. Sign up for the weekly What in the World newsletter here.