Singapore: United States defence chief Lloyd Austin has hit out at China for its dangerous confrontations with an Australian aircraft over international waters, saying the increase in Beijing's military intercepts in the past few weeks "should worry us all".
Speaking at the Shangri-La Dialogue defence summit in Singapore on Saturday, the former army general took aim at Beijing for its coercive and aggressive approach to its territorial claims in the South China Sea and with Taiwan.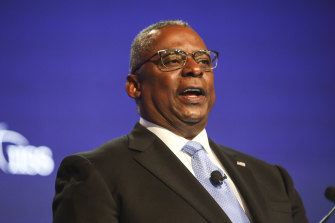 US Defence chief Lloyd Austin delivers speech at the Shangri-La Dialogue on Saturday.Credit:AP
Austin, the US Secretary of Defence, met face-to-face for the first time on Friday with Chinese State Councillor and Defence Minister Wei Fenghe, who will deliver a speech at the conference on Sunday.
The American used the meeting on the sidelines of the summit to highlight the need for the superpowers to "maintain open lines of communication" while Wei told Austin China hoped for "sound and stable major-country relations with the US", according to official statements.
If there was a conciliatory tone to those talks, the defence chief did not miss the opportunity to call out Beijing and its armed forces when he took to the lectern here on Saturday.
Austin slammed the interception of an Australian surveillance plane near the disputed Paracel Islands last month in which a People's Liberation Army Air Force fighter jet cut in front of it and released chaff that was ingested into the Australian aircraft's engines. Canada has also accused of China of harassing one of its patrol planes flying near North Korea last week.
China State Councillor and Defence Minister Wei Fenghe will speak in Singapore on Sunday.Credit:AP
"We've seen an alarming increase in the number of unsafe aerial intercepts and confrontations at sea by PLA aircraft and vessels," Austin said.
"In February a PLA navy ship directed a laser at an Australian P-8 maritime patrol aircraft, seriously endangering everyone on board.
"In the past few weeks PLA fighters have conducted a series of dangerous intercepts against Allied aircraft operating lawfully in the East China and South China Seas. This should worry us all."
After the latest Australian incident, China said it had repeatedly warned the surveillance plane that it was approaching airspace China claims as its own, and forecast "serious consequences" for breaches of its sovereignty.
Austin, however, said it was further evidence of Beijing's unacceptable intimidation and that the US and allies would continue to fly, sail and operate where international law allowed.
He said the "stakes are especially high in the Taiwan Strait".
"Our policy is unchanged and unwavering. We are determined to uphold the status quo that has served this region for so long," he said.
"Our policy hasn't changed but unfortunately that doesn't seem to be true for the PRC. We see growing coercion from Beijing. We've witnessed a steady increase in provocative and destabilising military activity near Taiwan. And that includes PLA aircraft flying near Taiwan in record numbers in recent months and nearly on a daily basis.
"We remain focused on maintaining peace, stability and the status quo across the Taiwan Strait. But the PRC's moves threaten to undermine, security, stability and prosperity across the Taiwan Strait."
The US did not seek an Asian version of NATO with the region split into hostile blocs, according to Austin. But he said Putin's war "has reminded us all of the dangers of undercutting an international order rooted in rules and respect" and Washington would "defend our interests without flinching".
"Let's be clear: Russia's invasion of Ukraine is what happens when an oppressor tramples on the rules that protect us all," he said. "It's a preview of a possible world of chaos and turmoil that none of us would want to live in."
Austin's speech came after Japanese Prime Minster Fumio Kishida warned the meeting of defence leaders that "Ukraine today may be East Asia tomorrow".
In his strongest foreign policy speech since he became prime minister, Kishida said it was time for Japan to step up its defence capability and diplomatic power to prevent war in the region.
"The responsibility Japan must fulfil is heavy," he said. "We must be prepared for the emergence of an entity that tramples on the peace and security of other countries by force or threat without honouring the rules."
The speech was a significant escalation in Japan's diplomatic posturing towards China after years of more cautious negotiations with Beijing.
Tokyo has positioned itself as a quiet negotiator that could raise its concerns with China behind closed doors but is increasingly alarmed at China's intentions towards Taiwan, which has islands 230 kilometres off the coast of Japan.
Loading
In comments targeted at Beijing, Kishida said international laws in the South and East China Seas were being broken."Peace and stability across the Taiwan Strait, which is located between these two seas, is also of extreme importance," he said.
"Unfortunately, much of activities not respecting people's diversity, free will, and human rights is also taking place in this region."
Kishida singled out Australia for promoting "security cooperation" in the region and said Japan, the US, India and Australia would spend $80 billion on infrastructure investment through the Quad in the Indo-Pacific over the next five years.

Get a note directly from our foreign correspondents on what's making headlines around the world. Sign up for the weekly What in the World newsletter here.