The 35th annual Woodford Folk Festival has been cancelled, with organisers confirming the popular cultural event will not go ahead this year.
In a statement posted on social media on Friday, the organisers said "with heavy hearts" the time had come to confirm Woodford would not run this year in its usual late December to early January slot.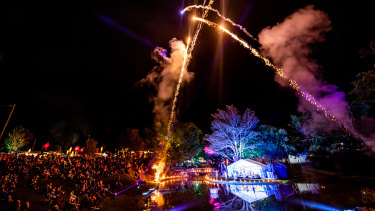 Woodford Folk Festival is held within the Moreton Bay region, north-west of Brisbane.
Instead, a five-day camping holiday at Woodfordia, the festival's annual home about an hour's drive north of Brisbane, will be held over the September holidays.
The camping experience, Bushtime, will include evening concerts, discussions, bushwalking and workshops for participants. The new camping program will be open for bookings later in August.
Woodford, named for the small town near its regular location, regularly attracts high profile national and international guests. The last six-day festival hosted author Neil Gaiman among others.
Loading
Former Prime Minister Bob Hawke was famed for attending the festival regularly, even when in poor health in his last years of life.
Hawke appeared at the festival every year from 2008 to 2017, before his health restricted him.
He wasn't well enough in 2018 to mingle with the crowd, but recorded a video of him singing Waltzing Matilda from his accommodation in downtown Woodford during the festival.
It ended up being his final public appearance before his death the following May.
However, Hawke's wife Blanche D'Alpuget attended the festival last year and unveiled a Hawke mural painted in his honour by Melbourne artist Colin Sheppard and a sculpture by her son Louis Pratt.
About 130,000 people are estimated to attend the festival each year, creating an entire pop-up town with thousands of volunteers.
The festival is one of many to fall prey to the pandemic shut-down this year, with Bluesfest at Byron Bay postponed to 2021.
Lucy is the urban affairs reporter for the Brisbane Times, with a special interest in Brisbane City Council.
Toby Crockford is a breaking news reporter at the Brisbane Times
Loading