Footy fans who have spent days sleeping out in the cold have finally got their hands on preliminary finals tickets, while hundreds of anxious punters continued to wait to secure their spots online.
Some of Australia's most ardent footy fans began camping out on the streets as early as Saturday night, ahead of Monday's release of tickets for the AFL preliminary finals.
A sellout crowd pushing 100,000 is expected for Friday night's Richmond v Collingwood preliminary final, while Optus Stadium will likely host a near-capacity crowd of 60,000 for the West Coast v Melbourne preliminary final on Saturday.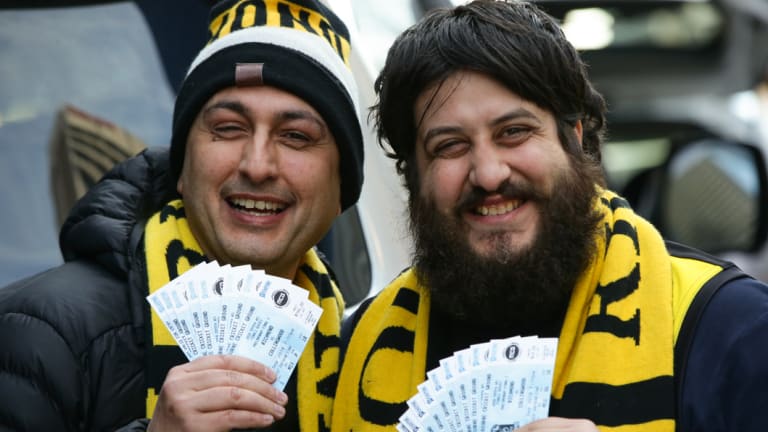 Dino Krommydas and Dennis Jim Moschoyiannis with their tickets.

Photo: Jason South
Diehard Tigers fans Dennis Jim Moschoyiannis and friend Dino Krommydas had been lining up outside the Ticketek offices in Melbourne from late Saturday night and managed to purchase 26 tickets for their family and friends at 9am.
"It's an awesome feeling," he said. "Yellow and black, back to back."
He said they had decided to line up to enjoy the atmosphere with other fans and guarantee they got tickets.
Loading
"It's part of the atmosphere, to get together."
Tigers fan Kirsty Upjohn, 38, had also been camping out since Saturday night and had secured 11 tickets with her partner Frank.
"We wanted to make sure we got tickets, there are so many members between the two clubs, it's easier doing it the old-fashioned way. You are guaranteed tickets instead of it crashing," she said.
"We are very relieved we got them, they are in our hands, now we can relax and get some sleep."
Those attempting to secure tickets online have been met with mixed results, with some able to get through to the site and purchase their spots within ten minutes.
However, others were reporting issues with the Ticketek mobile app, with dozens of people taking to social media to post screen shots of an red "bot" which appeared when they try to log in to the site using the app.
Ticketek urged those users try another device or another browser as "antibot software" had flagged the individual.
AFL Fans Association spokeswoman Cheryl Critchley also tweeted that scalpers had already started selling tickets within half an hour for hundreds of dollars.
Before tickets went on sale on Monday, many fans were sceptical about Ticketek's online purchasing system, after it went into meltdown for week one of the finals.
The Ticketek website was unable to cope with the demand at the end of August, and it was forced to shut down its website and introduce new staggered on-sale times to enable a smoother process.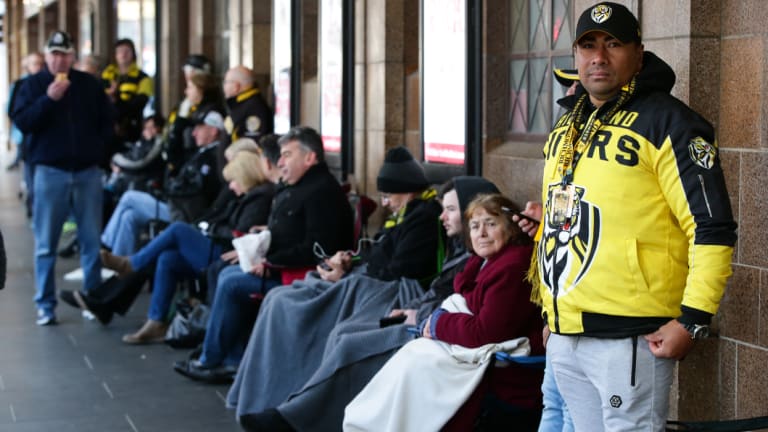 The freezing wait for finals tickets.

Photo: Jason South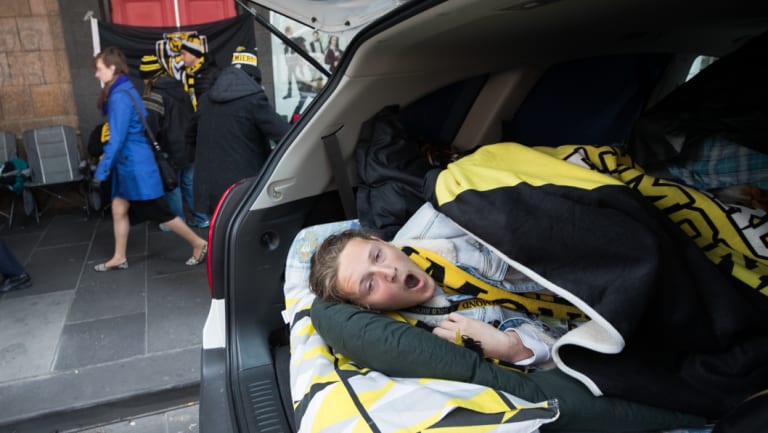 Tigers fan Jesse Kelly has been in line and in his car since the game on Saturday night.

Photo: Jason South
Loading
Following the Ticketek debacle in August, a furious AFL CEO Gillon McLachlan admitted he wanted a different company to look after finals ticket sales, forecasting dire consequences for Ticketek if a similar meltdown occurred in the future.
"There's got to be consequences, there has to be," McLachlan told 3AW several weeks ago.
Optus Stadium, where the Demons play the Eagles, runs its ticketing through Ticketmaster.