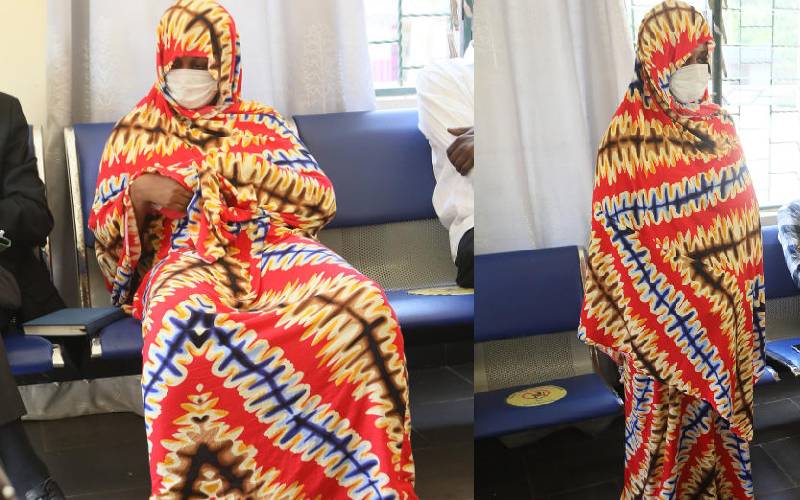 Nuru Murshid Mahfudh in the dock at Shanzu law Court in Mombasa. [Omondi Onyango,Standard]
A woman in Mombasa was on Thursday charged with trafficking 36,764 grams (about 36.8kg) of heroin worth Sh110 million in her house in Utange Mombasa County.
According to the prosecution, 29-year-old Nuru Mahfud was arrested on May 20 2022 at her house in White House at Joho area in Utange within Kisauni sub-county with 29 packets of heroine wrapped with a foil paper in a suitcase concealed beneath one of the bedrooms.
Police also recovered nine more packets of heroin stashed in a TV carton. They also recovered a digital weighing machine in the kitchen and two Kenyan passports of Mahfud and Farid Shaban Athman.
She denied the charge before Principal Magistrate Yusuf Shikanda and was detained for seven days pending a probation report to determine if she qualifies for bail terms.
On May 23, Investigation Officers told Shanzu Chief Magistrate that they are investigating whether Nuru Mahfud is a supplier of the heroin or she is working with peddlers.
Mahfud through her lawyer Eugene Wangila notified the court that she was has been bleeding and asked to be granted bail to seek special medical attention.
"The accused person is two months pregnant. She started bleeding while coming to court and has been assisted by the sisters in the police force. It is her first pregnancy and we don't want her to suffer twice," said Wangila.
Shikanda ordered that a probation report be availed within seven days before he determines if Mahfud will be admitted to bail.
He also directed that the accused be detained at Shimo La Tewa Women's prison pending a probation report to determine if she qualifies to be released on bond. Shikanda also directed that Mahfud be taken to hospital in case of a medical emergency.
"I find it prudent to call for a pre-bail report within seven days before I make a ruling on bail. She be remanded at Shimo La Tewa prison and in case of any medical emergency, she be taken to hospital," said Shikanda.
However, State prosecutor Peris Bosibori said that Mahfud was a flight risk given the nature of the offense she is facing are serious with a hefty penalty if convicted.
Bosibori said the prisons are able to cater for her medical needs and the court can order she gets special health attention.
She said the prosecution has a strong case because Mahfud was found red handed with the heroin in her house and attracts a 50 years' jail term with a Sh50 million fine or double the amount or both.
"Given the street value of the narcotics and impact of such drugs in the society, we pray the accused be denied bail for the rest of the trial and if the court decides to give bail we pray for a pre-bail report to know where she is working so we can submit on the same," said Bosibori.
She said that Mahfud has previously traveled to Dubai and Tanzania and if released she will jump bail and escape through the porous borders.
"The previous travel history of the accused person indicates she travelled out of the country several times and we fear she is a flight risk and might escape through our porous borders. She has been to Dubai and Tanzania," said Bosibori.
The prosecutor said if released, she is likely to interfere with witnesses given her close relationship with some of the witnesses.
However, Wangila said the passport indicates Mahfud travelled in 2012, 2013, 2016 to Tanzania for a family visit and to Emirates for work.
"All her passports are expired and can't be used to travel. And even so, they represent travels from 2016 backward and the offence was allegedly committed in 2022," said Wangila.
He said there was no report from receiving countries that Mahfud broke any law and that there are enough police to man the borders.
Wangila said whereas the decision to grant bail is made by balance of probability, the issue of compelling reasons must be undeniable and beyond reasonable doubt.
"We oppose the submission by prosecution. The Constitution gives every person a right to bail despite the offence unless there are compelling reasons that must be undeniable," said Wangila.
Wangila said all the witnesses in the case were police officers and there was no birth certificate before court to prove that the witnesses were Mahfud's family.
"Kenya has a witness protection unit and they haven't shown they are protecting any witness or supplied any statement to demonstrate witness interference," said Wangila.
He said the strength of the evidence can only be determined through trial.
Police had previously suspected the narcotics were cocaine but after a government chemist analysis, it was proved to be heroin.