Two juries have found her guilty of murder. Now a Supreme Court decision means she is set to be tried yet again.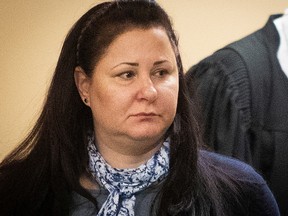 Adele Sorella, pictured at the Laval courthouse in 2018, appealed her murder conviction, arguing the presiding judge erred in not allowing her to present a defence suggesting someone else could have killed her young daughters.

Photo by Pierre Obendrauf

/

Montreal Gazette
Adele Sorella, who was twice convicted of murdering her young daughters in Laval in 2009, faces a third trial in the case after a Supreme Court decision Thursday.
Canada's top court decided it will not hear the Crown's request to overturn a decision by the Quebec Court of Appeal made earlier this year.
Sign up to receive daily headline news from the Montreal Gazette, a division of Postmedia Network Inc.
By clicking on the sign up button you consent to receive the above newsletter from Postmedia Network Inc. You may unsubscribe any time by clicking on the unsubscribe link at the bottom of our emails. Postmedia Network Inc. | 365 Bloor Street East, Toronto, Ontario, M4W 3L4 | 416-383-2300
Thanks for signing up!
A welcome email is on its way. If you don't see it, please check your junk folder.
The next issue of Montreal Gazette Headline News will soon be in your inbox.
In March 2019, a jury found Sorella, now 56, guilty of two counts of second-degree murder in the deaths of daughters Amanda and Sabrina De Vito. The girls were nine and eight years old, respectively, when their lifeless bodies were found inside the family's home on March 31, 2009.
Sorella appealed the verdict, arguing the presiding judge erred in not allowing her to present a defence suggesting someone else could have killed the girls.
Sorella wanted to make the argument that one or more persons who knew her husband, Giuseppe (Ponytail) De Vito, could have been responsible for the deaths.
De Vito was the leader of a group that was part of the Montreal Mafia, and he was on the lam when his daughters were killed. He hid from police after he was charged in 2006 with cocaine smuggling in Project Colisée, a major investigation into the Mob.
De Vito was eventually found and sentenced to a 15-year prison term. He died of cyanide poisoning in July 2013 while incarcerated at the Donnacona Institution near Quebec City.
No one was ever charged in connection with De Vito's death. An investigation by Correctional Service Canada revealed he showed no signs of being suicidal before he died.
In March of this year, three judges with the Quebec Court of Appeal unanimously agreed with Sorella that the judge in her case erred in not allowing the defence to submit the theory that organized crime could have been involved in the deaths of her girls.
The appellate court set aside the jury's verdict and ordered a new trial. Barring unforeseen circumstances, it will be the third time Sorella will be tried on charges related to the same homicides.
In June 2013, a different jury had found Sorella guilty of two counts of first-degree murder. But the Quebec Court of Appeal ordered a new trial after ruling the presiding judge in that case made errors while instructing the jury on how to reach a verdict.
Sorella's case is to return to court in October.
pcherry@postmedia.com
Adele Sorella guilty of second-degree murder in deaths of daughters

More stories from the crime beat