Retailer cites declining sales and dimming prospects in decision to close iconic downtown music and book store.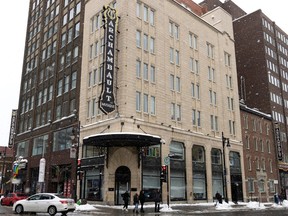 The Ste-Catherine and Berri Sts. location of Archambault Music will be closing this summer. The store is seen in on Friday, Jan. 27, 2023.

Photo by Allen McInnis

/

Montreal Gazette
As Gordon Flood browsed through the Archambault music store on Saturday morning, he couldn't help but wax nostalgic about the Montreal landmark that's expected to close its doors for a final time in June.
This was the store where Flood used to buy all his CDs when he moved to the nearby Gay Village almost a quarter century ago, the place where he purchased a ukulele case as a gift for a friend. The store's distinctive art deco sign hanging high up on the side of the building at Berri and Ste-Catherine Sts. could be seen from miles away.
Sign up to receive daily headline news from the Montreal Gazette, a division of Postmedia Network Inc.
By clicking on the sign up button you consent to receive the above newsletter from Postmedia Network Inc. You may unsubscribe any time by clicking on the unsubscribe link at the bottom of our emails or any newsletter. Postmedia Network Inc. | 365 Bloor Street East, Toronto, Ontario, M4W 3L4 | 416-383-2300
Thanks for signing up!
A welcome email is on its way. If you don't see it, please check your junk folder.
The next issue of Montreal Gazette Headline News will soon be in your inbox.
"It's really sad," Flood said as he walked out of the store. "We have fewer and fewer of these landmarks around."
On Saturday morning, the once-thriving hub for local musicians was nearly bereft of customers, its drum kits sitting forlornly in the back of the store. No one was around to marvel at the burnished electric guitars hanging on the walls. The store's employees outnumbered the few customers strolling through its aisles.
Citing declining sales and dimming prospects for future profitability, the retailer announced Friday it will be shuttering at the end of June a store that was founded in 1896. It was in 1930 that Edmond Archambault built what many Montrealers consider to be a seven-storey architectural jewel to house the music store.
Floriane Claveau, communications director for Groupe Archambault Inc., lamented the "deterioration in the commercial potential of the store" amid "vast construction sites" in the area, among other factors.
"Over the years, this sector of the city of Montreal has become a laboratory of urban diversity and is no longer able to generate sufficient traffic," Claveau said in the statement, adding the company does not dispute the city's choices. "However, we cannot ignore this new reality."
Indeed, when the flagship Archambault location shuts for good, it will be but the latest in a string of almost two dozen retailers on Ste-Catherine St., east of Berri, that have closed in recent years. Only a few steps away from Archambault, an entire city block of businesses — including the Da Giovanni restaurant — are all now padlocked.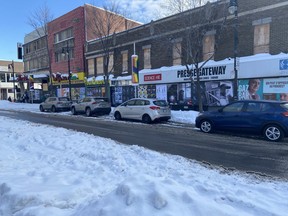 Stores and restaurants on Ste-Catherine St., just east of Archambault, that have closed.
Some residents and store owners blame the ubiquitous presence of IV drug users and the unhoused for driving away customers.
At Chery Nails, Chery (who declined to have her last name published) said she was shocked to learn the iconic music store will cease operations this summer, noting it was one of the few commercial draws to the shopping district.
"Business is not as good as it used to be," she said. "People are scared to come here with all the drug users that you find outside."
Rami Houcheche, who works at home-electronics retailer La Source farther east on Ste-Catherine, noted that the unhoused often come to sleep inside the Berri-UQAM métro station and Place Dupuis.
"This area was never as busy as the Eaton Centre," Houcheche said, alluding to the popular shopping mall on Ste-Catherine near McGill College Ave. "But there are now a lot of homeless people and drug users gathering here."
Still, there are other factors that have contributed toward the commercial sector's decline. Never-ending street construction and renovations that have been dragging on at Berri-UQAM have made it nearly impossible at times to find decent parking. Condo developers have also bought out some businesses to put up new residential buildings.
Sammy Abrahim, who was fastening a sign to his gift shop to advertise fireworks, was also surprised to discover Archambault will soon be gone.
"It's all because of corona and Amazon," Abrahim said, referring to the pandemic's impact as well as the online retailer juggernaut.
"Amazon has been a big factor. It's becoming harder for us to compete."
aderfel@postmedia.com
twitter.com/Aaron_Derfel
Archambault to close its iconic store at Ste-Catherine and Berri Sts.

Gay Village looking for ways to reinvent itself