Author of the article:
The Canadian Press
Jim Bender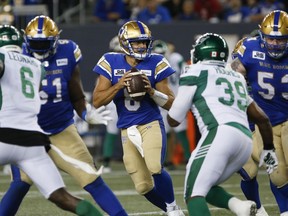 Winnipeg Blue Bombers quarterback Zach Collaros (8) throws against Saskatchewan Roughriders during first half CFL action in Winnipeg Friday, September 30, 2022.

Photo by John Woods

/

THE CANADIAN PRESS
WINNIPEG — Coming off their worst performance of the season, the Winnipeg Blue Bombers defence forced six turnovers to lead the way in a 31-13 victory over the Saskatchewan Roughriders before a sold-out crowd of 33,234 fans at IG Field.
Winnipeg, which had given up 48 points to the Hamilton Tiger-Cats last week in a loss, forced three turnovers on downs, a fumble and grabbed two interceptions to improve to 13-2 and clinch a home playoff game in the West.
Sign up to receive the daily top stories from the National Post, a division of Postmedia Network Inc.
By clicking on the sign up button you consent to receive the above newsletter from Postmedia Network Inc. You may unsubscribe any time by clicking on the unsubscribe link at the bottom of our emails. Postmedia Network Inc. | 365 Bloor Street East, Toronto, Ontario, M4W 3L4 | 416-383-2300
Thanks for signing up!
A welcome email is on its way. If you don't see it, please check your junk folder.
The next issue of NP Posted will soon be in your inbox.
Winnipeg quarterback Zach Collaros completed 14-of-25 passes for 296 yards and four touchdowns. Kicker Marc Liegghio hit all four extra-point attempts and added a 22-yard field goal.
Saskatchewan falls to 6-9 but remains in the playoff picture.
Riders quarterback Cody Fajardo completed 26-of-38 passes for 307 yards and one interception. He also ran for a seven-yard TD.
The Bombers offence broke out of its slump just after Saskatchewan kicker Brett Lauther hit his second field goal of the night. Collaros connected with Nic Demski for a 42-yard touchdown, his second of the game. The play capped off a two-play, 70-yard scoring drive.
Collaros followed that up with a 64-yard touchdown strike to slotback Dalton Schoen, for a highlight-reel catch. It was another two-play drive, which went for 64 yards to give Winnipeg a 31-13 lead midway through the fourth quarter.
The Riders pulled to within 17-13 early in the fourth quarter. After a 12-play, 74-yard drive stalled at the Winnipeg seven-yard line, Lauther booted a 14-yard field goal.
Saskatchewan had opened the scoring in the second half. Fajardo capped off a seven-play, 80-yard drive with a seven-yard TD run on third and short. The drive was aided by a roughing-the-passer penalty on defensive lineman Ricky Walker. Lauther's extra point allowed the Riders to cut the deficit to 17-10 midway through the third.
The Bombers took advantage of a long interception return to take a 17-3 lead into the second half. Defensive back Jamal Parker picked off Fajardo and raced 37 yards to the Saskatchewan 37-yard line with just 59 seconds left in the half. Winnipeg took just 40 seconds to go 37 yards in five plays, capping it off with a 25-yard touchdown pass from Collaros to Demski.
On Saskatchewan's previous drive, the Bombers defence had stuffed Fajardo on a third and short to force the first turnover of the game.
After a 13-play, 78-yard drive, the Bombers settled for a 22-yard Liegghio field goal to give them a 10-3 lead early in the second quarter.
Winnipeg had taken a 7-3 into the second quarter. After giving up a 25-yard Lauther field goal, the Bombers marched 70 yards in just four plays on its first scoring drive. It was capped off with a 36-yard toss from Collaros to wide receiver Rasheed Bailey for the major.
The Riders will next take on the Tiger-Cats in Hamilton on Oct. 7. Meanwhile, Winnipeg will next play host to the Edmonton Elks on Oct. 8.
NOTE — With his first catch of the game, slotback Dalton Schoen became the seventh Bombers receiver to pass the 1,000-yard milestone in his rookie season.
This report by The Canadian Press was first published Sept. 30, 2022.