"He was not aware of the tragic events of Dec. 6, 1989," France Margaret Bélanger says about Canadiens goaltender's Instagram post.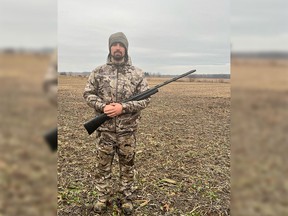 Carey Price took to Instagram on Dec. 3, 2022, to oppose Bill C-21.
Photo by Carey Price via Instagram
Montreal Canadiens goaltender Carey Price was not aware of the 1989 Polytechnique massacre that claimed 14 lives when he posted on Instagram about gun rights, but the team apologized Monday "to any and all who have been offended or upset by the discourse" on the eve of the anniversary of the mass murder.
On Saturday, Price took to Instagram to oppose Bill C-21, the federal government's new firearms bill. In his post, Price said he supported the Canadian Coalition for Firearm Rights, which made headlines last month for using POLY — as in the PolySeSouvient gun control group, formed after the 1989 shooting — as a promo code.
Since the Montreal Canadiens making the Stanley Cup finals for the first time in 28 years, this newsletter is the dedicated Montreal Canadiens fan's source for exclusive Habs content, insight and analysis.
By clicking on the sign up button you consent to receive the above newsletter from Postmedia Network Inc. You may unsubscribe any time by clicking on the unsubscribe link at the bottom of our emails. Postmedia Network Inc. | 365 Bloor Street East, Toronto, Ontario, M4W 3L4 | 416-383-2300
Thanks for signing up!
A welcome email is on its way. If you don't see it, please check your junk folder.
The next issue of HI/O: Montreal's Road to the Cup will soon be in your inbox.
The anniversary of the Polytechnique shooting is on Tuesday.
My views are my own and I do believe in them.

The only reason I bring up this issue is because it is what's being brought up now and not out of disrespect to anyone.

No, I did didn't agree with the promotional code either.

— Carey Price (@CP0031)

December 5, 2022
"The only reason I bring up this issue is because it is what's being brought up now and not out of disrespect to anyone," he wrote, adding he did not agree with the coalition's choice of promotional code.
I continue to stand beside my fellow hunters and sport shooters who have legally acquired our property and use in a safe manner.

— Carey Price (@CP0031)

December 5, 2022
"I continue to stand beside my fellow hunters and sport shooters who have legally acquired our property and use (it) in a safe manner," Price added.
A spokesperson for federal public security minister Marco Mendicino said the firearm Price is carrying in his Instagram post would not be banned under Bill C-21.
"Our bill does not target firearms currently used for hunting and we fully respect the traditions of hunters and Indigenous Peoples," Audrey Champoux said in a statement.
An amendment to Bill C-21 introduced last month proposed expanding the definition of a prohibited assault-style firearm.
While the Liberal government has maintained the definition applies only to guns that belong on the battlefield, Conservative MPs have said it would affect a number of hunting rifles and shotguns.
Champoux accused Conservative politicians and pro-gun groups of inciting fear instead of participating in the debate.
"We're not going after hunting rifles or shotguns," Prime Minister Justin Trudeau said at a news conference in Ontario. "We are targeting the most dangerous weapons."
He added that "we're listening to feedback" about whether the new criteria are overly broad "to make sure that we're not capturing weapons that are primarily hunting weapons."
Nathalie Provost, a survivor of the Polytechnique massacre and a gun control advocate, said she was disappointed by the reaction to Price's post.
"His personal associations are his business," Provost said. "What disappoints me is that his position creates confusion. Mr. Price's intervention adds to the confusion of an already complex debate."
'We support Carey': Edmundson
The topic of Price's post came up during pre-game interviews on Monday.
Defenceman Joel Edmundson said he was "a little bit" aware of the controversy. "I wouldn't say I'm very aware of it, but we all know Carey. We know what kind of guy he is — he's always loved hunting. It's one of his passions. I think his post was just kind of saying he wants to be able to hunt and he's entitled to that. It's unfortunate that people are looking at it the wrong way because we all know Carey's a loving, caring guy that he is. I don't think he wanted to put anyone in a bad position or cause any stir-up. We support Carey. We know he meant the right intentions when he posted that. So definitely behind him."
When asked if he understands the outrage his post has created with some people with the Polytechnique anniversary coming up, Edmundson said he didn't think Price was aware of the anniversary. "None of us are really aware of what happened 30 years ago. The anniversary is fast approaching — it's news to all of us, to be honest. But we're with Carey. There was no bad intentions on his part. It's just being blown out of proportion and we support him."
Edmundson, who was born in Brandon, Man., four years after the Polytechnique massacre, said Canadiens staff "fill us in on what's going on and they keep us in the loop. But for the most part we try to focus on the next game, next day. Obviously there's a lot of stuff going on in the world, especially around the Montreal area and Quebec. The team informs us of what's going on. They do a good job with that."
Head coach Martin St. Louis said he remembers the Polytechnique shootings well because he was 14 and was in high school at Collège Notre Dame, adding he was shaken by the event.
"It's something that happened in 1989," St. Louis added. "How old was Carey in 1989? Two years old. I don't think he knew what was going on in Quebec back then."
Price was born in 1987 and grew up in Anahim Lake, a small village in northern British Columbia.
Asked what his personal reaction was when he heard about Price's Instagram post, St. Louis said: "I mean right away I know Carey … it's not something that he's trying to do at that time based on the date of the event that happened (at Polytechnique). It's unfortunate, but Carey's a family man and he's sensitive. He's got two girls and a boy. It's not like he's trying to stir it up or anything. He's entitled to his opinion, but I don't think that it was meant to come across that way."
Asked how much Price has been around the team this season: "A little bit. Not too much. And sometimes he could be around and maybe I don't know he was around because we're busy working on things. So I can't say how much he's been around, but I've seen him around. It doesn't mean that I don't see him that he's not around."
Monday evening, before the team was set to play the Canucks in Vancouver, the team released a statement announcing it had made an unspecified donation to the Week of the White Rose campaign to encourage women in STEM. The statement referenced Price's comments directly, and reiterated that he was "unaware of the CCFR's recent marketing campaign nor was he aware of the unfortunate timing of his statement."
The club nevertheless apologized "to any and all who have been offended or upset by the discourse that has arisen over this matter in recent days."
'I am not a criminal': Carey Price takes aim at federal firearms bill

Jack Todd: A sacred institution has become Gambling Night in Canada

Carey Price can't play, but he will still be around the Canadiens