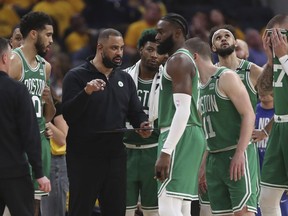 Boston Celtics head coach Ime Udoka, center left, talks with players during the first half of Game 2 of basketball's NBA Finals against the Golden State Warriors in San Francisco, Sunday, June 5, 2022.

Photo by Jed Jacobsohn

/

THE ASSOCIATED PRESS
Boston Celtics head coach Ime Udoka was suspended last week for the entire 2022-23 NBA season following revelations he engaged in an improper relationship with a female staff member.
The franchise became aware of the allegedly "consensual" relationship in July, according to The Athletic, but only proceeded to suspend the coach when it learned that he allegedly made inappropriate comments towards the female staffer.
From our newsroom to your inbox at noon, the latest headlines, stories, opinion and photos from the Toronto Sun.
By clicking on the sign up button you consent to receive the above newsletter from Postmedia Network Inc. You may unsubscribe any time by clicking on the unsubscribe link at the bottom of our emails. Postmedia Network Inc. | 365 Bloor Street East, Toronto, Ontario, M4W 3L4 | 416-383-2300
Thanks for signing up!
A welcome email is on its way. If you don't see it, please check your junk folder.
The next issue of Your Midday Sun will soon be in your inbox.
In an announcement last week, the Celtics said Udoka was suspended for violations of team policies and that "a decision about his future with the Celtics beyond the season will be made at a later date".
Udoka led the Celtics franchise to the NBA finals in his first season as head coach in the 2021 NBA season. After his meteoritic rise and incredible 2021 performance, Udoka is an NBA darling. If there is an employee the Celtics would want to keep around, it would assuredly be Udoka.
While the public at large doesn't know the exact nature of the misconduct, Udoka's suspension (rather than termination) strongly suggests the Celtics continue to hitch their wagon to Udoka's star. The Celtics are betting on this PR storm blowing over in the hopes it can remain a serious NBA playoff contender on his return next year.
This is plainly the wrong approach. A year-long suspension signals, very publicly, that Udoka engaged in serious wrongdoing. Engaging in an intimate relationship with a subordinate employee creates a serious power imbalance that will often always fall in favour of the superior.
Any employee, including one who was in a romantic relationship with Udoka, would likely not feel as though she was on the same playing field within the franchise. Whether or not an employee can freely give "consent" to engage in a romantic relationship with a superior is fraught with liability and risk.
Even if an employee provides consent at the outset of a relationship, it may be much more difficult to withdraw that consent as a workplace relationship wears on, especially if withdrawing that consent could result in some kind of retaliation or punitive measures within the workplace.
On the topic of conduct, Udoka carries the goodwill of the Celtics brand on his shoulders. Employees remain ambassadors of their brand outside of the 9-5. Public facing individuals of any organization are held to a higher standard of conduct in their personal lives.
Udoka's year-long suspension is an employment law unicorn. It is something rarely, if ever, seen across the world of employment. If a suspension is used, it should be short as it can be quite humiliating for an employee to endure. Clearly the Celtics are waiting for the other shoe to drop. If more allegations are forthcoming, the team is already creating a contingency plan.
But, if Udoka can remain out of the headlines, it is obvious that the door remains open for his return. The Celtics must be careful about building a culture that values performance first and forgives serious misconduct.
On to this week's questions:
Q: I have received an employment agreement that contains a non-competition clause. The clause says that I cannot work for a competitor of my new employer for two years if and when my employment ends. I really want this job but I'm worried about what will happen if I sign. What do you recommend?
A: Non-competition clauses are largely unenforceable in Ontario except for c-suite employees. If you do sign this contract, it probably won't have legal teeth. I would still recommend you ask your employer to remove this section from your contract. If the clause stays in, it is possible that your employer may still try to limit you from working for a competitor after your employment ends, even if there is no legal basis to do so.
Q: I was returning to work on a gradual return to work basis after being on short term disability. There is a possibility that I would need to access long-term disability benefits. During my gradual return to work schedule, I was terminated from my job. I now have no access to my benefits as I was cut off a week after my termination. This feels very unfair. What are my rights?
A: You may have been discriminated against on the basis of a disability as employers are required to accommodate a disability to the point of undue hardship. You may have the legal right to access your short-term and long-term disability benefits even after termination provided that you haven't signed a release after your employment ended. That said, seek legal advice immediately to seek reinstatement of these benefits for you if you are currently disabled and unable to work.
Have a workplace issue? Maybe I can help! Email me at sunira@worklylaw.com and your question may be featured in a future column.
The content of this article are general information only and is not legal advice.