Bloc Montréal, Canadian Party of Quebec faced uphill battle as afterthoughts in minds of voters, media.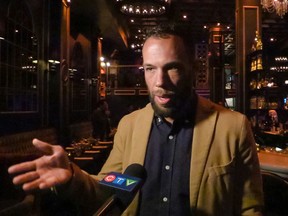 Bloc Montréal Leader Balarama Holness is happy with his party's first provincial election in Montreal on Monday, Oct. 3, 2022. Holness, who was one of eight candidates for the seat in Notre-Dame-de-Grâce, was in fifth place with 122 out of 159 polls reporting. He had close to seven per cent of the vote.

Photo by Dave Sidaway

/

Montreal Gazette
For live coverage on election day, please tap here.
Montrealers in traditional Liberal strongholds voted against François Legault, not for the Quebec Liberal Party, Bloc Montréal Leader Balarama Holness said on election night Monday.
Sign up to receive daily headline news from the Montreal Gazette, a division of Postmedia Network Inc.
By clicking on the sign up button you consent to receive the above newsletter from Postmedia Network Inc. You may unsubscribe any time by clicking on the unsubscribe link at the bottom of our emails. Postmedia Network Inc. | 365 Bloor Street East, Toronto, Ontario, M4W 3L4 | 416-383-2300
Thanks for signing up!
A welcome email is on its way. If you don't see it, please check your junk folder.
The next issue of Montreal Gazette Headline News will soon be in your inbox.
It was not the desired result after five weeks of campaigning, he said. But Holness, who founded his political party this year, said he was emboldened by the message he received from several Montrealers.
"People are literally looking me in the eye, shaking my hand, and saying: 'I love what you're doing, I love your vision for Montreal, please don't quit. But I had to vote for the Liberals because François Legault has to go'," he said.
"It makes me feel inspired. … The people that are checking the box (for us), we can't let them down. We have no choice but to continue."
Electors also cast ballots for the Liberals because it's a familiar brand or out of habit, he added.
"I haven't met anyone who voted for the Liberals because they think (Liberal leader) Dominique Anglade is an inspirational leader or because they think they (the Liberals) have good policies," Holness said.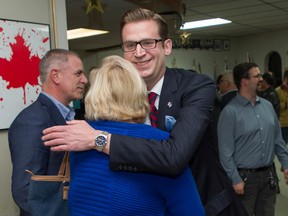 Colin Standish, leader of the Canadian Party of Quebec, embraces a member of his team at the Royal Canadian Legion hall in N.D.G. on Monday, Oct. 3, 2022, on election night.

Photo by John Kenney

/

Montreal Gazette
Colin Standish and his Canadian Party of Quebec (CaPQ), which was also founded this year, were looking for a breakthrough in many of the same ridings on the island, but also in areas like Brossard, the Eastern Townships, Gatineau and Vaudreuil.
Standish, who ran for a seat in the Montreal riding of Westmount—Saint-Louis, said he didn't have the same reading of voters.
"People are dissatisfied in a profound way with the Liberals," Standish said.
Holness, who was one of eight candidates for the seat in Notre-Dame-de-Grâce, was in fifth place with 122 out of 159 polls reporting. He had close to seven per cent of the vote. Bloc Montréal ran 13 candidates, most of them on the island, as well as in Laval and Vaudreuil.
The CaPQ, which ran 20 candidates, and Bloc Montréal received little to no coverage in French-language media during the campaign. In fact, the poll-aggregator website QC125.com identified neither party in its polling results, choosing to lump their support together under the heading "other."
Standish, who was one of eight candidates in Westmount—Saint-Louis, was running fifth or sixth for most of the night with about five per cent of the vote.
With 95 out of 190 polls reporting in D'Arcy-McGee, CaPQ candidate Marc Perez was in fifth place out of nine candidates with about five per cent of the vote.
The CaPQ was launched in June as an offshoot of the Task Force on Linguistic Policy, which Standish co-founded in 2021 to denounce Bill 96, the Legault government's overhaul of the Charter of the French Language, and the federal Liberal government's plans to tighten French-speaking requirements for businesses operating under federal jurisdiction in Quebec.
Bill 96 curtails access to government services in English and requires private businesses and municipalities to serve clients in French under threat of financial penalty.
The CaPQ also opposes Bill 21, the CAQ's secularism law that bans certain public-sector employees, including teachers and police officers, from wearing religious symbols, and Bill 40, which replaces elected school boards with service centres. Opponents of Bill 40 argue it infringes on the constitutional rights of the English-speaking community to control its school system.
Standish, a lawyer who hails from the Eastern Townships, said at the start of the campaign his party didn't see itself as "Equality Party 2.0," a reference to the anglophone rights party that won four seats as a new party in the 1989 Quebec election.
The CaPQ's founding principles call for respect of human rights and minority rights and support bilingualism and reconciliation between Indigenous peoples in Quebec and non-Indigenous Quebecers. Every Quebec resident, it said, regardless of mother tongue and country or province of origin, should have the right to send their children to the school of their choosing.
Holness, a former Alouettes football player who ran for mayor of Montreal in the 2021 municipal election, said he founded Bloc Montréal this year because no one has been defending the interests of the metropolis in the National Assembly. Montreal, he maintained, was "disproportionately and negatively" affected by the policies of François Legault's Coalition Avenir Quebec government, to the benefit of the regions of Quebec. Bloc Montréal also argued legislation passed by the Legault government, notably Bill 96 and Bill 21, curtailed minority rights that disproportionately affected Montreal.
The Bloc Montréal platform called for Montreal to have greater fiscal and political autonomy within Quebec, with the party arguing Quebec is similarly demanding more autonomy from the federal government.
Bloc Montréal also called for Quebec to give Montreal 20 per cent of the revenue of the Quebec Sales Tax (QST) that's generated on the sale of goods and services in the city. It also called for a $5 congestion fee to be levied on non-resident vehicles entering the island of Montreal. The latter would finance free public transit service during morning and afternoon rush hour, the platform said. The party also called for achieving carbon neutrality by 2040.
The Bloc Montréal platform also pledged to lobby for electoral reform by adding an element of proportional representation, which the Coalition Avenir Québec had promised in the 2018 election, but abandoned after it was elected.
Holness garnered 7.2 per cent of the popular vote in the mayoral race, finishing third behind incumbent Valérie Plante and former mayor Denis Coderre. He notably called for Montreal to become a bilingual city-state. The municipal party he founded, Movement Montreal, won no council seats.
Holness has said Movement Montreal and Bloc Montréal "will survive my political career."
Before running for mayor, Holness created a non-profit organization, Montreal in Action, which collected 22,000 signatures on a petition that in 2019 forced the city of Montreal to hold public hearings on systemic racism and discrimination within the police force and municipal departments. The hearings drew 7,000 participants and led to a damning report that recommended sweeping changes and compelled the city to recognize the existence of systemic racism.
lgyulai@postmedia.com