Three opposition parties have denounced Pierre Fitzgibbon for attending the event in October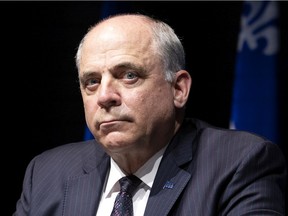 Pierre Fitzgibbon, seen in a file photo, says his private life is his own business, but he does not oppose the ethics probe sought by the opposition.

Photo by Allen McInnis

/

Montreal Gazette
The National Assembly's ethics commissioner says an investigation is underway into Quebec Economy Minister Pierre Fitzgibbon.
In a letter dated Thursday and addressed to Québec solidaire MNA Vincent Marissal, obtained by La Presse Canadienne, commissioner Ariane Mignolet states the investigation will focus on a possible breach of sections 15 and 29 to 33 of the code of ethics governing members of the National Assembly.
Sign up to receive daily headline news from the Montreal Gazette, a division of Postmedia Network Inc.
By clicking on the sign up button you consent to receive the above newsletter from Postmedia Network Inc. You may unsubscribe any time by clicking on the unsubscribe link at the bottom of our emails. Postmedia Network Inc. | 365 Bloor Street East, Toronto, Ontario, M4W 3L4 | 416-383-2300
Thanks for signing up!
A welcome email is on its way. If you don't see it, please check your junk folder.
The next issue of Montreal Gazette Headline News will soon be in your inbox.
Opposition parties had called for the investigation earlier in the day over Fitzgibbon participating in an exclusive pheasant shoot on a private island attended by businesspeople who have received government grants.
Speaking to reporters in Quebec City on Thursday, Fitzgibbon denied any wrongdoing and said his private life is his own business. He added he doesn't oppose the opposition seeking an ethics probe, however.
It is the sixth time in four years such a probe has been sought over Fitzgibbon's conduct.
The event in question involves participants dressing in traditional Austrian costume to shoot pheasants. It was held in October in a private club on Île de la Province on Lake Memphrémagog.
The three opposition parties have since denounced Fitzgibbon for attending, noting that some participants are businesspeople who have received government grants.
"I'm not going to stop my activities because of the Journal de Montréal," said Fitzgibbon, referring to the newspaper that first reported the event, adding he had participated in the hunt for the past 20 years.
"I am quite at ease," the minister added. "I believe that having these kinds of acquaintances is a strength, (and) that my conduct was perfectly acceptable.
"I hope that the ethics commissioner will do its job so we can see how many grants I handed out that day," he joked.
The Quebec Liberals sent a formal request for an investigation to the ethics commissioner. In the letter, Liberal MNA Monsef Derraji says Fitzgibbon has yet to declare the activity in the register of gifts, hospitality and other advantages.
"A reasonable person," Derraji wrote, "might indeed wonder if the participation of the minister in a private, prestigious hunting event in the company of shareholders of companies that benefit from grants from his own ministry constitutes a form of quid pro quo and could lead to doubts concerning the awarding of those grants."
Parti Québécois Leader Paul St-Pierre Plamondon said he would add his voice to the Liberals' request for an inquiry, and Québec solidaire planned to file its own request.
"It's very difficult to have confidence in this minister and this government when they show so little respect for ethical issues," said St-Pierre Plamondon.
"Did he pay to go to this island and who did he meet? Because I doubt he dressed up alone to hunt pheasant on his own."
'I am not a criminal': Carey Price takes aim at federal firearms bill

Liberals, Tories spar over scope of proposed assault-style firearm definition