Participants had to stand on one leg, with their heads upright and their arms straight for 10 seconds.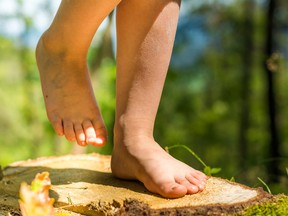 People do a "flamingo test" in the woods.
Getty Images
Reviews and recommendations are fair and products are selected independently. Postmedia may earn affiliate commissions from purchases made via the links on this page.
Are you middle-aged and can't stand on one leg for 10 seconds?
According to a study conducted by Brazilian researchers, middle-aged people who are unable to perform the "flamingo test" for 10 seconds are at increased risk of dying within 7 years. Masu
This study enrolled 1,702 Brazilians between the ages of 51 and 75, on average, with participants standing on one leg with their heads upright and their arms straight. The result of the test that had to be done. , 7 years.
This study, written by Dr. Claudio Gil Arauho of Rio de Janeiro's Sports Medicine Clinic CLINIMEX, showed that 20% of participants failed to complete the balance testaccording to the New York Post..
Not surprisingly, the balance worsened with age, resulting in worse results among older participants. Only 5% of people aged 51-55 failed the test, compared to 54% of those aged 71-75.
After an average of 7 years, 7% of participants died, of which 17.5% failed the test. Only 5% of those who passed the test died.
Researchers have concluded that those who are unable to complete the flamingo test are "84% more at risk of death from all causes."
"We need to be on a regular basis ... one-legged posture, get out of the car, climb stairs and stairs, get off, etc."Araujo told CNN. "Not having this ability, or being afraid to do so, may be associated with a loss of autonomy, resulting in less movement and snowballing."
The study also suggested that people who fail the test are more likely to be overweight and three times more likely to have diabetes.
From the newsroom to the noon inbox, Toronto Sun's latest headlines, stories, opinions and photos. By clicking the
sign-up button, you agree to receive the above newsletter from Postmedia Network Inc. You can unsubscribe at any time by clicking the unsubscribe link at the bottom of the email. Postmedia Network Inc. | 365 Bloor Street East, Toronto, Ontario, M4W 3L4 | 416-383-2300
Thank you for registering.
A welcome email has been sent. If you don't see it, check your junk folder.
Your Midday Sun's next issue will arrive in your inbox shortly.