CAQ leader keeps door open to keeping him in a cabinet post despite objections from other party leaders.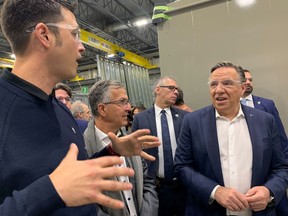 Coalition Avenir Québec Leader François Legault, right, and Rouyn-Noranda-Témiscamingue candidate André Bernard, centre, visits a factory in Rouyn-Noranda on Thursday, Sept. 29, 2022.

Photo by Patrice Bergeron

/

The Canadian Press
ROUYN-NORANDA – Satisfied that his immigration minister has said he's sorry for his remarks, François Legault Thursday re-affirmed his confidence in Jean Boulet.
"I spoke to Mr. Boulet yesterday," Legault told reporters. "He's so sad about what he said. He doesn't believe what he said. He said the things he said were wrong.
Sign up to receive daily headline news from the Montreal Gazette, a division of Postmedia Network Inc.
By clicking on the sign up button you consent to receive the above newsletter from Postmedia Network Inc. You may unsubscribe any time by clicking on the unsubscribe link at the bottom of our emails. Postmedia Network Inc. | 365 Bloor Street East, Toronto, Ontario, M4W 3L4 | 416-383-2300
Thanks for signing up!
A welcome email is on its way. If you don't see it, please check your junk folder.
The next issue of Montreal Gazette Headline News will soon be in your inbox.
"As I said, he won't be able to be minister of immigration but still the guy's a bright guy and he did a good job for the last few years. Everyone who knows Jean Boulet knows that's not him, what he said in that debate."
Asked if Boulet can still expect to have a place, in another role in the cabinet, should the Coalition Avenir Québec win the Oct. 3 election, Legault said: "I don't exclude that but I will start working on that on Oct. 4."
Boulet, a CAQ candidate in Trois-Rivières, is the current immigration and labour minister.
On Wednesday, the CAQ's election campaign was sidetracked with news of what Boulet had said a week earlier in a debate in his region of Trois-Rivières. Not widely reported at the time, Boulet said that "80 per cent of immigrants go to Montreal, do not work, do not speak French or do not adhere to the values of Quebec society."
Boulet said he uttered the words in the heat of a debate in which "time was extremely limited."
He said he has no intention of quitting politics.
On Thursday, Conservative Party of Quebec Leader Éric Duhaime said Legault should dump Boulet as a candidate.
And Liberal Party Leader Dominique Anglade also said Thursday he should be removed. "I don't understand why he's still minister."
Andy Riga and René Bruemmer of the Montreal Gazette contributed to this report
pauthier@postmedia.com
twitter.com/philipauthier