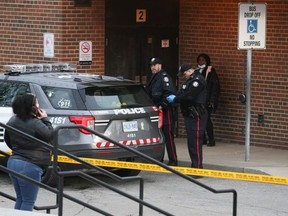 Toronto Police were on scene at Birchmount Park C.I. in Scarborough after a student was fatally stabbed on Nov. 14, 2022

Photo by Jack Boland

/

Toronto Sun
No matter how much violence — including shooting deaths — occurs in and around Toronto high schools, the Toronto District School Board will never put police officers back inside them because that would mean admitting it blundered when removing them five years ago.
On Nov. 22, 2017, trustees voted 18-3 to end the School Resource Officer (SRO) program, even though the board's own survey showed it was strongly supported by students, parents and school staff.
Problem was, that was the opposite of what the majority of trustees and senior school administrators opposed to the program wanted to hear, arguing the police presence in 45 of the board's 113 high schools made some students feel unsafe.
So they ignored their own survey and killed the SRO program, having suspended it at the start of that school year in the name of "equity and inclusionl."
This despite the fact the board's survey of 15,500 students found 57% felt safer with an SRO officer in the school, compared to only 10% who disagreed with 33% unsure.
Of 475 parents surveyed, 76% said they felt having an SRO officer in their child's school made it safer while 78% said they wanted the SRO program to continue, compared to only 8% who didn't with 14.5% unsure.
Of 1,110 school staff surveyed, 58% thought the presence of the SRO was valuable to their school.
Instead, board administrators and the majority of school trustees emphasized negative comments by the minority of students, parents and school staff opposed to the program — as if any school program would ever receive 100% support —and ended it instead of what would have been logical given the results.
That would have been to have consulted with students, parents, school staff and SROs to find ways to improve the popular program, instead of killing it.
Recommended video
One of the arguments by critics against the SROs was that a minority of students felt intimidated by the presence of an armed police officer in their school.
This even though the role of the SROs was to participate in the life of the school, get to know the students, and have the students get to know them. It wasn't to shoot them.
The SRO program was created by then Toronto police chief Bill Blair in 2008, in consultation with the school board, in the wake of the May 23, 2007 shooting death of 15-year-old Grade 9 student Jordan Manners inside C.W. Jeffery's Collegiate, a case that has never been solved.
Among its supporters was Jordan's mother, Loreen Small.
Earlier this year, when asked about the fatal shooting in February of 18-year-old Jahiem Robinson inside David and Mary Thomson Collegiate Institute, she questioned what the Toronto school board has done to make schools safer, adding she felt hurt when it cancelled the SRO program in 2017.
Of course, the SROs weren't a magic solution to school violence because schools reflect the violence in the society of which they're part.
But it was one part of the solution in a school board where two major studies — one in 2008 headed by human rights lawyer Julian Falconer and another in 2015 headed by Margaret Wilson, a former teacher, union leader and registrar of the College of Teachers — both concluded the Toronto school board has created a "culture of fear" by ignoring and downplaying school violence, to the point where teachers and students affected by it, feel abandoned and afraid.
As the Canadian national soccer teams head to their respective FIFA World Cups, Derek Van Diest is on the scene to cover all the action. Expect expert insights and analysis in your inbox daily throughout the tournaments, and weekly on Thursdays for the rest of the season.
By clicking on the sign up button you consent to receive the above newsletter from Postmedia Network Inc. You may unsubscribe any time by clicking on the unsubscribe link at the bottom of our emails. Postmedia Network Inc. | 365 Bloor Street East, Toronto, Ontario, M4W 3L4 | 416-383-2300
Thanks for signing up!
A welcome email is on its way. If you don't see it, please check your junk folder.
The next issue of Corner Kicks with Derek Van Diest will soon be in your inbox.