The suspect was released from custody after appearing before a judge on charges of assault and uttering threats to cause death.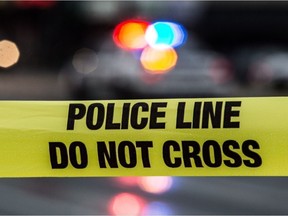 Photo by Postmedia file
A half dozen Good Samaritans stopped an in-progress stranger attack on a woman outside her downtown apartment building Sunday night, Vancouver police said.
The 19-year-old male suspect, police allege, followed the victim, 29, inside the lobby of her building at Davie and Howe Streets, grabbed her, threw her to the ground, and began to attack her.
Start your day with a roundup of B.C.-focused news and opinion delivered straight to your inbox at 7 a.m., Monday to Friday.
By clicking on the sign up button you consent to receive the above newsletter from Postmedia Network Inc. You may unsubscribe any time by clicking on the unsubscribe link at the bottom of our emails. Postmedia Network Inc. | 365 Bloor Street East, Toronto, Ontario, M4W 3L4 | 416-383-2300
Thanks for signing up!
A welcome email is on its way. If you don't see it, please check your junk folder.
The next issue of Sunrise presented by Vancouver Sun will soon be in your inbox.
The woman managed to escape and ran out of the building, but the suspect followed.
The group of Good Samaritans saw what was happening, proceeded to tackle the suspect, and pinned him to the ground until police could arrive.
"These witnesses jumped into action to help the victim as she was being attacked by a stranger," VPD Sgt. Steve Addison said in a news release issued Monday. "They are heroes, and they deserve full credit for their bravery. There is no question this victim could have suffered serious physical injuries had they not acted so decisively."
Police said the victim is traumatized.
Bryce Michael Flores-Bebington was released from custody after appearing before a judge on charges of assault and uttering threats to cause death.
Investigators are attempting to see if this incident is linked to other unsolved cases.
Vancouver police have reported a number of stranger attacks happening downtown in recent days
On Sept. 27, a 19-year-old woman was assaulted with a pole while walking near Dunsmuir and Cambie streets. Police say the suspect used a racial slur during the attack. The suspect remains at large.
Two days before that incident, a 27-year-old Coquitlam woman was walking with a group of friends near Seymour and Pender streets when she fell victim to a hammer attack. Good Samaritans stepped in to stop the attack in that case as well. The suspect was arrested shortly after the incident.
Province doubles community transition teams for offenders but B.C. Liberals say crime out of control

Woman arrested after random hammer attack in Downtown Vancouver