Bivalent booster shots being administered in Canada target Omicron BA.1 rather than the much more prevalent BA.4 and BA.5 Omicron strains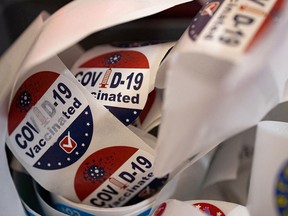 Patients receive stickers after receiving a bivalent booster vaccine targeting the BA.4 and BA.5 Omicron sub-variants at a pharmacy in Schwenksville, Pa., on Sept. 8, 2022. The bivalent boosters being administered in Canada target the less prevalent BA.1 variant.
Photo by Hannah Beier / Reuters
Newly formulated bivalent booster shots that target Omicron variants of COVID-19 are being rolled out around the world, including in Canada, where Moderna has made 12 million doses available.
But Canadians should not be under the mistaken impression that they are receiving the same sort of bivalent shots as those being administered in the United States and Europe.
The NP Comment newsletter from columnist Colby Cosh and NP Comment editors tackles the important topics with boldness, verve and wit. Get NP Platformed delivered to your inbox weekdays by 4 p.m. ET.
By clicking on the sign up button you consent to receive the above newsletter from Postmedia Network Inc. You may unsubscribe any time by clicking on the unsubscribe link at the bottom of our emails. Postmedia Network Inc. | 365 Bloor Street East, Toronto, Ontario, M4W 3L4 | 416-383-2300
Unfortunately, Canada does not have a good track record for vaccine choices, having initially banked on failed co-production of an inferior Chinese vaccine at the onset of the pandemic. When mRNA vaccines produced by Pfizer and Moderna were shown to be the superior choice, we lacked availability, ranking 40th in the world in early vaccination. As the benefits of vaccination with original formulations waned, bivalent boosters were developed to better prevent infection from the currently dominating Omicron variants. Yet again, unlike the U.S. and Europe, we are making the wrong choice of vaccine.
Earlier in the pandemic, initial vaccination by either of the Pfizer-BioNTech or Moderna mRNA vaccines was about 95 per cent effective against infection and the related risk of disability or death. But as the virus mutated, antibody levels both waned over time and were less effective in neutralizing the virus and preventing infection. While a third and even fourth booster shot of the original vaccine transiently raised antibody levels and continued to prevent hospitalization and death, their effectiveness in preventing infection continued to decrease. This was particularly true with the increasing dominance of a cascade of ever-mutating, highly contagious, albeit less dangerous, Omicron strains.
It is now estimated that 89 per cent of our population has been infected at some time, most with an Omicron variant. As a patient-facing health-care worker at higher risk, I chose to receive two original boosters, yet I still developed a COVID-19 infection, likely from an asymptomatic but infected person. Even previous infection with a variant does not now fully protect from infection by a new Omicron variant.
It is now estimated that 89 per cent of our population has been infected
While the danger of infection and its effect on constraining health care has greatly diminished, there remains the risk of a resurgence of fall/winter infection and its impact on health care and our economy.
Thus both Moderna and Pfizer have developed a new vaccine booster formulation that could again reduce the risk of infection. This was done relatively quickly, since once the genetic sequence of a new variant was known, mRNA specific to the new spike protein could be rapidly produced. Regulatory approval was rapid since the new vaccine was only a tweak of the original one designed for the Wuhan strain. The new boosters contain equal amounts of vaccine targeting the original strain and an Omicron strain (thus bivalent).
While the initial bivalent formulation targeted the earlier Omicron BA.1 variant, the virus has evolved to the point that up to 98 per cent of infections are now due to either Omicron BA.4 or BA.5. The earlier, now less effective, bivalent formulation targeting the BA.1 variant was never adopted in the U.S.
The FDA and the U.S. government, unlike Canadian authorities, fast-tracked the submission and approval process for the newer bivalent vaccines targeted to BA.4/5. Canada however is currently rolling out only the less effective bivalent vaccine targeting BA.1. This distinction has not been made widely known and I suspect most Canadians erroneously believe they are getting the same new vaccine that Americans are receiving.
Harry Rakowski: Politicizing vaccines only worsens mistrust of institutions

Harry Rakowski: Monkeypox is more worrying thanks to a crumbling health-care system
Regulatory approval both by the FDA in the U.S. and the European Medicines Agency in the E.U. was based on confidence in the new bivalents' safety without additional human data, since these vaccines represented only a small change from the original vaccines with known safety data from over 600 million doses already administered in the U.S. alone.
Rochelle Walensky, an infectious disease expert and the director of the U.S. Centers for Disease Control and Prevention (CDC), recently said in a radio interview that she strongly favoured using the newer bivalent vaccine targeting the most recently prevalent COVID viral strains.
"If we wait for those data to emerge in human data, not just mice, we will be using what I would consider to be a potentially outdated vaccine," she said. "This could have severe consequences for the nation ahead of a projected COVID surge in the fall and winter."
Taking the less effective bivalent booster is still more effective than a third dose of the original vaccine and may be an acceptable choice for many. However, it is unlikely to be safer than the newer updated bivalent vaccine and almost certainly less effective. Not readily disclosing this difference may have been done in order to promote higher levels of booster vaccine acceptance. However, this lack of transparency may well result in greater mistrust of institutions and government. We need to push our government to be more informative, choose more wisely and offer the right bivalent vaccine at the right time.
National Post
Dr. Harry Rakowski is an academic Toronto cardiologist and commentator.