Housecleaning should begin with interim chair Andrea Skinner, who was unmasked this week as an apologist for the group's misdeeds.
Author of the article:
Pat Hickey
•
Montreal Gazette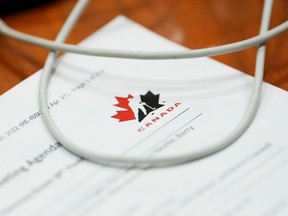 A Hockey Canada document is review by a member of Parliament during a House of Commons Committee on Canadian Heritage looking into safe sport in Canada on Parliament Hill in Ottawa on Oct. 4, 2022.

Photo by Sean Kilpatrick

/

The Canadian Press
If Hockey Canada wants to restore its credibility — along with its federal funding, corporate sponsors and the support of its largest provincial branches — it must fire anyone who was involved in the coverup of sexual assault allegations involving CHL players, including some from the 2018 national junior team.
And the purge should begin with interim chair Andrea Skinner. The Toronto lawyer was brought in to clean up the mess but, when she made an appearance before the Standing Committee on Canadian Heritage this week, she was unmasked as an apologist for the group's misdeeds.
Since the Montreal Canadiens making the Stanley Cup finals for the first time in 28 years, this newsletter is the dedicated Montreal Canadiens fan's source for exclusive Habs content, insight and analysis.
By clicking on the sign up button you consent to receive the above newsletter from Postmedia Network Inc. You may unsubscribe any time by clicking on the unsubscribe link at the bottom of our emails. Postmedia Network Inc. | 365 Bloor Street East, Toronto, Ontario, M4W 3L4 | 416-383-2300
Thanks for signing up!
A welcome email is on its way. If you don't see it, please check your junk folder.
The next issue of HI/O: Montreal's Road to the Cup will soon be in your inbox.
The MPs were trying to determine why Hockey Canada paid millions of dollars — some of it provided by taxpayers and minor hockey player registration fees — to cover up an alleged gang rape of a 20-year-old woman by members of the junior team following a Hockey Canada Foundation fundraising golf tournament in London, Ont.
We use the term "alleged" because no charges were laid in the case, but it should be noted that the uproar over the incident has London police taking another look at its handling of the case.
Skinner tried to divert attention from Hockey Canada with her opening statement.
"Regrettably, toxic behaviour exists throughout society; no segment of society is immune," Skinner said. "Suggesting that toxic behaviour is somehow a specific hockey problem or to scapegoat hockey as a centrepiece for toxic culture is, in my opinion, counterproductive to finding solutions."
What's lost in this statement is that we're dealing with young men who had the privilege to represent their country and should be held to a higher standard. Instead, they have been instilled with a sense of entitlement. These young men, who give lie to the myth that sport builds character, haven't faced any consequences for their actions and continue to be protected even as they bring Hockey Canada to the brink of possible extinction. At the very least, you would expect them to contribute to the settlement.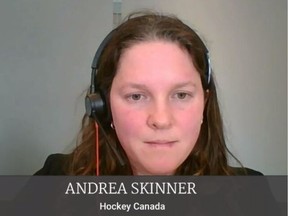 Andrea Skinner, the interim chair of the board of Hockey Canada at the Standing Committee on Canadian Heritage on Oct. 4, 2022.

Photo by parlvu.parl.gc.ca

/

Postmedia
Skinner seemed to trivialize the nature of the incident when she said the organization authorized a quiet out-of-court settlement as a way to show compassion for the young woman. She said Hockey Canada didn't want to subject her to a lengthy legal procedure and aggressive cross-examination.
In fact, Hockey Canada was trying to protect the players involved and its reputation. While the NHL has launched its own investigation, the identity of the alleged miscreants remains a mystery, although it's difficult to believe that Hockey Canada can't shed some light on the matter. The shield of anonymity also casts a shadow over the majority of the players who attended the golf tournament and were not involved in the alleged (I hate that word) incident.
There has been a public outcry over the scandal, with a majority of Canadians believing that Hockey Canada should clean house. The only people who seem to be in favour of keeping the current management are the members of Hockey Canada's board who, according to the testimony this week, are gifted with lavish dinners and $3,000 championship rings they didn't earn.
Skinner said Hockey Canada has the right leaders in place and that it has become the victim of "substantial misinformation and unduly cynical attacks" from the media. She said wholesale changes at the top could have an impact down to the minor hockey level, although Hockey Québec and the Ontario Hockey Federation have both indicated they are prepared to move forward without Hockey Canada.
When Skinner was asked later to grade CEO Scott Smith's performance while leading Hockey Canada, she replied: "I'm a hard marker and I think that the circumstances in which Mr. Smith has been working have been really extraordinary and difficult. I would say he's conducting himself as an A in the circumstances."
Smith has done an admirable job during the past quarter century increasing business opportunities for Hockey Canada, but the current scandal has destroyed many of those relationships and it's time for change.
Women keep on Dreamin': The Professional Women's Hockey Players Association will be bringing the Secret Dream Gap Tour to Montreal next weekend for a showcase at Verdun Auditorium.
The event will showcase Olympic and world champions Marie-Philip Poulin, Ann-Renée Desbiens, Emerance Maschmeyer, Lauriane Rougeau and Mélodie Daoust among others. There will be two games Saturday and Sunday beginning at 1:30 and 4:15 p.m.
phickey@postmedai.com
twitter.com/zababes1
Stu Cowan: Decision day looms for Canadiens' No. 1 pick Slafkovsky

Expert baffled by Hockey Canada response to scandals: 'Never seen anything like this'

NHL commissioner Gary Bettman isn't happy with Hockey Canada

More "correctable mistakes" as Canadiens drop another preseason game to Senators