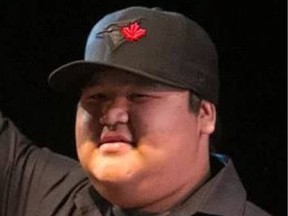 Tyler Hikoalok has been charged with first-degree murder in the 2018 death of Elisabeth Salm.

Photo by www.tr1bemusic.com

/

Handout
Tyler Hikoalok's first-degree murder trial will be delayed until at least next week, though the reasons for the delay are shielded by a publication ban and cannot be reported.
The Crown closed its case against Hikoalok last week after guiding the jury through three weeks of evidence, and Hikoalok's lawyers, Michael Smith and Brook Laforest, had been scheduled to commence their defence earlier this week.
Sign up to receive daily headline news from Ottawa Citizen, a division of Postmedia Network Inc.
By clicking on the sign up button you consent to receive the above newsletter from Postmedia Network Inc. You may unsubscribe any time by clicking on the unsubscribe link at the bottom of our emails. Postmedia Network Inc. | 365 Bloor Street East, Toronto, Ontario, M4W 3L4 | 416-383-2300
Thanks for signing up!
A welcome email is on its way. If you don't see it, please check your junk folder.
The next issue of Ottawa Citizen Headline News will soon be in your inbox.
The trial resumed without the jury present, however, and a customary publication ban applies to exhibits, information and arguments heard in the absence of a jury.
Jurors are set to return on Tuesday, when Superior Court Justice Anne London-Weinstein is expected to address the panel and provide a cursory explanation for the delay.
Hikoalok has pleaded not guilty to first-degree murder in a killing prosecutors described as a "vicious and brutal attack" that left 59-year-old church librarian Elisabeth Salm clinging to life inside the Christian Science Reading Room on May 24, 2018. She was found by a co-worker hours later and was rushed to hospital, where she died the following day.
The Crown closed its case after calling evidence from police detectives who identified Hikoalok in surveillance video near the crime scene at the time of the attack; from staff at an alternative school who interacted with Hikaolok in the hours after the killing; and from forensic scientists who linked Hikoalok's DNA profile to semen found on the victim's body, and later found Salm's blood on a shoe and a bracelet he wore at the time his arrest.
No other DNA profile was identified on Salm's body during the analysis by the Centre of Forensic Sciences, according to expert testimony.
The Crown's evidence concluded with Assistant Crown attorneys Lisa Miles and Brian Holowka presenting the jury with a series of admissions, drafted in agreement with Hikoalok's defence team.
The jury was instructed to accept as proven fact that the DNA profile identified by the CFS is the DNA profile of Tyler Hikoalok.
The "chain of custody, continuity and integrity" of all the exhibits swabbed and seized from the scene, from Salm and from Hikoalok were also admitted as fact.
The "continuity and accuracy" of video surveillance footage is also admitted as fact, showing Hikoalok near the reading room entrance at 9:14 a.m. and leaving through a separate exit at 10:21 a.m. on the day Salm was killed. Video also shows Hikoalok arriving at the Debbie Campbell Learning Academy 440 Albert St. around 11 a.m. that day, where he chatted casually with staff, ate lunch and left.
He was arrested three days later on May 27 after police officers recognized Hikoalok from a still image gleaned from surveillance video. The CFS also notified police on the same day of a positive DNA match linking Hikoalok to the victim.
ahelmer@postmedia.com
Twitter.com/helmera