The hotel highlights its splendid surroundings with large windows opening onto the mountains.
Author of the article:
Rochelle Lash
•
Special to the Montreal Gazette
The Peaks Hotel and Suites in Banff, Alta., offers deluxe accommodations and breathtaking views of the Rockies.
Photo by Peaks Hotel and Suites
Postmedia may earn an affiliate commission from purchases made through our links on this page.
With its soaring, angular architecture and deluxe interiors, the new Peaks Hotel and Suites brings panache and polish to the picturesque and sporty community of Banff, Alta.
Banff's lively streets — almost all named after wild animals — pop with restaurants, bars, shops and galleries. Blessed with a pivotal downtown location, the Peaks is one block from newly gentrified Bear St., where holiday celebrations will sparkle in December and the annual SnowDays celebration will sizzle from Jan. 18 to 29.
Sign up to receive daily headline news from the Montreal Gazette, a division of Postmedia Network Inc.
By clicking on the sign up button you consent to receive the above newsletter from Postmedia Network Inc. You may unsubscribe any time by clicking on the unsubscribe link at the bottom of our emails. Postmedia Network Inc. | 365 Bloor Street East, Toronto, Ontario, M4W 3L4 | 416-383-2300
Thanks for signing up!
A welcome email is on its way. If you don't see it, please check your junk folder.
The next issue of Montreal Gazette Headline News will soon be in your inbox.
For a more pastoral experience, the Peaks is also near the enchanting Bow River Trail, where walkers, joggers and wheelchair riders enjoy waterfront picnic stops and park benches in the company of geese and ducks.
The town is at the heart of the great Rocky Mountain paradise of Banff National Park, which is cherished for its awesome landscape of jagged, snow-capped mountains, high-altitude forests and pristine lakes.
This picturesque UNESCO World Heritage Site is home to astounding experiences and world-class sports. Among the best-known attractions are the Big3 — the monumental trio of Banff Sunshine, Mt. Norquay and Lake Louise resorts. The ski/snowboard mountains each have their own giant character and soaring summit.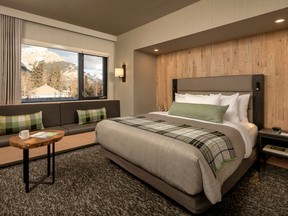 Located in the heart of Banff, the Peaks has 71 guest rooms and suites with mountain views.
Photo by Peaks Hotel and Suites
Lodging: "The Peaks represents a rare balance of quiet comfort and a vibrant lifestyle," said Christy Massey, senior sales manager. "It is only steps from downtown Banff and it also has easy access to the many adventures of Banff National Park, plus the shuttle heading to the Big3 stops across the street."
The hotel highlights its splendid surroundings with large windows opening onto the mountains and a stunning collection of photography, much of it by Paul Zizka of Banff.
The Peaks has several types of accommodations, all contemporary, and some with soaking tubs, private balconies or kitchenettes. The spacious two-level Loft Suites have vaulted ceilings, king and sofa beds and two televisions. The lines are lean and uncluttered, warmed by natural colours and textures of grasscloth, leather and linen.
Guests can chill in the Aurora Borealis living room, which has a small library, a fireplace and a cappuccino machine. In the afternoon, visitors often gravitate to the patio to capture the sun.
While the Peaks concentrates on dishy accommodations, its sister property across the street, Banff Park Lodge, orchestrates a lively drinks scene and fine dining at La Terrazza, as well as spa life (at no charge) with an indoor pool, hot tub and sauna.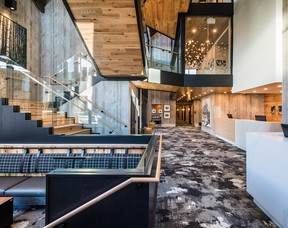 The soaring angles of the Peaks Hotel and Suites reflect the mountains that surround Banff.
Photo by Peaks Hotel and Suites
Dining: Food and beverage director Chris Bolt oversees three spirited venues at Banff Park Lodge.
La Terrazza offers white tablecloths and Andrea Bocelli songs. You can go all-Italian with wines from Sicily, Piedmont and Sardinia, and dishes like rosellini, La Terrazza's signature pasta with ham, mozzarella and a rosé sauce.
Delectable Canadian specialties include Alberta bison carpaccio or rib-eye steak, Atlantic lobster risotto and B.C. salmon. The finale may be caramellata (dreamy Italian-style crème brûlée with chocolate), with creative coffees like the Bellissimo with Frangelico and Galliano.
The Crave Mountain Grill is famous for its alpine views and robust fare including Rocky Mountain game ragout, burgers (beef, chicken, portobello or bison), pork ribs, braised beef short ribs and the Friday/Saturday special, traditional prime rib with whipped potatoes and Yorkshire pudding.
Après-sport at the Terrace Lobby Lounge buzzes with craft beer like the robust Banff Avenue Black Pilsner and local spirits by Park Distillery, as well as casual fare including fish and chips, chicken Parmesan, burgers and charcuterie.
Banff: The area welcomes up to four million people a year from around the world, so multilingual guides are available for most activities and all the signs at major sites are in English and French.
Sightseeing by bus with Discover Banff Tours is the perfect introduction because the drivers double as expert guides, narrating fascinating tales of history and flora and fauna through several alpine climate zones.
The breathtaking selfie ops include the glacier-fed Bow Falls and the quirky rock pillars at the Hoodoos Viewpoint. You'll pass wildlife habitats where you might glimpse elk, bears, bighorn sheep, bald eagles or wolves.
More active tours around Banff include wildlife safaris, Via Ferrata climbing, helicopter rides, horseback riding, rafting, guided hiking or cycling, and winter excursions such as dogsledding, Nordic skiing and sleigh rides.

There are many ways to experience the town of Banff and Banff National Park.
Photo by Banff Trail Riders
If you go
Peaks Hotel and Suites: 800-661-1021, 403-762-4471, peaksbanff.com; 218 Lynx St., Banff, Alta. Accessible. Dining, spa at Banff Park Lodge.
Price: Starting at $209 Sun.-Thurs. during Oct.-Nov. Weekends and holidays can be higher. Some advance bookings save on three nights or more. Underground self-parking, $18.
Banff and Lake Louise tourism: 877-762-8421, banfflakelouise.com (which has a handy online trip planner). Alberta tourism: travelalberta.com.
SkiBig3: 844-754-2443, skibig3.com. Ikon Pass, Mountain Collective Pass and SkiBig3 pass all valid.
Discover Banff Tours: 877-565-9372, 403-760-5007, banfftours.com. Sightseeing tour, $72 for adults, $42 for age six to 12. Other tours available.
rochelle@rochellelash.com
Hotel Intel: Kempinski adds seaside sparkle to Tel Aviv

Hotel Intel: Sheraton Centre Toronto marks 50th with modern makeover

Hotel Intel: Canadians get credit at Adirondacks' Saranac Waterfront Lodge