Ryan Reynolds asked if he'd play the superhero in Deadpool 3. The answer: 'Yeah, sure'
Get the latest from Chris Knight straight to your inbox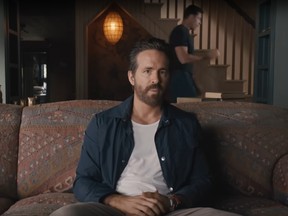 A screen grab from Reynolds' video shows him about pop the question.
Reviews and recommendations are unbiased and products are independently selected. Postmedia may earn an affiliate commission from purchases made through links on this page.
Were there claws in his contract that no one knew about? After famously retiring the character of Wolverine after 2017's Logan, actor Hugh Jackman has announced – in the most casual way possible – that he'll be strapping on the sideburns and adamantium claws to play the superhero one more time, in Deadpool 3.
The announcement came this week via the Twitter feed of Ryan Reynolds, a.k.a. Deadpool. Addressing fans from what appears to be his living room couch, Reynolds admits that he's come up a little short on ways to make the third Deadpool movie special.
Sign up to receive the daily top stories from the National Post, a division of Postmedia Network Inc.
By clicking on the sign up button you consent to receive the above newsletter from Postmedia Network Inc. You may unsubscribe any time by clicking on the unsubscribe link at the bottom of our emails. Postmedia Network Inc. | 365 Bloor Street East, Toronto, Ontario, M4W 3L4 | 416-383-2300
Thanks for signing up!
A welcome email is on its way. If you don't see it, please check your junk folder.
The next issue of NP Posted will soon be in your inbox.
"But we did have one idea," he concludes, as Jackman suddenly wanders by in the background. "Hey, Hugh, you wanna play Wolverine one more time?" Jackman, not even breaking stride, mutters: "Yeah, sure Ryan."
It's a far more satisfying answer than the one he gave in 2011's X-Men: First Class, when a cameo shows Wolverine having a cigar in a bar when he is approached by a young Charles Xavier and Erik Lehnsherr. They barely have time to introduce themselves before Wolverine tells them: "Go f— yourself."
Including that 24-second scene, Jackman has played the character in nine films, beginning with 2000's X-Men and including X-Men Origins: Wolverine (2009) and The Wolverine (2013). Logan, set in the near future, features the death of the character, who was pushing 200, having been born in 1832 in what is now Canada.
Rumours of Jackman's un-retirement have swirled for some time, fuelled in part by an image he tweeted in July of 2021 titled "Wolverine and Kevin Feige," and showing a bearded Jackman posing next to the Marvel Studios president.
And as far back as the release of Logan in 2017, Jackman intimated that he might have kept the character going if he could have joined the Marvel Cinematic Universe. That became a possibility in 2019 with the purchase of Fox studios (which held the film rights to the X-Men) by Disney, parent company of the MCU.
Fans will have to wait a while to see what Jackman and Reynolds get up to in Deadpool 3. The film is set for release sometime in 2024. And yes, the two did release a followup video purporting to answer questions about timeline and canon, but the audio has inexplicably been overdubbed with the strains of Wake Me Up Before You Go-Go by Wham! Which, again, is a whole lot better than: "Go f— yourself."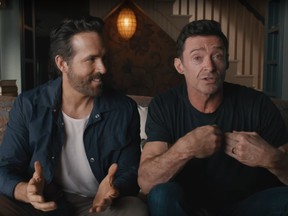 Reynolds and Jackman discuss their plans for Deadpool 3. Make sure to turn up the volume.
Thor short on both love, thunder

Read Chris Knight's review of Dr. Strange in the Multiverse of Madness
Get the latest from Chris Knight straight to your inbox