"We are facing the new reality of media," note to readers says.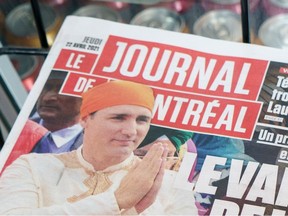 The Journal de Montréal.

Photo by Paul Chiasson

/

The Canadian Press files
Quebecor-owned newspapers the Journal de Montréal and Journal de Québec announced Thursday they will stop publishing print editions on Sundays in 2023.
"To be able to continue to offer diverse quality content, we have to make changes to our business model," read a note to readers from Journal de Montréal publisher Lyne Robitaille. "We are facing the new reality of media, which includes global competition from web giants and the greater presence of CBC, largely subsidized by the state."
Sign up to receive daily headline news from the Montreal Gazette, a division of Postmedia Network Inc.
By clicking on the sign up button you consent to receive the above newsletter from Postmedia Network Inc. You may unsubscribe any time by clicking on the unsubscribe link at the bottom of our emails. Postmedia Network Inc. | 365 Bloor Street East, Toronto, Ontario, M4W 3L4 | 416-383-2300
Thanks for signing up!
A welcome email is on its way. If you don't see it, please check your junk folder.
The next issue of Montreal Gazette Headline News will soon be in your inbox.
The newspapers will compensate for the loss of Sunday editions with more content in the Saturday paper, including a new section on Quebec history.
Dec. 18 will be the last Sunday edition for the two newspapers, with the following two Sundays being holidays. The improved Saturday section will begin Jan. 7.
Newspapers across the country have reduced print production schedules as print audiences and advertising decline. Several Postmedia publications including the Montreal Gazette stopped producing a print edition on Mondays in October. The Gazette stopped publishing a Sunday edition in 2010.
La Presse published its final print edition in 2017, moving to a digital-only publication. And Le Soleil in Quebec City and sister papers in Sherbrooke, Granby, Trois-Rivières, Saguenay and Ottawa only publish print editions once a week.
Only two mainstream newspapers in Canada still publish print editions seven days a week: The Toronto Star and the Toronto Sun.