Echaquan, a 37-year-old Atikamekw mother of seven, died in a Joliette hospital in 2020 after filming staff insulting her.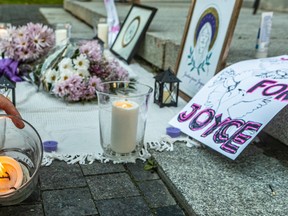 A vigil with health workers was held at Place du Canada in Montreal Sept. 28, 2022 in memory of Joyce Echaquan, the Atikemekw woman who filmed herself being mocked at Joliette Hospital as she was dying in 2020.

Photo by Dave Sidaway

/

Montreal Gazette
Joyce Echaquan's family has filed a nearly $2.7-million lawsuit over her death in a Joliette hospital two years ago.
Echaquan, a 37-year-old Atikamekw mother of seven, died in the hospital after filming staff insulting her. The video of her pleading for help, which she broadcast live on Facebook, sparked widespread indignation across Canada.
Sign up to receive daily headline news from the Montreal Gazette, a division of Postmedia Network Inc.
By clicking on the sign up button you consent to receive the above newsletter from Postmedia Network Inc. You may unsubscribe any time by clicking on the unsubscribe link at the bottom of our emails. Postmedia Network Inc. | 365 Bloor Street East, Toronto, Ontario, M4W 3L4 | 416-383-2300
Thanks for signing up!
A welcome email is on its way. If you don't see it, please check your junk folder.
The next issue of Montreal Gazette Headline News will soon be in your inbox.
A coroner has since found her death was accidental but the "racism and prejudice" she faced at the hospital contributed to it.
In addition to the hospital, the Centre hospitalier régional de Lanaudière, the lawsuit also targets a nurse and doctor who worked there.
"It's difficult to live this today but we want justice for my daughter, for Joyce," Echaquan's mother, Diane Dubé, said during a news conference Thursday.
"I'm still very lost … but this is a new chapter," added Echaquan's husband, Carol Dubé, saying he hopes the lawsuit can help his family and others heal.
Echaquan's death pushed the debate over systemic racism in Quebec to the forefront, with Premier François Legault refusing to acknowledge it exists.
Legault drew criticism again this month after stating the problems at the Joliette hospital that led to Echaquan's death had been "settled."
A vigil was held in Montreal on Wednesday to mark two years since Echaquan's death.
jfeith@postmedia.com
Twitter.com/jessefeith
Systemic racism is 'exactly what happened' to Joyce Echaquan, coroner says

Montreal vigil marks second anniversary of Joyce Echaquan's death

Top stories of 2020: Joyce Echaquan's hospital video shocked Quebec