Author of the article:
Bang Showbiz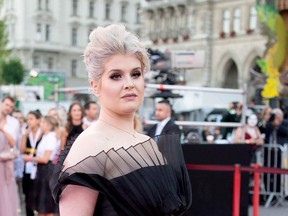 Kelly Osbourne June 2018 Famous
Bang Showbiz
Reviews and recommendations are unbiased and products are independently selected. Postmedia may earn an affiliate commission from purchases made through links on this page.
Kelly Osbourne has been diagnosed with gestational diabetes.
The 37-year-old star was diagnosed with the condition as she entered her third trimester of pregnancy.
From our newsroom to your inbox at noon, the latest headlines, stories, opinion and photos from the Toronto Sun.
By clicking on the sign up button you consent to receive the above newsletter from Postmedia Network Inc. You may unsubscribe any time by clicking on the unsubscribe link at the bottom of our emails. Postmedia Network Inc. | 365 Bloor Street East, Toronto, Ontario, M4W 3L4 | 416-383-2300
Thanks for signing up!
A welcome email is on its way. If you don't see it, please check your junk folder.
The next issue of Your Midday Sun will soon be in your inbox.
Kelly – whose symptoms have included weight gain, fatigue and ankle swelling – said: "First of all, gestational diabetes is not your fault.
"At first I thought it was something that I had done. I only got diagnosed with it well into my third trimester, so it wasn't like I developed it as some people get it from the get-go when they're pregnant.
"I got it in my third trimester and, basically, I thought it was something that I had done wrong."
Gestational diabetes is high blood sugar and the issue develops during pregnancy.
Kelly has recently cut out sugar and started watching her carbohydrate intake.
RECOMMENDED VIDEO
The singer – who is expecting her first child with Slipknot's Sid Wilson – explained to PEOPLE: "This whole pregnancy, I've had no cravings except for sugar, which is something I've never had before.
"The number one thing for me that I realised was taking me down was sugary drinks and it was juice. Because even though I was drinking fresh pressed juice, it still had a lot more sugar than I needed."
Kelly's lifestyle changes have already had a visible impact on her health.
She said: "Overall, my skin cleared up. I don't have to wear any make-up.
"My friends that haven't seen me since I started my third trimester, now that they see me, they're like, 'Whoa. What changed? Your skin is perfect,' and I know that sometimes that has to do with pregnancy, but I had pregnancy acne. I cut the sugar out and it completely went away. I think clearer."