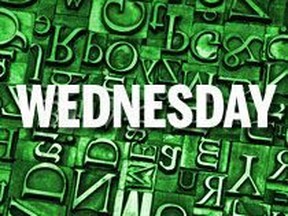 Wednesday letters

Photo by Ilustration

/

Toronto Sun
CUT HIM A BREAK
First, let me say that I'm no fan of supply management. My theory is that if you want something run in an inefficient manner, get the government involved. Milk dumping has been going on for years and has been reported in the media. People are shocked at the waste, of course, and have all kinds of ideas as to what should be done. Rather than getting into a discussion about the whole supply management/quota system, let me say this in defence of dairy farmer Jerry Huigen: Until his milk is paid for and shipped, it is his property, plain and simple. As such, he is completely within his right to do with it as he deems fit as long as he doesn't violate any environmental laws. Those who feel otherwise can back up a tank truck, cut Jerry a cheque, and drive away.
From our newsroom to your inbox at noon, the latest headlines, stories, opinion and photos from the Toronto Sun.
By clicking on the sign up button you consent to receive the above newsletter from Postmedia Network Inc. You may unsubscribe any time by clicking on the unsubscribe link at the bottom of our emails or any newsletter. Postmedia Network Inc. | 365 Bloor Street East, Toronto, Ontario, M4W 3L4 | 416-383-2300
Thanks for signing up!
A welcome email is on its way. If you don't see it, please check your junk folder.
The next issue of Your Midday Sun will soon be in your inbox.
Dave Johnston Milton
(It would just be a better idea if we got rid of the supply management. Can you imagine how many communities could have used that milk if it wasn't for the quotas. The farmers' hands are tied)
SPEED DEMONS
Re "Say cheese! T.O. adds 25 speed cameras" (Kevin Connor, Feb. 3): The City of Toronto claims that installing 25 new speed cameras will help promote road safety. But these devices have limitations and disadvantages. Yes, they can photograph speeding vehicles, but they can't stop them immediately after. What about someone driving dangerously and far above the speed limit? The driver would need to be pulled over and only police can do that. The same applies to speeders who drive under suspension or are impaired by alcohol. So, the devices only marginally improve safety. Moreover, it's arguable that implementing speed cameras is primarily about increasing city revenues. It can be seen as a form of taxation. Is that the main reason why Mayor Tory has pledged to install 150 cameras this term?
Claudio Ceolin Toronto
(It's a cash grab, don't believe anything else)
HOCKEY CIRCUS
I went to an all-star hockey weekend and a circus broke out. What a lame presentation by the NHL. Golf with hockey sticks, hockey with putters, and surfboard dunking tanks. Wow. I hope the attendees got in for free. Who would pay for this?
Gordon Irvine Oakville
(Maybe they're just trying to keep things interesting for her spectators. It obviously didn't work for you)