Prioritizing re-election seems to take precedence over our real needs.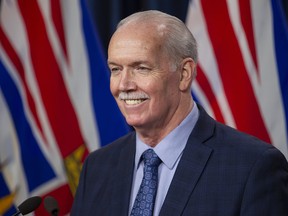 BC Prime Minister John Hogan.
Times Colonist
Just before the 2020 state elections, B.C. NDP offered up to $500 per individual if re-elected. , or provided his COVID-19 benefits of up to $1,000 per family. The total cost was probably in the $1 billion range. At the same time, they promised to increase his UBC Medical School seats from 288 to 400. The new he also promised to build the SFU Medical School.
The NDP succeeded in buying votes with your money, but the medical school's promise was not fulfilled. Although cash benefits have long been used or remain in personal savings accounts, many people in British Columbia lack access to adequate health care. And medical school applicants can't get an education because space is limited by lack of funding.
Prioritizing re-election seems to take precedence over our real needs.
Bill Borden, Vancouver
Prioritize medical costs
Are we realistically addressing the problem of GP shortages? and avoids that problem. GPs continue to go and practice elsewhere or change jobs out of frustration. They can earn three to four times what she does here without the hassle of the government. So that number will be reduced.
If he doubles the rewards and cuts down on the paperwork, he'll be queuing up to practice here. Same with nurses. And don't tell us we don't have money. we got it. We are just spending it on the wrong priorities.
James Fraser, Burnaby
No Buffers for Hard Times
I thought we had a deal. Back in the 1980s with super high interest rates, I thought there was a deal to use his GST instead of high interest rates as the best way to get money into the central bank.
It was believed that the GST could be raised for several years if the government needed to cover the deficit. However, some ideologues have argued that by arbitrarily cutting the GST he chose to politicize it, thereby making it a political third-rail issue, so for years 5 I am stuck at %.
So we have to go back to taxing borrowings to pump money into central banks rather than taxing intended spending. Also remember that incentives have always worked in the Canadian banking system to encourage borrowing and spending. With no incentives to encourage savers, people have no buffer against frequent hard times.
Kathleen McCloskey, Surrey
Bringing back Lisa
Her longtime CTV News dismissal of her anchor Lisa Laflam And the way it was done all of a sudden, a terrible shame. I suggest getting Lisa back and firing her CTV/Bell executive who fired her. Very poor message to fellow staff and journalists.
Do it right, Bell Media, or you lose.
Charles Claus, Terrace
Prize Home should be in her PNE
I'm all great I sadly read the article PNE joy returns.
One of her things not to come back is that she loved buying her own program and standing in line to see the Prize Home. This year they put the Langley house in the winning spot, making it hard for me and many senior citizens to see the house. After using , I was offered a virtual tour after purchasing tickets online once. But this didn't work for me.
We have had a lot of complaints and hope to bring it back to her PNE.
Janice McCann, Burnaby
Support our military
Canadians support our military and their valuable role A country without an army is like a body without an immune system. Even if peace persists, we must remain vigilant.
I think a responsible government will increase military spending, such as by introducing her 6% tax on tobacco, alcohol and marijuana.
I believe we need a new air base in the Arctic, plus about 4,000 full-time infantrymen.
Sean Murray, Victoria
Letters to the Editor are sunletters @vancouversun.com
More news, fewer ads, faster load times: Get unlimited ad-light access to The Vancouver Sun, The Province and National Post to 13 Canadian news sites for just $14 a month or $140 a year. The Vancouver Sun or The Province
Postmedia Network Sign up to receive daily headline news from the Vancouver Sun, a division of Inc.
By clicking the Sign Up button, you agree to receive the above newsletter from Postmedia Network Inc. Unsubscribe at any time by clicking the unsubscribe link at the bottom of the email. Post Media Networks Inc. | 365 Bloor Street East, Toronto, Ontario, M4W 3L4 | 416-383-2300
Thank you for registering.
Sending welcome email. If you don't see it, please check your spam folder.
The next issue of Vancouver Sun Headline News will arrive in your inbox shortly.