For one thing, 'let's include being better prepared for snow emergencies and stop blaming the citizens who just want to get home,' says Joan Galloway of Surrey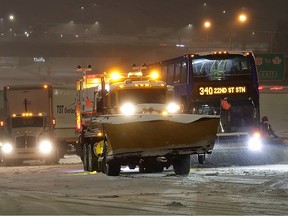 Dozens of vehicles were stranded on the northbound lanes of the Alex Fraser Bridge for several hours due to accumulating snow on Nov. 29, 2022. Crews worked to plow and salt the bridge deck including several transit buses and semi-trucks.
Photo by Shane MacKichan
The B.C. Ministry of Transportation blamed traffic congestion for the lack of snow clearing that resulted in chaos and gridlock. All 30 of the region's snowplows were fully deployed. Thirty snowplows for a region with a population of over two million? Seriously? The City of Toronto has 600 snowplows, 300 sidewalk plows and 200 salt trucks.
We've been hearing so much about being better prepared for climate emergencies like floods. Let's include being better prepared for snow emergencies and stop blaming the citizens who just want to get home.
Sign up to know what's really happening by reading daily editorials and commentary by British Columbia's opinion leaders
By clicking on the sign up button you consent to receive the above newsletter from Postmedia Network Inc. You may unsubscribe any time by clicking on the unsubscribe link at the bottom of our emails. Postmedia Network Inc. | 365 Bloor Street East, Toronto, Ontario, M4W 3L4 | 416-383-2300
Thanks for signing up!
A welcome email is on its way. If you don't see it, please check your junk folder.
The next issue of Vancouver Sun Informed Opinion will soon be in your inbox.
Joan Galloway, Surrey
As a person with disabilities who needs frequent access to bathrooms and as a trained urban planner, I'm appalled at the totally inept response to a predicted snowfall during a known rush hour. Only 30 plows for how many kilometres of roadways times the number of lanes?
Fiona Avakumovic, Burnaby
The front-page headline on last Thursday's Vancouver Sun was one of the best of all time: "Snowfall chaos blamed on traffic."
I have a suggestion for next time you run a story on doctor shortages or long waits for operations: "Health care chaos blamed on patients."
Ian Ballam, Burnaby
Once again it is proven that the Port Mann and Alex Fraser bridges are useless when the snow starts flying.The Liberals want to build another one to replace the George Massey tunnel to ensure that absolutely none of us will get across the river during a snowstorm.
Garth Heald, Delta
Backlogs on highways
Will someone please tell little-old-innocent me why this common occurrence can't be fixed.
Every time there is an accident or snowfall on a highway, cars back up for gross times and distances — all with nowhere to go.
In the most recent snowstorm, people were in traffic snarls for up to nine hours. Why is it so difficult to have controlled ways to have cars turned around to the nearest exits?
There are turnaround areas on highways for the use of police, for example. Surely, a couple of cops could be deployed to free trapped motorists via those. But no. with nary an allowable escape route, hapless drivers sit and wait and wait and wait.
It seems so dangerous, dumb and unnecessary.
Bryant Avery, Surrey
Premier Eby takes swipe at seniors
Bill 44 was rushed through the legislature by invoking closure just before B.C. MLAs went home for the holidays.
Bill 44 amends the Strata Properties Act by, among other things, invalidating all rental bylaws in strata buildings. Hundreds of strata in B.C. are small, less than 40 units, self- managed by owner/volunteers. The home-like character of these strata risk being changed for the worse by allowing rentals.
These small strata are invariably owned and run by seniors. It's their home; it's were they live. They take tremendous pride in keeping the gardens beautiful, the leaves raked, the snow (perish the thought) shovelled and even the garbage hauled to the curb. Renters are poor volunteers. They pay rent to the absentee landlord and don't want to be bothered with mundane chores.
Rather than invoke heavy-handed closure on this bill, Eby should have spent a little time informing himself and his government on the consequences of this legislation.
David Eby is an unelected premier. Many of use voted for John Horgan. Premier Eby may think that he is the smartest guy in the room, but it seems to me more and more "he doesn't know what he doesn't know."
Tom Holland, Surrey
Letters to the editor should be sent to sunletters@vancouversun.com.
More news, fewer ads: Our in-depth journalism is possible thanks to the support of our subscribers. For just $3.50 per week, you can get unlimited, ad-lite access to The Vancouver Sun, The Province, National Post and 13 other Canadian news sites. Support us by subscribing today: The Vancouver Sun | The Province.