Neighbours described huge flames bursting out of a window. Three floors of the building on Kingsley Rd. had to be evacuated.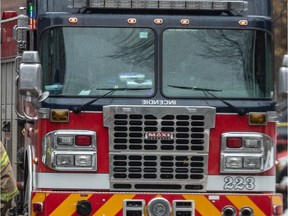 Photo by Dave Sidaway

/

Montreal Gazette
One person died and two people were hospitalized for smoke inhalation after a fire broke out in an apartment building in Côte-St-Luc on Monday night.
The fire was in an apartment on Kingsley Rd., near Baily Rd.
Sign up to receive daily headline news from the Montreal Gazette, a division of Postmedia Network Inc.
By clicking on the sign up button you consent to receive the above newsletter from Postmedia Network Inc. You may unsubscribe any time by clicking on the unsubscribe link at the bottom of our emails. Postmedia Network Inc. | 365 Bloor Street East, Toronto, Ontario, M4W 3L4 | 416-383-2300
Thanks for signing up!
A welcome email is on its way. If you don't see it, please check your junk folder.
The next issue of Montreal Gazette Headline News will soon be in your inbox.
The Montreal fire department received a call at 5:30 p.m. regarding a blaze on the third floor, said Matthew Griffith, a section chief in prevention with the department.
Neighbours described huge flames bursting out of a window.
"We heard a big bang and the flame came out like 20 feet further from the building," said Charles Bonneville, who lives with his daughter on the second floor, just across from the apartment where the fire started. "Then there were two more really loud explosions. The fire was going crazy. We grabbed the puppies, closed the stove and went out.
"What's sad is there are a lot of elderly people living in the apartment building and they were gasping for air as they were walking down the emergency stairs."
People living on the third, fourth and fifth floors of the building had to be evacuated.
The investigation has been handed over to Montreal police.
About 75 firefighters and 25 fire trucks were on the scene. The blaze was out by around 7 p.m.