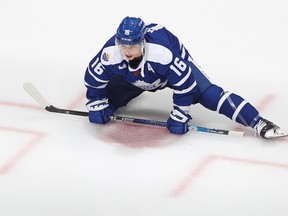 Maple Leafs winger Mitch Marner warms up prior to Wednesday night's game against the San Jose Sharks. Marner was looking to record at least one point in his 18th consecutive game.

Photo by Claus Andersen

/

Getty Images
Beneath his youthful No. 21 banner, lowered to half-mast in mourning, the Maple Leafs and 19,000 fans quietly said their final all-too-soon goodbyes to Borje Salming on Wednesday night.
Eighteen days after he gathered the strength to walk to centre ice for one final wave to the 'nation' he'd excited for two decades at Maple Leaf Gardens — and kept drawing ovations whenever dropping by Scotiabank Arena — there was only his image on the video board.
As the Canadian national soccer teams head to their respective FIFA World Cups, Derek Van Diest is on the scene to cover all the action. Expect expert insights and analysis in your inbox daily throughout the tournaments, and weekly on Thursdays for the rest of the season.
By clicking on the sign up button you consent to receive the above newsletter from Postmedia Network Inc. You may unsubscribe any time by clicking on the unsubscribe link at the bottom of our emails. Postmedia Network Inc. | 365 Bloor Street East, Toronto, Ontario, M4W 3L4 | 416-383-2300
Thanks for signing up!
A welcome email is on its way. If you don't see it, please check your junk folder.
The next issue of Corner Kicks with Derek Van Diest will soon be in your inbox.
And for a poignant 21 seconds, there was respectful silence before applause and the chanting of his name.
The Leafs, particularly the seven Swedes on their roster when he passed last week while the team was away, have given their heartfelt tributes, countrymen not known for such public candour.
By fortunate coincidence they were joined by San Jose's Erik Karlsson, one of the great defenceman who can draw an ancestry line direct to Salming's NHL arrival in the 1970s.
"I think he's so instilled in Swedish hockey and Swedish culture for how we represent ourselves," Karlsson said Wednesday morning. "I was fortunate to get to meet him a couple of times a year, a tremendous man, someone who helped shape what I think all of us Swedish guys want to represent.
"We think that hockey should be played from a toughness standpoint and, obviously, he paved the way for a lot of people, especially from Europe.
"It's sad he's not with us anymore. Even though he was out of the game a long time, he was someone who represented the sport as good as anyone can. He had connections to Toronto, but for myself, playing for Ottawa so long, he was always so nice to me and I could feel he was cheering for me as a hockey player, not necessarily the team I was representing. I respected him a lot for it."
MARNER MANIA
For Sheldon Keefe, the value of Mitch Marner goes far beyond the pursuit of a franchise's consecutive games points record.
Marner could have been shut out Wednesday night, one shy of tying Darryl Sittler and Ed Olczyk at 18 straight, but Keefe would've looked beyond, to his play away from the puck, his presence on the bench and in the room as positives, win or lose against the San Jose Sharks. A win would give Toronto a slate of 11-1-3 in November, contrasting its sluggish start. And if Marner gets a piece of team history as part of that, the coach will be even happier.
"He's been in this league a good while now (since 2016), we've seen him at his best and it looks a lot like right now," Keefe said Wednesday morning. "There really is no area of our game, of our team and the energy of our group that he is not involved in.
"You have someone playing as well as he is right now and it's not really about himself; it's about the team, helping us win."
That said, Keefe didn't want the Leafs going glory hunting for Marner's sake on Wednesday, not when NHL defencemen scoring leader Erik Karlsson is in Scotiabank Arena, waiting to catch them over-loading the offensive zone.
"(The record) naturally becomes the focal point," Keefe said. "You want to see your players get rewarded and get accolades, but always understand, the moment you get off track of that you go the other way."
SAM-WICH IN NET
A month ago, the Leafs were missing both of their NHL veteran goalies: now the crease is crowded.
Ilya Samsonov has been pronounced fit for duty after a knee injury, ready to compete with Matt Murray, who returned from his groin injury on Nov. 15.
Combining Murray's run with Samsonov's success prior to getting hurt, the duo's record is 11-3.
Keefe had said Tuesday he'd likely keep Samsonov out another day or so and look to use him on the coming Tampa Bay – Dallas road trip. But when the Russian woke up feeling spry, he got the San Jose assignment.
"He'd had a good practice, medically he was cleared, he's very excited to play," Keefe said.
Samsonov was hurt trying to stop a Brad Marchand penalty shot goal in a win over Boston on Nov. 5. It was a missed chance to have his leash extended after coming in as Murray's backup.
"That's hockey life," Samsonov said with a shrug. "I feel good. My confidence is back. I haven't lost a lot, I was skating the second or third day after the injury.
"We're fun to watch (from the press box). We win a lot. I'm in the locker room a lot and I see everybody smiling. It's just what we need."
The Leafs have loaned third goalie Erik Kallgren to the AHL Marlies, though he was leaned on in 10 games with an .898 save percentage and suffered a few overtime losses.
MAC AT HOME
Wednesday was the first home game for rookie defenceman Mac Hollowell, who drew praise for his poise on the Leafs' 4-0 trip after Jordie Benn joined a lengthy blueline injured list.
Hollowell's father Len already has the puck from Mac's first NHL point, an assist in Detroit on Monday, and other clan members came to watch his debut in New Jersey so a fist full of expensive tickets wasn't required Wednesday.
"It's definitely special playing in this building having grown up down the highway (in Niagara Falls, Ont.)," Hollowell said. "I've looked at it (a lot from the outside)."
lhornby@postmedia.com