Navigation using apps such as Google Maps or Apple Maps is only as good as the data they rely on to function, which degrades along with road conditions in the snow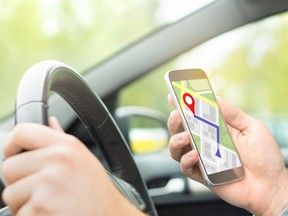 Navigation apps, whether it is Apple Maps, Google Maps or the Google-owned Waze, rely on the quality of the collective users' data, say experts. And sometimes, such as in a storm situation, that data can come up short.

Photo by Tero Vesalainen

/

Getty Images/iStockphoto files
BCIT computing instructor Carly Orr used Google Maps to avoid a congested Highway 99 on her evening commute from Vancouver to Richmond during Tuesday's snow squall, but spotted the shortcomings of relying on the data-driven application along the way.
"Even though I was pretty much following a green path, according to the map, I did come across some intersections that were blocked," Orr said.
Start your day with a roundup of B.C.-focused news and opinion delivered straight to your inbox at 7 a.m., Monday to Friday.
By clicking on the sign up button you consent to receive the above newsletter from Postmedia Network Inc. You may unsubscribe any time by clicking on the unsubscribe link at the bottom of our emails. Postmedia Network Inc. | 365 Bloor Street East, Toronto, Ontario, M4W 3L4 | 416-383-2300
Thanks for signing up!
A welcome email is on its way. If you don't see it, please check your junk folder.
The next issue of Sunrise presented by Vancouver Sun will soon be in your inbox.
As an instructor who teaches students how to use data, she understood why.
"The app is purely based on data from other users," collecting information from the smartphones of people moving through locations to update conditions shown on the map, Orr said. It's a system that works well under normal conditions.
"Its shortcomings are exacerbated during a snowfall, for example, because there will be roads that have lots of snow and no one is going there, so it looks like it's clear," Orr said.
In other cases, the app might not detect more viable alternate routes, again because few drivers are using it to provide data to the system.
Those shortcomings have led to well-publicized failures, such as in December of last year when Google Maps directed dozens of drivers onto a treacherous rural road in Plumas County, Calif. in the Sierra Nevada mountains, which was reported in the New York Times.
Navigation apps, whether it is Apple Maps, Google Maps or the Google-owned Waze, also don't take three-dimensional information into account such as elevation data, according to geospatial-mapping expert Will Cadell.
So, during heavy snow, they also can't read whether alternate routes being proposed take drivers up steep hills that would be impassable for most drivers.
"So many geospatial or GIS stories come down to the quality of data," said Cadell, CEO of the Prince-George headquartered geospatial software firm Sparkgeo.
"The elevation data hasn't been brought into the analysis, so as a result people are routed in the wrong way," Cadell said.
And Tuesday's traffic chaos around Metro Vancouver is another case for the technology companies to be more transparent about the data sources they are incorporating in their apps, said data expert David Michelson.
"As good as Google Maps is, that's the Achilles heel to Google Maps, and Apple Maps or whatever, is that they are proprietary products," with decision-making around data sources hidden from the public, said Michelson, a professor in electrical and computer engineering at the University of B.C.
By contrast, other technology used on roads and at intersections in the public sphere follow standards set by Transport Canada or provincial road authorities. So if something goes wrong, "you can always trace back why things were done," and make changes in a transparent way, Michelson said.
Michelson said the technology companies are improving navigation systems all the time with new smart cities-related applications, such as data-generating traffic signals, creating information sources that weren't available just a few years ago.
In the meantime, drivers need to be aware of the limitations of navigation apps and know they need to use some local knowledge or consult other sources before simply following map directions.
"So being aware of other sources of information so you can sort of give intelligent oversight (to navigation apps)," Michelson said.
"These are excellent tools but nothing's perfect, and we do need to have a little bit of diversity and redundancy in the system."
depenner@postmedia.com
twitter.com/derrickpenner
Commute from hell: Drivers share their snowstorm nightmares

Metro Vancouver snowstorm: Alex Fraser Bridge closure strands motorists | Some school districts closed | Plane gets stuck off YVR taxiway

'People with great hearts': Good samaritans provide food, warmth to stranded Metro Vancouver commuters
More news, fewer ads: Our in-depth journalism is possible thanks to the support of our subscribers. For just $3.50 per week, you can get unlimited, ad-lite access to The Vancouver Sun, The Province, National Post and 13 other Canadian news sites. Support us by subscribing today: The Vancouver Sun | The Province.