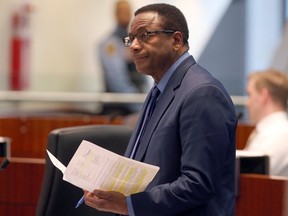 Michael Thompson speaks during a city council meeting in Toronto on March 27, 2019.

Photo by Dave Abel

/

Toronto Sun
Michael Thompson, the man who has been serving as Toronto's deputy mayor and the councillor for Ward 21 in Scarborough, has been charged with two counts of sexual assault, according to a lawyer representing Thompson.
He's also been dropped as deputy mayor, according to a statement issued by Mayor John Tory.
From our newsroom to your inbox at noon, the latest headlines, stories, opinion and photos from the Toronto Sun.
By clicking on the sign up button you consent to receive the above newsletter from Postmedia Network Inc. You may unsubscribe any time by clicking on the unsubscribe link at the bottom of our emails. Postmedia Network Inc. | 365 Bloor Street East, Toronto, Ontario, M4W 3L4 | 416-383-2300
Thanks for signing up!
A welcome email is on its way. If you don't see it, please check your junk folder.
The next issue of Your Midday Sun will soon be in your inbox.
According to sources, a woman came forward to police in early September with a complaint against Thompson dating back to early July. The woman told police that Thompson had assaulted her when she visited a cottage he was staying at near Port Carling, west of Bracebridge.
After police began investigating, a second victim was identified, leading to the two charges.
"I can't comment right now," Thompson said when reached by phone Thursday morning.
Asked if he had a lawyer who could speak to the charges, he again said that he could not comment.
Later in the day, lawyer Calvin Barry, acting for Thompson, told the Toronto Sun "he will be pleading not guilty" and will "vigorously defend himself" against the allegations which Barry called "baseless." Barry added that Thompson has been "cooperating" in the investigation.
While further details of the alleged incident are not known, Barry said the claims are on the "lower range or spectrum of complaints of sexual assault" and that Thompson "denies all allegations." Thompson agreed to turn himself into police on Thursday to be charged in an arrangement negotiated by Barry.
The Ontario Provincial Police have not confirmed the charges at this point, but the investigation remains open. None of the charges have been tested in court.
Thompson is scheduled to appear before the Ontario Court of Justice in Bracebridge on Nov. 1, 2022.
"I take sexual assault allegations and charges against any individual very seriously," Mayor Tory said in a statement Thursday evening.
"While the councillor is facing these charges, it would not be appropriate for him to continue serving as a deputy mayor or chair of a standing council committee. He has agreed and will be resigning those positions effective immediately."
Thompson has been a councillor since 2003 and was first elected on a platform that focused on law and order. He had been serving as chair of the economic and community development committee and served on the police services board from 2010-14.
He's been re-elected with large majorities over the past several elections including 69% of the vote in 2018. In the current election, Thompson is facing off against five other candidates.