Noelle "Elli" O'Soup was found dead on May 1 at an apartment on Heatley Avenue and Hastings Street in downtown Eastside. ..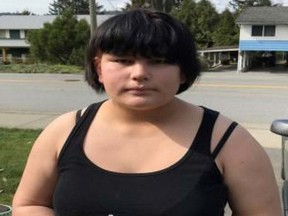 Noelle "Elli" O'Soup, 14 years old, 2021 5 I left Port Coquitram's house on the 12th of May.
Photo by Coquitlam RCMP
A 14-year-old Port Coquitlam teenager who has been missing for over a year has died. It was confirmed that.
Port Coquitlam RCMP states that the search for the indigenous teen Noel "Eli" Osoup has come to a tragic end after it was discovered that he had died in Vancouver. I did.
Vancouver police found two people dead on May 1 in the room of Heatley Block, an apartment building on Heatley Avenue and Hastings Street. I confirmed that I was one of them.
The cause of death is still unknown, police said.
The identity of the second person in the apartment has not been disclosed.
A third person (a man in his 40s) died in the same apartment. His body was found on February 23. It is unclear if there is any relationship between the three or between the dead.
At the time, police said she was known for frequent access to the Vancouver area and may have avoided her medical examination.
In January, police released a photo of an unidentified woman to determine if she was involved in an O'Soup investigation.
The woman had short black hair and she wore it in BC. She has a ferry jacket and a bee clean reflective vest, dark pants and shoes.
In May, the RCMP updated its appeal for help in finding the O'Soup.
At a press conference, Coquitlam RCMP spokeswoman Cpl. Paige Kuz appealed directly to O'Soup. "Elli, your loved one, the police are worried about you and are working hard to ensure your safety and well-being.
" You are not in trouble. We. You need to make sure you're OK. "
Vancouver police are investigating the death situation of O'Soup.
Sign up to receive daily headline news from Vancouver Sun, a division of Postmedia Network Inc. By clicking the
By sign-up button, you agree to receive the above newsletter from Postmedia Network Inc. You can unsubscribe at any time by clicking the unsubscribe link at the bottom of the email. Postmedia Network Inc. | 365 Bloor Street East, Toronto, Ontario, M4W 3L4 | 416-383-2300
Thank you for registering.
A welcome email has been sent. If you don't see it, check your junk folder.
The next issue of Vancouver Sun Headline News will arrive in your inbox shortly.