No one was injured in the blaze that broke out early Saturday in a unit at Sereenas Housing for Women on Dunlevy Avenue.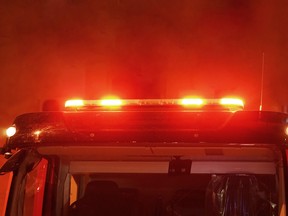 Vancouver firefighters were called out Saturday for another fire at an SRO in the Downtown Eastside.

Photo by Stock art

/

Getty Images
More than 50 residents of a single-room occupancy building in Vancouver have been displaced after a fire broke out in one of the suites Saturday.
It's the latest in a series of blazes that have destroyed SROs, leaving hundreds of people scrambling to find shelter in a city with a housing and affordability crisis.
Start your day with a roundup of B.C.-focused news and opinion delivered straight to your inbox at 7 a.m., Monday to Friday.
By clicking on the sign up button you consent to receive the above newsletter from Postmedia Network Inc. You may unsubscribe any time by clicking on the unsubscribe link at the bottom of our emails. Postmedia Network Inc. | 365 Bloor Street East, Toronto, Ontario, M4W 3L4 | 416-383-2300
Thanks for signing up!
A welcome email is on its way. If you don't see it, please check your junk folder.
The next issue of Sunrise presented by Vancouver Sun will soon be in your inbox.
Firefighters were called out around 8 a.m. to the fire at 143 Dunlevy Avenue, which is where Sereenas Housing for Women is located. Sereenas House is run by Atira Women's Resource Society.
Brian Bertuzzi, assistant chief of operations for Vancouver Fire and Rescue, said when firefighters arrived one unit on the second floor was engulfed in flames. It spread to the third floor and damaged four units, he said.
He said the building was safely evacuated, and there were no injuries to occupants or firefighters. However, he said the displaced residents won't be able to return home for some time.
The building did not collapse and can be repaired but that will take time, he said. Bertuzzi said city officials and Atira staff were discussing Saturday where to house the displaced residents.
A cause of the fire has yet to be determined. It is one of several such fires at SROs and rooming houses this year in Vancouver.
In August, a fire in the Downtown Eastside caused damage to two separate SROs, putting 42 residents in one and 17 in the other out of their homes. In that fire, on Powell Street, there was an explosion around 4 a.m., which sparked the fire between the two buildings, blew out windows and spread inside, causing significant fire and water damage. One person was taken to hospital suffering smoke inhalation.
Other recent fires in the Downtown Eastside include an e-bike battery explosion in the Hotel Empress near Main and Hastings in early June that left one man dead.
A blaze in the century-old Winters Hotel in Gastown in April killed two, while more than 70 residents displaced by that fire were moved into a nearby refurbished hotel.
A fire in early July that destroyed the Vancouver Street Church building nearly took out the SRO next door, but crews were able to contain it before it spread to the seven-storey Maple Hotel.
ticrawford@postmedia.com
—with files from Joseph Ruttle