It's not even December, yet contenders in both conferences have begun distancing themselves from the faint-hope brigade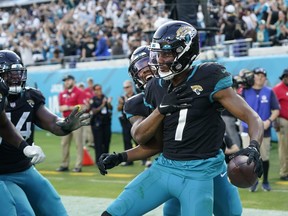 Jacksonville Jaguars wide receiver Zay Jones (7) celebrates a two-point conversion catch with his team during the second half of an NFL football game against the Baltimore Ravens, Sunday, Nov. 27, 2022, in Jacksonville, Fla.

Photo by John Raoux

/

AP Photo
With six weeks to go in the regular season, NFL playoff races are narrowing down swiftly — and surprisingly early.
It's not even December, yet contenders in both conferences have begun distancing themselves from the faint-hope brigade.
As the Canadian national soccer teams head to their respective FIFA World Cups, Derek Van Diest is on the scene to cover all the action. Expect expert insights and analysis in your inbox daily throughout the tournaments, and weekly on Thursdays for the rest of the season.
By clicking on the sign up button you consent to receive the above newsletter from Postmedia Network Inc. You may unsubscribe any time by clicking on the unsubscribe link at the bottom of our emails. Postmedia Network Inc. | 365 Bloor Street East, Toronto, Ontario, M4W 3L4 | 416-383-2300
Thanks for signing up!
A welcome email is on its way. If you don't see it, please check your junk folder.
The next issue of Corner Kicks with Derek Van Diest will soon be in your inbox.
It's likely we already know most playoff teams. See the lists below.
Granted, four division leaders entering the day did lose on Sunday — the Baltimore Ravens in a thriller at Jacksonville, the Tennessee Titans in a slugfest against Cincinnati, the Tampa Bay Buccaneers in overtime at Cleveland, and the Seattle Seahawks in overtime to Las Vegas. Yet three still cling to top spot in their respective divisions, even the Bucs at 5-6, atop the ever-more-of-a-joke NFC South, while the Seahawks dropped a game behind San Francisco in the NFC West.
Besides that foursome — as well as the New York Giants and New England Patriots on Thursday — every other team with a realistic playoff pulse in either the AFC or NFC won either on Sunday or on U.S. Thanksgiving Day.
Which leaves us entering December in a few days with the following teams as the likely only remaining playoff contenders in each conference, bearing in mind that seven teams per conference qualify for the playoffs when the regular season ends on Sunday, Jan. 8:
AFC (9 contenders)
PP – Kansas City Chiefs, 9-2, West division
PP – Miami Dolphins, 8-3, East
PP – Buffalo Bills, 8-3, East
PP – Tennessee Titans, 7-4, South
PP – Baltimore Ravens, 7-4, North
PP – Cincinnati Bengals, 7-4, North
PP – New York Jets, 7-4, East
New England Patriots, 6-5, East
Los Angeles Chargers, 6-5, West
PP – in playoff position
The remaining seven AFC teams have records ranging from 1-9-1 up to 4-6-1, and so far don't seem capable of rising up to contend.
NFC (11 contenders)
PP – Philadelphia Eagles, 9-1, East division
PP – Minnesota Vikings, 9-2, North
PP – Dallas Cowboys, 8-3, East
PP – San Francisco 49ers, 7-4, West
PP – New York Giants, 7-4, East
PP – Washington Commanders, 7-5, East
Seattle Seahawks, 6-5, West
PP – *Tampa Bay Buccaneers, 5-6, South
*Atlanta Falcons, 5-7, South
*Carolina Panthers, 4-8, South
*New Orleans Saints, 4-8, South
PP – in playoff position
The four asterisked teams effectively represent one contender, as all four probably are only in contention to win the lowly NFC South, not a wild-card berth. In both conferences, three wild-card berths go to the three non-division winners with the best records. The remaining five NFC teams have records ranging from 3-9 up to 4-7, and so far don't seem capable of rising up to contend.
All told, this means that 12 NFL teams are more or less out of playoff contention already, unless one or two go on a spectacular run to end the season — say, winning five of six, or something like that. Possible, but unlikely.
It also means there'll be a growing number of teams playing spoiler down the stretch, to muck with your fantasy teams and weekly picks.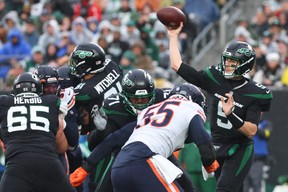 New York Jets quarterback Mike White (5) throws a pass against the Chicago Bears during the first half at MetLife Stadium. (Ed Mulholland-USA TODAY Sports)
ER, ZACH MIGHT NOT BACK VERY SOON
Perhaps Mike White really is the New York Jets' white knight, as the New York tabs have suggested. And as Jets fans hoped.
White — who never so much as took a regular-season snap for the first three years of his NFL career, starting in 2018 as a Day 3 draftee of the Dallas Cowboys — got the opportunity of his career this past week, when Jets head coach Robert Saleh announced that under-performing second-year Zach Wilson has been benched, and that White would start Sunday against the visiting Chicago Bears.
It was a gamble, no matter how poorly Wilson had been playing, because as explained above the Jets are in the thick of the AFC playoff race.
So what'd White do?
Only this: He completed 22-of-28 (78.6%) for 315 yards, three touchdowns and no turnovers, for a near-perfect 149.3 passer rating, in New York's runaway 31-10 victory, in constantly drizzling cold rain.
"He did a great job," Saleh said of White afterward. "He didn't need to be anybody but Mike White. We didn't need to turn into the greatest show on turf. We just wanted him to play within himself and play efficient. I thought he did that.
"He made the 'easy' look easy."
What's more, it was White's fourth career start, after subbing in for an injured Wilson three times last season, upon joining the Jets. According to ESPN Stats & Info, White became the first quarterback in NFL history to have multiple games with at least a 75% completion percentage, 300 passing yards and three passing TDs within his first four starts. In his second start last year, a 34-31 win over Cincinnati, he completed 37-of-45 (82.2%) for three TDs, two picks and 405 yards.
That's something. It really is.
Now, can White keep it going? Because two weeks after that fabulous performance against the Bengals, White completed 55% in throwing four interceptions in a 44-24 loss to Buffalo.
AS FOR THE BEARS' QB MELODRAMA …
Chicago, meantime, had its own fresh drama at the QB position.
First, as speculated all week, it finally was confirmed 90 minutes before kickoff at New York that Bears starter Justin Fields was a scratch, and wouldn't even dress because of his left-shoulder separation suffered last week.
His backup, Trevor Siemian, would start.
But then just 50 minutes before kickoff, news broke that Siemian hurt his oblique in pregame warmups, and third-stringer Nathan Peterman — a Saturday practice-squad elevation — would start instead.
Yeah, THAT Nathan Peterman.
Then, just minutes before opening kickoff, word broke that that was not necessarily the case — that Chicago's QB starter, in fact, would be a game-time decision.
This, just a few hundred seconds before game time.
Siemian wound up starting, and played quite well in the first quarter, before the entire Bears offence fired blanks the rest of the way.
CHARGERS, JAGS WIN WITH TWO-POINTERS
For once, the Los Angles Chargers were the benefactors of decisive, dramatic, last-minute good fortune — engineered by their own elite-level play.
Ditto the Jacksonville Jaguars.
Both teams rallied to win in the final minute Sunday.
At Arizona, the Chargers overcame deficits of 17-14 at halftime and 24-17 through most of the fourth quarter by marching 38 yards in seven plays in the final two minutes — capped by a Justin Herbert to Austin Ekeler one-yard touchdown pass with 15 seconds left.
Down 24-23, ever-gambling Los Angeles head coach Brandon Staley opted to for the win right there, rather than take chances on overtime. And Herbert hit tight end Gerald Everett with a simple slant to the right, behind a clear-out wide-receiver slant to the right, for the easy game-winning catch for two points, and a 25-24 win.
Los Angeles improved to 6-5 to remain thick in the hunt for an AFC wild-card berth.
At Jacksonville, Baltimore took a 27-20 lead with 2:02 left, on Lamar Jackson touchdown and two-point conversion passes.
The Jaguars answered with the same from Trevor Lawrence to win it, 28-27 with 14 seconds left.
In probably the signature performance of his two-season NFL career, last year's No. 1 overall draft pick, Lawrence, quickly drove the Jags 75 yards in 10 plays, mostly as the clock kept ticking.
With 36 seconds left and the Jags facing 3rd-and-6 from the Baltimore 39, Lawrence lofted a perfect touch lob deep left for wide receiver Zay Jones, who hauled it in for a 29-yard gain. Rather than spike the ball, the Jags raced up to the line, and Lawrence lobbed a perfect throw into the far right side of the end zone, again to Jones, who got a shin down in bounds for a 10-yard TD.
Down 27-26, Jags head coach Doug Pederson went for the win, and Lawrence yet again hit Jones, breaking fast on a crosser toward the left sideline.
"He's smart, he can see the field," Pederson said of his heroic QB, "and he can make all of the throws."
It's certainly starting to seem that way — in games, not just practices.
OBJ REMOVED IN AIRPLANE INCIDENT
Mere hours after Sunday morning reports said free-agent wide receiver Odell Beckham Jr. is about ready to pick a suitor, news broke he was involved in an incident involving police at Miami airport.
Beckham's representative in a statement said the receiver boarded his flight without incident, but after the flight was delayed, Beckham "fell asleep with his blanket over his head," and that upon being awakened, Beckham was "told that the plane was back at the gate and that he needed to get off the plane because he did not put his seatbelt on when asked … The overzealous flight attendant insisted on removing everyone from the plane, instead of simply allowing Mr. Beckham to fasten his seatbelt and proceed with the flight."
The Miami-Dade police force countered with its own statement, saying it was dispatched to "a medical emergency at an American Airlines flight. The flight crew was concerned for a passenger (Mr. Odell Beckham) as they tried to wake him, to fasten his seat belt, (as) he appeared to be coming in and out of consciousness … Fearing that Mr. Beckham was seriously ill, and that his condition would worsen through the expected five-hour flight, the attendants called for police and fire rescue. Upon the officers' arrival, the flight crew asked Mr. Beckham several times to exit the aircraft, which he refused.
American Airlines released a statement supporting the police's version of events, saying the flight "re-departed" without Beckham at 10:54 a.m. EST.
What will this mean for Beckham's intention to return to play this season? Good question.
If nothing else, hopefully this will finally force Dallas Cowboys owner/GM Jerry Jones to shut his yap and quit providing nearly daily inane updates on his team's breathless pursuit of Beckham, who'd surely be yet another distraction his players don't need.
EXTRA POINTS
Seattle couldn't stop Las Vegas Raiders running back Josh Jacobs, who romped for a franchise-record 303 scrimmage yards — including the decisive 86-yard run in overtime — in a 40-34 road victory. Jacobs rushed 33 times for 229 yards, and caught six passes for 74 yards. Jacobs' 303 scrimmage yards rank eighth in NFL single-game history … Cincinnati won another low-scoring slugfest at Tennessee, as it did in the AFC divisional playoffs last January. This time, 20-16. "This is the kind of game that great teams win," Bengals QB Joe Burrow said … Washington won another nail-biter, 19-13 over visiting Atlanta, when a tipped Marcus Mariota pass into the end zone with 58 seconds left was intercepted by Kendall Fuller … As expected, Miami crushed Houston, 30-15, although new Texans starting QB Kyle Allen made it interesting after the Dolphins began resting starters … As expected, Kansas City didn't sweat much in beating a Los Angeles Rams team starting third-string QB Bryce Perkins … As expected, San Francisco squashed New Orleans, 13-0. You know the Saints are in trouble when QB Andy Dalton (21 yards) outrushes both Alvin Kamara (13) and Taysom Hill (13) … Tampa Bay lost in overtime at Cleveland, 23-17 … Denver was dreadful again offensively, and lost by nearly two touchdowns at Carolina, 23-10.
John Kryk writes a weekly newsletter on NFL matters. That's where you can first see his straight-up picks each week. You can have the newsletter automatically dropped into your email inbox on Wednesdays simply by signing up — for free — at https://torontosun.com/newsletters/
JoKryk@postmedia.com
@JohnKryk
Check out our sports section for the latest news and analysis. Care for a wager? Head to our sports betting section for news and odds.