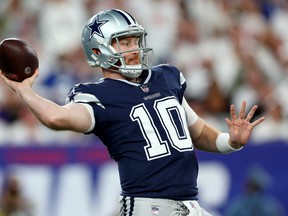 Cooper Rush of the Dallas Cowboys throws a pass against the New York Giants.
Getty Images
BEST BETS
BILLS 2-1 at RAVENS 2-1
Don Brennan's daily hit on the world of sports betting. Whether you're new to sports gambling or an experienced wagerer, this newsletter offers trustworthy insights into the odds game. 19+. Please gamble responsibly.
By clicking on the sign up button you consent to receive the above newsletter from Postmedia Network Inc. You may unsubscribe any time by clicking on the unsubscribe link at the bottom of our emails. Postmedia Network Inc. | 365 Bloor Street East, Toronto, Ontario, M4W 3L4 | 416-383-2300
Thanks for signing up!
A welcome email is on its way. If you don't see it, please check your junk folder.
The next issue of Closing Lines will soon be in your inbox.
LINE: Buffalo by 3
CHEWABLE: Am I the only one who sees this as a gimme? Against the Dolphins, the Bills were down seven starters, including four key defenders, and playing in unfamiliarly intense heat on a short week, and they still dominated the stats pack every where except the final score … Bills are 7-1-1 ATS in their past nine following an ATS loss … Ravens are 2-9 ATS in their past 11 following a ATS win. That's the situation they're in here after pounding New England 37-26 in Foxborough last week … Lamar Jackson has accounted for 12 TDs, throwing for 10 and scoring two himself. The Bills as a team have scored 11 … The favourite is 4-0 ATS in the past four meetings … Ravens are banged up. And they've allowed 64 points over the past two games. Their defence has been horrid. Largely because of a non-existent pass rush (missing Justin Houston really hurts) it gives up big plays. Josh Allen is drooling.
TAKING: BUFFALO -3
SCORE: (O/U 51.5): Bills 31, Ravens 21
COMMANDERS 1-2 at COWBOYS 2-1
LINE: Dallas by 3.5
CHEWABLE: Doesn't Cooper Rush just sound like a cowboy to you, or am I thinking that because of Gary Cooper, who starred in that great western High Noon? Either way, he's saving Dallas' season and will continue to do so in Week 4. Not as much by spectacular plays as he's not losing games. He hasn't turned the ball over yet … Cowboys are 4-1 ATS the last five times Washington has visited … Dallas is also 4-0 ATS in its past four October games and 6-0 in its past six games against a team with a losing record .. Meanwhile, say a prayer for Carson Wentz. He was sacked nine times by the Eagles last week and now faces a significantly better pass rush. On defence, Commanders are having trouble defending the run, pass and big plays. Other than that, they're outstanding … Chalk up another win for Cooper Rush.
TAKING: DALLAS -3.5
SCORE (O/U 42.5): Cowboys 28, Commanders 10
PATRIOTS 1-2 at PACKERS 2-1
LINE: Green Bay by 9.5
CHEWABLE: Even if Bill Belichick was a doctor, or as good of an orthopaedic surgeon as he is a coach, I don't think he could fix Mac Jones in time for this one. Not the way Jones was screaming in pain from the ankle injury he suffered last week. That leaves Belichick with 36-year-old Bryan Hoyer. Over 13 seasons, Hoyer has started 39 games and has 13 W's, with the most recent one in 2016. Now he leads a weak Patriots offence into Lambeau Field, where the Packers have won nine of their past 10 … Packers lead the NFL in third-down defence, holding opponents to a 22.6% conversion rate … Aaron Rodgers is 120-80 ATS since 2009 … If I was still alive in a Survivor Pool this would be my pick. Wait, I am, so it is.
TAKING: GREEN BAY -9.5
SCORE (O/U 40.5): Packers 28, Patriots 10
AND THE REST ….
VIKINGS 2-1 at SAINTS 1-2
LINE: Minnesota by 3
CHEWABLE: Tea and crumpets sit well with Vikings and Saints. Both teams will be taking 2-0 International series records into Sunday morning's clash at Tottenham Hotspur Stadium in London, which you can watch with your breakfast at 9:30 a.m. on the NFL Network … Vikings needed 14 unanswered points in the fourth quarter last week to beat Detroit at home … Saints are 6-2 ATS in the past eight meetings, all as the favourite …Vikings lead the all-time series 23-13-0 … Different strokes for different folks — the Saints flew straight to London from last week's loss in Carolina so they could get fully adjusted to the time zone (and perhaps load up on tea and crumpets). Vikings will make the trip on Friday … Saints are 13-3 ATS in their past 16 Week 4 games … Saints defence will keep this one close, even if they have to use Andy Dalton at quarterback in place of Jameis Winston, who has been playing through broken bones in his back but didn't practice this week.
TAKING: MINNESOTA -3
SCORE (O/U 43.5): Vikings 26, Saints 21
TITANS 1-2 at COLTS 1-1-1
LINE: Indianapolis by 3.5
CHEWABLE: Expect a battle of the ground games featuring the two best running backs in the league: Jonathan Taylor, who won the rushing title last season, versus Derrick Henry, who won it the three years before that. Taylor is fourth in league rushing through three weeks with 286 yards. Henry is tied for 14th after having his best day rushing (85 yards) and receiving (58 yards) last week … The favourite is 14-5 in the past 19 meetings … Colts are 5-0 ATS in their past five after accumulating less than 90 yards rushing their previous game. They had 82 last week against K.C. … Taylor should have a field day against the Titans 28th-ranked run defence, while the Tennessee corners will have trouble with Michael Pittman Jr. as Indy builds off its upset of the Chiefs.
TAKING: INDIANAPOLIS -3.5
SCORE (O/U 42.5): Colts 27, Titans 17
BEARS 2-1 at GIANTS 2-1
LINE: New York by 3
CHEWABLE: What would you call a team that doesn't have a passing attack and lost its starting running back to an injury? In trouble? Except the Bears have Khalil Herbert as a replacement for David Montgomery, and all he did in relief last week was carry the ball 20 times for 157 yards and two TDs. Herbert should be able to do some damage against Giants 25th-ranked run defence, just like Saquon Barkley will also churn up the real estate against Bears 30th-ranked run D … Giants are 6-2 ATS in the past eight meetings, but the underdog is 5-1 ATS in the past six, and the road team is 8-3 ATS in the past 11 … If the Bears coaching staff decides to trust Justin Fields for a change (and I get why that hasn't been the case) he just might surprise some people. Either that, or he might start drawing comparisons to Mitch Trubisky … I'm going to go with the 'dog here, but in a weighted picks pool I think I'll put just one on this game.
TAKING: CHICAGO +3
SCORE (O/U 39): Bears 16, Giants 13
CHARGERS 1-2 at TEXANS 0-2-1
LINE: Los Angeles by 5
CHEWABLE: Even with a half-healthy Justin Herbert and minus an injured Keenan Allen, Joey Bosa and left tackle Rashawn Slater, watching the Chargers lose to the Jaguars by four converted touchdowns was stunning … Chargers are 5-1 ATS in their past six after accumulating less than 90 yards rushing the previous game. They had a meagre 26 yards along the ground against Jacksonville … L.A. gets well this week, likely with the return of Allen and a stronger Herbert, against a Houston team whose quarterback, Davis Mills, is on a fast fade since a season-opening tie against the Colts.
TAKING: LOS ANGELES -5
SCORE (O/U 44.5): Chargers 38, Texans 10
SEAHAWKS 1-2 at LIONS 1-2
LINE: Detroit by 4.5
CHEWABLE: D'Andre Swift and Amon-Ra St. Brown were among the grocery list of Dan Campbell's players to miss practice this week, but even without their top running back and receiver the resurgent Lions should be able to take care of this visitor … Lions are 6-0 ATS in their past six home games … Geno Smith leads the league with a 77.5% completion rate, and he has a higher passer rating (100.8) than Russell Wilson, Tom Brady and Aaron Rodgers, but Seattle has managed just 10 second half points in three games.
TAKING: DETROIT -4.5
SCORE (O/U 50): Lions 20, Seahawks 13
JETS 1-2 at STEELERS 1-2
LINE: Pittsburgh by 3.5
CHEWABLE: Zach Wilson has been medically cleared to play and will be the starting quarterback for the Jets and will present an upgrade on Joe Flacco … Steelers lead the all-time series 18-6, but the Jets have won the last three … Home team is 5-1 ATS in the past six meetings …Steelers are 4-0 ATS after their past four ATS losses … Pittsburgh 'D' is looking for a rebound game and Najee Harris, who hasn't rushed for more than 56 yards yet, will finally get back on track.
TAKING: PITTSBURGH -3.5
SCORE (O/U 40.5): Steelers 24, Jets 17
JAGUARS 2-1 at EAGLES 3-0
LINE: Philadelphia by 6.5
CHEWABLE: Think the fans who boo Santa Clause will give a rousing, welcome back ovation for Doug Pederson? They should, for he brought them their one and only Super Bowl. It's early, but with a young and growing cast led by Trevor Lawrence, Pederson's Jags appear to be on the same path … Jalen Hurts is tied for the league lead with Tua Tagovailoa for longest completions of 40+ yards. Both have five … If somebody told you that Jacksonville was going to beat Indy and the Chargers in Weeks 2 and 3 by a combined score of 54-10, wouldn't you want some of what they were smoking? … Jags are 15-47 ATS vs. NFC opponents since 2007 … They'll provide a speed bump for Jalen Hurts, his elite offensive line and then rest of the surging Eagles in what could be the game of the week.
TAKING: PHILADELPHIA -6.5
SCORE (O/U 48.5): Eagles 34, Jaguars 24
BROWNS 2-1 at FALCONS 1-2
LINE: Cleveland by 1.5
CHEWABLE: Myles Garrett suffered what appears to be minor injuries in a car accident this week, but he was not at the Browns facility as of Wednesday and his availability is up in the air. Not sure it matters. Browns ground game is again superb, and Jacoby Brissett has Cleveland fourth in yards per drive … Falcons are becoming the "sexy pick" in the NFL, and it could have something to do with outstanding rookie WR Drake London. He has been targeted 25 times in Atlanta's first three games, from which he has produced for 214 yards on 16 catches … Cleveland owns a 12-3 lead in the all-time series and is 4-1 ATS in the past five … I've heard predictions that have Browns winning in a landslide. I see a closer cover.
TAKING: CLEVELAND -1.5
SCORE (O/U 49.5): Browns 24, Falcons 22
CARDINALS 1-2 at PANTHERS 1-2
LINE: Carolina by 1.5
CHEWABLE: Panthers offence was struggling with Christian McCaffrey in the lineup and now (surprise, surprise) the star running back is questionable with a quad injury that apparently popped up after the team's Week 3 win over the Saints … Strange movement of the week — the advance spread was Cards -2 … Carolina owns a 14-5 edge in the all-time series … Arizona coach Kliff Kingsbury is 0-3 against the Panthers … Baker Mayfield has never been off to a start like this. His 51.9% complete rate is the lowest of his career through three games … Cards are 7-1 ATS in their last eight October games, but they are also 0-5 ATS in their past five trips to Carolina … Cards will be without a couple of injured veterans in J.J. Watt and A.J. Green …. Kyler Murray will find a way to crack through Panthers' exceptional defence.
TAKING: ARIZONA +1.5
SCORE (O/U 42.5): Cardinals 24, Panthers 11
BRONCOS 2-1 at RAIDERS 0-3
LINE: Las Vegas by 2.5
CHEWABLE: Why wouldn't you take the team with the better defence, better quarterback and better offensive line — even if it hasn't yet scored more than 16 points in a game — especially as a surprising dog? … Raiders have won the past four meetings between the teams … Raiders are also 8-1 in their past nine meetings with Denver … Desperation can lead to victory, but, in this case anyway, not a cover … Is it time to call it the Curse of Jon Gruden yet?
TAKING: DENVER +2.5
SCORE (O/U 45.5): Raiders 17, Broncos 16
NFL WEEK 4 PICKS: Browns look to extend solid start to 3-1 in Atlanta

Something smells Fishy when 3-0 Dolphins are significant underdogs versus 1-2 Bengals
CHIEFS 2-1 at BUCCANEERS 2-1
LINE: Kansas City by 2
CHEWABLE: Bucs have spent the week more than a little distracted by the Hurricane Ian. How can that not be a factor? … Home team is 5-1 ATS in the past six meetings. The underdog is 5-1 ATS in the past six meetings … As an underdog over his 22-year career, Tom Brady is an incredible 41-17-2 ATS and 37-23 SU. See where I'm going with all this? … Look again. Even with Mike Evans coming back from a suspension, Brady will likely again be missing Chris Godwin and Julio Jones. He doesn't have the overall ability or weapons to keep pace with Patrick Mahomes, who suffered a rare September loss as his team made all sorts of mistakes last week.
TAKING: KANSAS CITY -2
SCORE (O/U 45): Chiefs 27, Bucs 24
RAMS 2-1 at 49ERS 1-2
LINE: San Francisco by 2.5
CHEWABLE: Beauty of a Monday nighter between NFC West rivals and high-ranking contenders as the conference representative in the Super Bowl … Matthew Stafford was under a lot of pressure against Buffalo, particularly from Von Miller, and it didn't turn out good for him. Rams will be better equipped against the heat-bringing Niners … The underdog is 7-0 ATS the last seven times the teams have faced each other … Niners are 24-10 in the past 34 meetings with the Rams, discounting a tie in 2012 because ties should be discounted in every sport … Niners are 5-0 ATS in the past five against a team with a winning record … We know what happened the last time the defending champs were disrespected as an underdog. It won't happen again.
TAKING: LOS ANGELES +2.5
SCORE (O/U 41.5): Rams 23, Niners 20