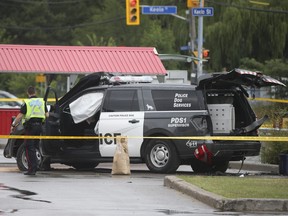 Toronto Police Dog Service Superintendent's SUV - With 2 Dogs in the Back Stolen by a suspect at 4:20 am in the shopping district of Yonge Street and Lawrence Avenue. West of Keefe St. and Lawrence Ave. West.

Photo credit: Jack Boland

/

Toronto Sun/Postmedia Network
Man's face with two police dogs Numerous charges have been filed after the Toronto Police SUV in which he was riding was carjacked and crashed on the western edge of Toronto.
His 32-year-old Zenon Klein-Oram of no fixed address has been charged with trespassing, assault with intent to resist arrest, and escaping from lawful custody. is being asked.
Police said officers answered a call to break and enter a store in his area of ​​Yonge Street Brookdale His Avenue at 4 a.m. Monday.
A man approached the closed shop, threw stones at the glass door, then entered and took away a large quantity of merchandise, according to police.
Officers from the Toronto Police Dog Service quickly responded and handcuffed the suspect after a scuffle.
The man allegedly fled and drove off in a police vehicle.
A man crashes a police car on Kiel Street and Lawrence Avenue. The man allegedly got out of the car and smashed the driver's side of his truck in an unsuccessful attempt to steal the car, police said. police.
He also approached a van parked at an intersection and tried to pull the driver out, police said. Police arrived and arrested him.
You'll get the latest headlines, stories, opinions and photos of Toronto His Sun from the newsroom to your inbox at noon.
By clicking the subscribe button, you agree to receive the above newsletter from Postmedia Network Inc. You can unsubscribe at any time by clicking the unsubscribe link at the bottom of the email. Post Media Networks Inc. | 365 Bloor Street East, Toronto, Ontario, M4W 3L4 | 416-383-2300
Thank you for registering.
Welcome sending his email. If you don't see it, please check your spam folder.
The next issue of Your Midday Sun will arrive in your mailbox shortly.