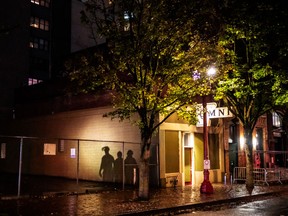 Portland police guard a street corner after dispersing an Indigenous Peoples Day of Rage protest on October 11, 2020 in Portland, Oregon.

Photo by Nathan Howard

/

Getty Images
Crime doesn't pay.
A Portland store shuttered its doors but the owner left a note on the window explaining why they made the tough decision.
As the Canadian national soccer teams head to their respective FIFA World Cups, Derek Van Diest is on the scene to cover all the action. Expect expert insights and analysis in your inbox daily throughout the tournaments, and weekly on Thursdays for the rest of the season.
By clicking on the sign up button you consent to receive the above newsletter from Postmedia Network Inc. You may unsubscribe any time by clicking on the unsubscribe link at the bottom of our emails. Postmedia Network Inc. | 365 Bloor Street East, Toronto, Ontario, M4W 3L4 | 416-383-2300
Thanks for signing up!
A welcome email is on its way. If you don't see it, please check your junk folder.
The next issue of Corner Kicks with Derek Van Diest will soon be in your inbox.
Clothing store Rains PDX permanently shut its doors after a string of break-ins left it in financial ruins.
"Our city is in peril," the message to its customers read, after thanking their "honest and conscientious" clients for their support.
The owner at Rains tells me after five break-ins in about three weeks, she made the sudden decision to permanently close. Staff here are putting pressure on the city to look after small businesses dealing with ongoing challenges with crime. pic.twitter.com/XyP2p6PR6W

— Megan Allison (@mallisonKATU)

November 26, 2022
"Small businesses (and large) cannot sustain doing business in our city's current state," it continued. "We have no protection, or recourse, against the criminal behavior that goes unpunished."
Homicides and 911 response times have skyrocketed since Portland defunded its police department in 2020, leading to Mayor Ted Wheeler to ask for budget increases for police just a year after the force's money was taken away.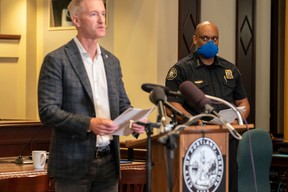 Chuck Lovell, Portland Police Bureau chief, listens to Portland Mayor Ted Wheeler speak to the media at City Hall on August 30, 2020 in Portland, Oregon. (Photo by Nathan Howard/Getty Images)
With a month to go in the year, the city is already at a record 93 homicides, surpassing last year's record of 92 homicides, the Post Millennial reported.
The store's owner, Marcy Landolfo, suffered her 15th break-in within the last year and a half.
She told KATU that she paid for most of the repairs while other times, she just left the windows boarded up.
"It's just too much with the losses that are not covered by insurance, the damages, everything. It's just not sustainable," Landolfo told the outlet.
RECOMMENDED VIDEO
"The problem is, as small businesses, we cannot sustain those types of losses and stay in business," she explained. "I won't even go into the numbers of how much has been out of pocket."
The note on the shuttered store added, "Do not be fooled into thinking that insurance companies cover losses. We have sustained 15 break-ins … we have not received any financial reimbursement since the 3rd."
Landolfo added that while she is concerned about her employees, the location is no longer feasible.
She even reached out to the mayor's office after a break-in last month and his team said they were working to increase funding for business repair grants. But that isn't enough, nor is it a realistic option, according to Landolfo.
"Paying for glass, that's great, but that is so surface and does nothing for the root cause of the problem, so it's never going to change."
CAN THEY GET A REFUND?: Woke Portland restores police budget

Portland police say clash between armed homeowner, protesters sparked shooting

Gun violence erupts in Portland with 19 shootings over weekend