In its 40-plus years of existence, Marquette has always been a red riding. But a sure bet seems less so this time around.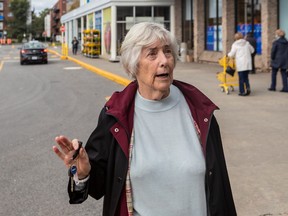 "The dynamics of Lachine have changed," says Liberal supporter Nancy Thomas, 86. "There are lots of new people and different people. And they are entitled to their opinions."

Photo by Dave Sidaway

/

Montreal Gazette
The Gazette is visiting what are expected to be some of the more hotly contested ridings in the Montreal area, and examining how key campaign issues are resonating there. Today: Marquette and language.
Is the West Island really up for grabs in the Quebec election?
Sign up to receive daily headline news from the Montreal Gazette, a division of Postmedia Network Inc.
By clicking on the sign up button you consent to receive the above newsletter from Postmedia Network Inc. You may unsubscribe any time by clicking on the unsubscribe link at the bottom of our emails. Postmedia Network Inc. | 365 Bloor Street East, Toronto, Ontario, M4W 3L4 | 416-383-2300
Thanks for signing up!
A welcome email is on its way. If you don't see it, please check your junk folder.
The next issue of Montreal Gazette Headline News will soon be in your inbox.
For the first time in decades, traditional red ridings no longer seemed to be sure bets as the campaign kicked off, due in large part to changing demographics and disenchantment among the Liberal voter base, particularly on the hot-button issue of language policy.
Nowhere has that dynamic been more at play than in Marquette.
Comprising the City of Dorval, the tiny municipality of Dorval Island and the borough of Lachine, Marquette has gone through many changes over the more than 40 years of its existence, but one thing has remained constant: this has always been Liberal territory.
In its current configuration, the riding has been served by only three MNAs: Claude Dauphin from 1981 to 1994, François Ouimet after him until 2018, and former Montreal Canadiens player Enrico Ciccone, the current incumbent.
Ciccone's main opponent this time is Coalition Avenir Québec candidate Marc Baaklini, a longtime West Island resident who runs a non-profit company that works with Quebec's IT industry.
Polling projections by the QC125 website had Marquette in toss-up territory for much of the campaign, giving the CAQ hope of squeaking through. The latest numbers show 38 per cent support for the Liberals versus 30 per cent for the CAQ. But given that the margin of error is listed at plus-minus eight per cent for the Liberal numbers and seven per cent for the CAQ's, it seems the riding remains up for grabs.
The site has the other main parties far behind, with the Parti Québécois, Conservative Party of Quebec and Québec solidaire at 10, nine and eight per cent, respectively, and a margin of error of around four per cent. The siphoning of votes by these parties could play a role, said veteran political observer and poll watcher Éric Grenier.
"There is the potential that in a seat like Marquette, the Conservatives (represented by candidate Sam Nassr) could split the vote enough to let the CAQ move ahead," Grenier wrote in a recent edition of his newsletter, The Writ.
Still, when the Montreal Gazette approached voters at random in the riding last week, many said they planned to continue supporting the Liberals.
"I vote Liberal; that's it that's all," said Monique Lépine, 76, conversing in both French and English outside the Maxi supermarket on Remembrance St.
Lépine, who grew up in a bilingual family with an Irish mother and francophone father, said it's important for her to vote for a party that intends to keep Quebec within Canada. "The others are all ex-péquistes," she said.
Grenier noted the Liberals are ranking poorly among francophones province-wide and "are having some trouble among non-francophone voters, at least when compared to their usual dominance." Meanwhile, Quebec Conservatives are gaining among non-francophones.
The Liberal brand in Marquette took a hit in 2018 when Ouimet was unceremoniously dumped by Philippe Couillard's team in favour of Ciccone. As a result, the Liberal vote went from 62 per cent to 42 per cent — still good enough for a comfortable win over the second-place CAQ candidate, at 28 per cent.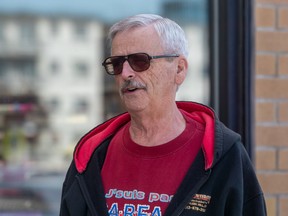 Raymond Wilhelmy, 70, said he had not yet decided how he would vote, but felt it's important to have a strong opposition in the National Assembly.

Photo by Dave Sidaway

/

Montreal Gazette
Some Lachine voters say it's time for the riding to shed its traditional ties.
"I hope it changes," said Raymond Wilhelmy, 70. "The Liberal Party just doesn't attract me. They have no team, so they can't go far. Mme. (Dominique) Anglade is smart and a good person, but that's not what puts you over the edge in politics."
Wilhelmy said he had not yet decided how he would vote, but felt it's important to have a strong opposition in the National Assembly.
CAQ Leader François Legault "was basically able to do whatever he wanted because there was a pretty weak opposition," said Wilhelmy, wearing a T-shirt that read in French: "I'm not perfect, but I'm so close it's scary."
Staunch Liberal voter Nancy Thomas, 86, said she has no plans to change her allegiance, but added she recognizes that changing demographics have eroded the traditional Liberal base.
"The dynamics of Lachine have changed," Thomas said. "There are lots of new people and different people. And they are entitled to their opinions."
Like other parts of the West Island, Marquette is experiencing a housing boom, with high-end condos being built by the scores in the eastern sector of Lachine.
According to statistics at Elections Quebec, Marquette is a nearly bilingual riding — and the one in the West Island with the highest percentage of francophones — with 46 per cent identifying as French speakers, 36 per cent English speakers, and 11 per cent whose mother tongue is neither French nor English. (The rest indicated "multiple languages.")
There are more single-parent families in Marquette compared with the provincial average and nearly twice the number of visible minorities. Despite the large number of new homes being built, the riding doesn't have more immigrants than the provincial average. The riding has areas of extreme poverty along with ultra pricey mansions by the waterfront.
As with all ridings with a large proportion of anglophones, language is a key issue here. Several voters expressed anger about CAQ legislation: Bill 96, which bolsters French-language regulations; Bill 21, which prohibits state employees like teachers from wearing religious clothing on the job; and Bill 40, which abolished school boards, though English boards remain while the law is being challenged in court.
Though the Liberals initially supported Bill 96, they eventually voted against it. Of the people the Gazette approached, none said they planned to vote for one of the so-called "protest parties" — Bloc Montréal and the Canadian Party of Quebec — that have positioned themselves as alternatives to the Liberals and have said they would repeal the bill.
The Liberals have pledged, if elected, to roll back parts of the legislation, including the use of the notwithstanding clause to shield it from court challenges, and the imposition of a six-month deadline during which newcomers can access government services in a language other than French.
Québec solidaire supports most of Bill 96, but pledged to remove the six-month rule for immigrants. The PQ would repeal the law and replace it with even stronger legislation in a bid to protect the French language. The Conservative Party would also repeal the Bill 96, and says it would replace it with a law that wouldn't punish the "historical" anglophone community.
Back in Lachine, resident Jamie Boudreau, 28, said people his age no longer see language and sovereignty as crucial issues.
"I think the newer generation is different from the old generation with separation and English versus French," said Boudreau, who grew up in Lachine and is the father of a 4-year-old. "The new generation of French kids speaks proper English. It's not how it used to be anymore."
Among voters approached by the Gazette who identified as CAQ supporters, many skewed older, which is consistent with the party's province-wide support among those 50 and up.
Gilles Gervais, 73, said he feels Legault has done a good enough job to merit being re-elected.
"I give credit to Legault," Gervais said. "He made some mistakes, but the ones going up against him would not have done better."
His wife Rachel Beaulieu, 69, agreed.
"Health care is important for me, and the CAQ is already there and they know what we need," she said.
jmagder@postmedia.com
twitter.com/jasonmagder
Quebec election: The burning question of climate change

Quebec election: As inflation hits hard, voters skeptical about a fix

Quebec election: Affordable housing a growing concern in trendy Verdun

Quebec election: Ridings to watch in the Montreal region