Party co-spokesperson easily re-elected in her riding, while the QS candidate for premier, Gabriel Nadeau-Dubois, cruises to win in Gouin.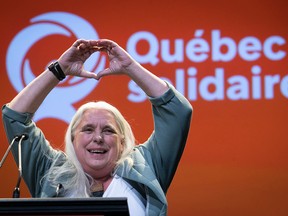 Québec solidaire co-spokesperson Manon Massé addresses a crowd of supporters at MTelus on Monday night.

Photo by Pierre Obendrauf

/

Montreal Gazette
For live coverage of election day, please tap here.
Sign up to receive daily headline news from the Montreal Gazette, a division of Postmedia Network Inc.
By clicking on the sign up button you consent to receive the above newsletter from Postmedia Network Inc. You may unsubscribe any time by clicking on the unsubscribe link at the bottom of our emails. Postmedia Network Inc. | 365 Bloor Street East, Toronto, Ontario, M4W 3L4 | 416-383-2300
Thanks for signing up!
A welcome email is on its way. If you don't see it, please check your junk folder.
The next issue of Montreal Gazette Headline News will soon be in your inbox.
The mood at the Québec solidaire election night party in downtown Montreal was upbeat and energized from the moment the polls closed and it stayed that way, despite the early call that the Coalition Avenir Québec had achieved a decisive majority.
QS supporters crowded into the MTelus concert venue as soon as polls closed Monday evening. Chanting "On avance, on avance, on recule pas" ("We advance, we advance, we won't go back"), the crowd grew larger and more joyous as the evening went on.
The room erupted when news first came that the party's co-spokesperson, Manon Massé, was elected in Sainte-Marie—Saint-Jacques, and seconds later that the party's candidate for premier, Gabriel Nadeau-Dubois, had won his riding of Gouin.
"Québec solidaire is more than a political party, it is a movement, and you have made that possible," Massé told the crowd as she took to the stage shortly after 9 p.m., soon after it was declared that she had won a third mandate as a member of the National Assembly.
As she had in the 2018 election when she was the party's candidate for premier, Massé won close to 50 per cent of the vote in her riding, leaving her closest opponents, Liberal Christopher Baenninger, the CAQ's Aurélie Diep, and the PQ's Phoeby Laplante, far behind.
Nadeau-Dubois also cruised to victory, with early results showing he had close to 58 per cent of the votes in his riding of Gouin, well ahead of his closest rivals, the PQ's Vincent Delorme and the CAQ's Catherine Pelletier, who were almost tied in second place in that riding, with Liberal Rita Ikhouane trailing at 13 per cent.
Nadeau-Dubois won his riding in 2018 with 59 per cent of the vote, easily beating his closest rival then, the PQ's Olivier Gignac.
Nadeau-Dubois had been hinting in the last days of the campaign that official opposition leader was probably the best he could hope for in this election, and was already talking to some voters about his hopes for "next time".
Although fighting climate change was the main plank of the QS platform, Nadeau-Dubois ended the campaign focusing on controversial statements by Coalition Avenir Québec Leader François Legault and his outgoing immigration minister, Jean Boulet.
In the last week of the campaign, Legault told the Montreal Chamber of Commerce that raising immigration levels beyond 50,000 a year, as QS wanted to do, would be "suicidal" for Quebec. Boulet had said at a candidates' debate on Sept. 21 that "80 per cent of immigrants go to Montreal, do not work, do not speak French or do not adhere to the values of Quebec society." Boulet apologized and said he did not actually believe what he'd said. Legault, on the other hand, claimed he was simply speaking up to defend the French language.
QS candidates were leading or declared elected in the same half dozen ridings they had won in the 2018 election.
In Mercier, incumbent Ruba Ghazal was elected, cruising far ahead of her closest rivals, Liberal Catherine Boundjia and the PQ's Sabrina Mercier-Ullhorn. Ghazal had won almost 55 per cent of votes cast in that riding in 2018.
In Laurier-Dorion, incumbent Andrès Fontecilla also cruised to a comfortable victory, ahead of Liberal Deepak Awasti, and the CAQ's Vicki Marcoux, among others. Last time, Fontecilla received 47 per cent of the votes in this riding.
In Rosemont, incumbent Vincent Marissal was pulling ahead of the CAQ's Sandra O'Connor and the PQ's Pierre-Luc Brilliant.
Meanwhile, in Maurice-Richard, QS's Haroun Bouazzi was elected ahead of the CAQ's Audrey Murray, while Liberal Jonathan Marleau was in third place. In 2018, that riding went Liberal, with Marie Montpetit, who did not run this time.
Elsewhere, the north central ridings of Viau and Acadie all seemed to be going Liberal again, as they did in 2018.
In Viau, incumbent Frantz Benjamin was pulling ahead of QS's Renée-Chantal Belinga, while the CAQ's Justine Savard was in third place. In 2018, Benjamin took this riding handily with 47 per cent of votes cast, with almost double the votes of her nearest rival, who was QS's Sylvain Lafrenière.
In Acadie, Liberal André A. Morin was well ahead of his closest challenger, QS's Elyse Lévesque, who was almost tied with the CAQ's Rosmeri Otoya Celis in early returns. Last time, Liberal Christine St-Pierre easily took this riding with almost 54 per cent of votes cast.
mlalonde@postmedia.com
Tap here for complete Quebec election coverage