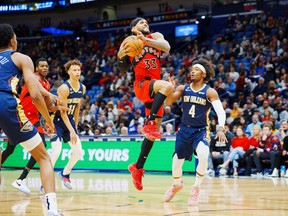 Raptors' Gary Trent Jr. shoots the ball against New Orleans Pelicans Devonte' Graham during the first quarter at Smoothie King Center on Wednesday, Nov. 30, 2022.

Photo by ANDREW WEVERS

/

USA TODAY SPORTS
NEW ORLEANS — There was nothing easy about the Big Easy for the Raptors on this particular trip.
Outside of three consecutive possessions to start the game where Pascal Siakam backed down Pelicans' ace defender Herbert Jones and scored on him with ease, this night was full of all kinds of difficulties as the Raptors were handed one of their worst beatdowns of the season in an 126-108 loss.
As the Canadian national soccer teams head to their respective FIFA World Cups, Derek Van Diest is on the scene to cover all the action. Expect expert insights and analysis in your inbox daily throughout the tournaments, and weekly on Thursdays for the rest of the season.
By clicking on the sign up button you consent to receive the above newsletter from Postmedia Network Inc. You may unsubscribe any time by clicking on the unsubscribe link at the bottom of our emails. Postmedia Network Inc. | 365 Bloor Street East, Toronto, Ontario, M4W 3L4 | 416-383-2300
Thanks for signing up!
A welcome email is on its way. If you don't see it, please check your junk folder.
The next issue of Corner Kicks with Derek Van Diest will soon be in your inbox.
Siakam's quick start was quickly forgotten as the Pelicans' Zion Williamson took advantage of two early O.G. Anunoby fouls and went to town on whatever coverages the Raptors tried to throw at him.
He had 11 points before he sat down with about two minutes left in the quarter and the rout was on.
Williamson's combination of brute strength and surprising handle had him continually getting to the rim with ease.
When he finally sat down the Pelicans moved outside where they were good on 13 of 29 attempts from distance.
Any chance of a comeback ended about 40 seconds into the third quarter when Fred VanVleet was whistled for his second technical as he clapped facetiously in the face of an official who had awarded the Raptors the ball on a turnover.
His first technical in the first half was actually arguing an out-of-bounds call he thought should have resulted in a Toronto possession.
Down 31 at one point in the third quarter, the Raptors got the deficit all the way down to 11 with five minutes to go.
That was as close as the comeback would get.
Gary Trent Jr., who came off the bench for the second consecutive game, had his biggest scoring night of the season, finishing with 35 points on 12-of-20 shooting. He was 6-for-11 from three-point range.
Siakam was next most dangerous on the night with 23, the only starter outside of O.G. Anunoby who had 12 to even get into double digits.
The Pelicans were led by Williamson's 33 and eight rebounds although the more surprising stat line was probably the 26 they got from Trey Murphy, who had 26 including a 6-for-12 night from behind the arc in a rare start.
One-time Raptor Jonas Valanciunas did his work, too, with a 16-point, 13-rebound double-double.
Head coach Nick Nurse said before the game that his starting lineup remained in flux. He brought Scottie Barnes back into that starting five but kept Trent Jr. coming off the bench.
Barnes responded with just four points and five assists in 21 minutes in one of his least effective nights as a Raptor.
THE EVOLVING LINEUP
The changes in the starting five went from two down to one.
"I think I was buying a little time there," Nurse said of the surprising changes to the starting five a game ago. "Just to see again, how we felt about which guys we thought were back in rhythm to play with the starting group and mixing that up.
"I think we make one change tonight and then we will evaluate it after that again."
Back in his regular sport with the starting five was Barnes. Remaining in a reserve role, albeit one in which he is the primary scorer with that second unit, was Trent Jr.
Juancho Hernangomez came out of the starting five to make room for Barnes.
Thad Young, the wily vet who played himself into a position of prominence during the three weeks when the Raptors were hardest hit by injury, remained with the starters.
'Three-peat for sure,' VanVleet says of Raptors had Kawhi Leonard stayed in Toronto

Pascal Siakam dominates in return to lead Raptors past Cleveland Cavaliers

Nick Nurse's shuffled Raptors' rotation worked for one night, but does it have legs?
PROBLEMS OF THEIR OWN
As the Raptors appear to be coming out of their injury/illness nightmare, the Pelicans seem to be caught in a little one — certainly little in comparison to Toronto' — of their own.
C.J. McCollum is about nine days into his VanVleet-like cold/flu battle while Brandon Ingram remains out with a left big toe contusion.
That's two key starters down. It's three games and counting for McCollum and two games so far without Ingram.
LOOKING AHEAD
The Raptors get the Brooklyn Nets on Friday and that means a heavy dose of Kevin Durant and Kyrie Irving.
What the Raptors won't have to deal with are the combination of Ben Simmons and, for the second time in as many games with Brooklyn, old friend Yuta Watanabe.
Simmons is out for at least the next three Brooklyn games with a calf strain while Watanabe, the NBA's top three-point shooter at the moment, is nursing a hamstring strain.
mganter@postmedia.com