As of 11 p.m., Liberal incumbent Marie-Claude Nichols was ahead of CAQ's Eve Bélec in Vaudreuil.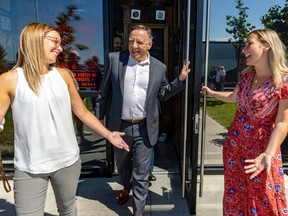 François Legault leaves a campaign lunch with Coalition Avenir Québec candidates Eve Bélec, left, and Marilyne Picard in Vaudreuil-Dorion Sept. 3, 2022.

Photo by John Mahoney

/

Montreal Gazette
For live coverage on election day, please tap here.
Sign up to receive daily headline news from the Montreal Gazette, a division of Postmedia Network Inc.
By clicking on the sign up button you consent to receive the above newsletter from Postmedia Network Inc. You may unsubscribe any time by clicking on the unsubscribe link at the bottom of our emails. Postmedia Network Inc. | 365 Bloor Street East, Toronto, Ontario, M4W 3L4 | 416-383-2300
Thanks for signing up!
A welcome email is on its way. If you don't see it, please check your junk folder.
The next issue of Montreal Gazette Headline News will soon be in your inbox.
The Coalition Avenir de Québec consolidated its stronghold in the "450" region that rings Montreal in Monday's 2022 provincial election with wins in Soulanges and Beauharnois.
But in a key battle for the Vaudreuil riding west of Montreal, Liberal incumbent Marie-Claude Nichols was leading the CAQ's Eve Bélec by more than 600 votes at 11 p.m. in a seesaw dual that saw Nichols rally after trailing early in the evening.
With 190 of 208 polls reporting, Nichols collected 12,517 votes (34.4 per cent), with Bélec in second with 11,906 votes (32.7 per cent).
Ève Théoret of the Conservative Party of Quebec was third with 4,283 votes (11.8 per cent).
It would stand as a major win for the Quebec Liberals, who have held the seat through nine elections dating back to 1989 when the riding was recreated from the old Vaudreuil-Soulanges riding. Former Quebec premier Daniel Johnson Jr. held the seat from 1989 to 1998, followed by Yvon Marcoux from 1998 to 2014.
Nichols, a 48-year-old family lawyer, was first elected as the Liberal MNA in 2014.
Although the riding has been in the Liberal fold for 33 years, Nichols said she never took it for granted.
"I don't think Vaudreuil is a Liberal (stronghold) even though it was red for the last 40 years. In 2018, it was also a difficult campaign. So I felt it four years ago. That's why I've been working hard for the last four years. I took nothing for granted."
She easily won the 2014 election with 61 per cent of the vote, finishing well ahead of runner-up Marcos Archambault of the PQ at 16 per cent.
But in the 2018 election, the CAQ narrowed the gap. Nichols won with 39.92 per cent of votes, while the CAQ's Claude Bourbonnais collected 32.63 per cent.
in the final week of this 2022 campaign, the polling aggregate site Qc125.com showed Bélec, executive director of Carrefour Jeunesse-Emploi de Vaudreuil-Soulanges, holding a six-per-cent lead over Nichols.
Bélec did not respond to an interview request, but Nichols told the Montreal Gazette she felt a CAQ wave coming during the campaign.
"The CAQ were very strong. I felt it when I went to seniors' residences. They don't know about Eve Bélec, but they like François Legault. They love François Legault. I don't understand that, but the older people, like 60 years and older, they like or don't like François Legault. There is no in-between. It's black or white."
Nichols says she is surprised at Legault's popularity with older voters.
"I don't understand it. Because during COVID, those people that were living in seniors' residences, it was like living two years in a box. So I don't understand, but what they're saying to me is that he was good during COVID. He was acting like the father of the family, so maybe that's why."
The Vaudreuil riding is comprised of seven off-island municipalities: Vaudreuil-Dorion, Île-Perrot, Notre-Dame-de-l'Île-Perrot, Pincourt, Terrasse-Vaudreuil, Vaudreuil-sur-le-Lac and Île-Cadieux.
Nichols previously served as mayor of Notre-Dame-de-l'Île-Perrot from 2009 to 2014. She was also the prefect for the MRC Vaudreuil-Soulanges, a political body that represents 23 municipalities in the area. She said the key concerns of constituents this election have focused on the future Vaudreuil-Soulanges Hospital and public transport.
Nichols said there are also concerns about plans for a new Île-aux-Tourtes Bridge linking the West Island with Vaudreuil-Dorion.
The new bridge, like the current span, will have three lanes in each direction. It will also have a bicycle and pedestrian path and a wide shoulder lane on each side, but there will be no lane reserved for buses or public transit on the new bridge.
"The problem here in Vaudreuil is that the REM is going to stop in Ste-Anne-de-Bellevue," she said.
"When the Liberal party was (in power), we did the design for the new bridge and there were two lanes for public transport. But after the CAQ was elected, they put all that aside and they designed a new bridge without those lanes for public transport. So this is one of my big worries."
Nichols said residents of the fast-growing Vaudreuil-Soulanges area are also anxious for the new $1.7-billion hospital, which will be located on de la Cité-des-Jeunes Blvd. in Vaudreuil-Dorion.
She said many local residents now travel to Hawkesbury General Hospital in Ontario for health care.
Elsewhere, Marilyne Picard of the CAQ was re-elected in Soulanges riding.
With 134 of 199 polls reporting, Picard collected 10,715 votes (41 per cent), well ahead of Liberal Catherine St-Amour, who had 6,225 votes (23.8 per cent).
Conservative candidate Éloïse Coulombe was third with 3,349 votes (12.8 per cent).
With 101 of 158 polls reporting in Huntingdon riding, the CAQ's Carole Mallette easily won with 7,450 votes ( 44.1 per cent).
Liberal candidate Jean-Claude Poissant was second with 2,643 votes (15.3 per cent). Conservative candidate François Gagnon was third with 2,450 (14.5 per cent).
With 136 of 175 polls reporting in Beauharnois riding, CAQ incumbent Claude Reid was easily re-elected with 13,433 votes (53.2 per cent).
Claudine Desforges of the Parti Québécois was second with 4,364 votes (17.3 per cent), followed by Émilie Poirier of Québec solidaire with 3,289 (13 per cent).