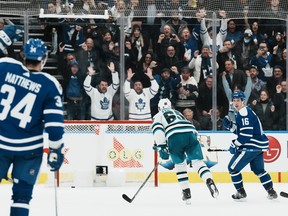 Maple Leafs' Mitchell Marner turns to celebrate after scoring his team's third goal against the San Jose Sharks late in the third period on Wednesday, Nov. 30, 2022.

Photo by CHRIS YOUNG

/

THE CANADIAN PRESS
One game, one point, and one Maple Leafs streak to all but call his own.
That's where the remarkable and occasionally confounding Mitch Marner finds himself this morning: Knocking on the door of Toronto hockey record books.
As the Canadian national soccer teams head to their respective FIFA World Cups, Derek Van Diest is on the scene to cover all the action. Expect expert insights and analysis in your inbox daily throughout the tournaments, and weekly on Thursdays for the rest of the season.
By clicking on the sign up button you consent to receive the above newsletter from Postmedia Network Inc. You may unsubscribe any time by clicking on the unsubscribe link at the bottom of our emails. Postmedia Network Inc. | 365 Bloor Street East, Toronto, Ontario, M4W 3L4 | 416-383-2300
Thanks for signing up!
A welcome email is on its way. If you don't see it, please check your junk folder.
The next issue of Corner Kicks with Derek Van Diest will soon be in your inbox.
Separated from the thousand or so players who have suited up for the Leafs over the years.
Almost alone, one point in one game away from doing what no one has managed before in Blue and White.
Marner belongs on the shortest of short lists right now, along with the Hall of Famer Darryl Sittler and Ed Olczyk, two players of different times and different eras, and certainly stylistic opposites.
But that doesn't seem to matter this morning.
What matters is that Marner — after attempting to make a pass on an empty net, after missing the same empty net seconds later — slid a puck into that empty net to clinch a rather unimpressive win over the San Jose Sharks on a night when tying an age-old record appeared to mean a whole lot more than any kind of victory.
Marner now has scored points in 18 straight Leafs games. Frank Mahovlich never did that. Voted the greatest Leaf, Dave Keon never did that. Ted Kennedy or Syl Apps never did that. Sittler did and Olczyk equalled it years later. No one else has come close to scoring in 18 straight.
Nineteen is the record. Nineteen can be his, one game from now.
How great is scoring points in 18 consecutive games?
Bobby Orr did that once. Just once. Yes, Bobby Orr. Bobby Clarke did it once. Same for Gilbert Perreault. Phil Esposito never did it. The most games Mats Sundin scored in a row for the Leafs was 11. Lanny McDonald hit 12.
The numbers matter here, even if they happen to come in November and maybe December. The numbers matter because of how many men have suited for the Leafs and how few have come even close to doing this.
Marner was already on a list of his own before tying the consecutive game-scoring streak. He was first-team all-star at right wing last season and the season before that. That's the first time any Toronto forward has ever done that. And now, this record, when looked at from a league perspective, is something that matters.
Of the top 10 scoring streaks in NHL history, five belong to Wayne Gretzky. Two to Mario Lemieux. The other three: Steve Yzerman, Guy Lafleur and Sundin, back when he played for the Quebec Nordiques.
That's Gretzky and Lemieux, the two greatest scorers in hockey history. That's Lafleur, maybe the most dynamic right winger. That's Yzerman and Sundin, first-ballot Hall of Famers. That's your top 10.
Marner has tied a Toronto mark, but he has a place to go as an all-time great. Even an all-time Leafs great. What made Doug Gilmour so special was his ability to score, to make plays, to accumulate points when it mattered most. He will forever be remembered and beloved for that.
Sittler has similar post-season accolades. The bigger the game, the greater the opponent, and the more he seemed to shine. Sittler and Larry McDonald matched up brilliantly against Bryan Trottier and Mike Bossy, against Clarke and Bill Barber.
Marner has yet to have a signature post-season, which is partly why Leafs fans are still back and forth on him. He seems to love and hate playing in Toronto, depending on the day. This is his hometown team. This is his only team. He seems forever conflicted by being a small man expected to do giant things in this city.
And since coming to the NHL, he has mostly done that. The only right-wingers with more points than Marner in seven seasons are named Patrick Kane and Nikita Kucherov. The only winger with more assists: Kane. This is elite, regular season elite.
Once this record is put to bed — whenever that is — the next step for him to take, for his team to take, is to do his Gilmour thing. To dance when everyone is watching.
To make himself a figure for the ages. Not a November figure for the ages, but a figure who lasts forever. He has played more seasons for the Leafs than Gilmour managed, but without similar post-season results. That's what matters most in hockey.
Just not today. Today is about tying a record. Today is about almost being blanked against a run-of-the-mill NHL team. Marner had his first shot at an empty net after Pierre Engvall scored Wednesday night and foolishly did the "I'm a team guy" thing and tried to pass to Michael Bunting. It didn't work. Then he had his first shot at the empty net. He missed.
MAPLE LEAFS NOTES: Toronto and its fans say final goodbye to Borje Salming

Mitch Marner ties points record as red-hot Maple Leafs defeat Sharks

Maple Leafs Update: Marner on a mission
The third one bought him a piece of the Leafs record — right there alongside Sittler and Olczyk. Coach Sheldon Keefe was wise enough to call time out after the Leafs took a 2-1 lead, ostensibly to secure the win, but primarily to get Marner one more point.
Eighteen games with a point. More than a thousand Leafs players before him have never accomplished this. One record tied. One point to go. One more chance at Maple Leafs history.
ssimmons@postmedia.com
twitter.com/simmonssteve