It's the first major winter storm of the season for B.C.'s south coast region. Check back for updates on road conditions, cancellations and closures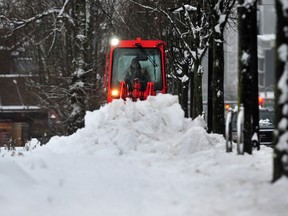 File photo from Jan. 6, 2022, when snow blanketed Burnaby and other parts of Metro Vancouver.

Photo by NICK PROCAYLO

/

PNG
Get out your snow shovel! The B.C. south coast region, including Metro Vancouver and the Fraser Valley, is being hit with its first big winter snowstorm of the season.
Environment Canada has a weather warning in effect due to "significant" snowfall starting late Tuesday afternoon to early Wednesday morning. Weather Network meteorologist Tyler Hamilton says Wednesday morning will be "an absolute mess" with large amounts of snow and high winds.
Start your day with a roundup of B.C.-focused news and opinion delivered straight to your inbox at 7 a.m., Monday to Friday.
By clicking on the sign up button you consent to receive the above newsletter from Postmedia Network Inc. You may unsubscribe any time by clicking on the unsubscribe link at the bottom of our emails. Postmedia Network Inc. | 365 Bloor Street East, Toronto, Ontario, M4W 3L4 | 416-383-2300
Thanks for signing up!
A welcome email is on its way. If you don't see it, please check your junk folder.
The next issue of Sunrise presented by Vancouver Sun will soon be in your inbox.
Check back for more weather updates. Scroll to the bottom section of the story for tips to deal with snow and cold weather.
B.C. Ferries, YVR flights cancelled
Dozens of flights out of Vancouver airport and all major B.C. Ferries sailings were cancelled on Tuesday afternoon as snow started falling across the Lower Mainland.
B.C. Ferries said it expects to cancel all sailings from 3 p.m. Tuesday between the mainland and Vancouver Island, including those between Tsawwassen and Swartz Bay in Victoria, Tsawwassen and Duke Point near Nanaimo, and Horseshoe Bay and Departure Bay in Nanaimo.
YVR's departures list showed nearly three dozen cancelled flights for Air Canada, WestJet and other airlines as snow began to accumulate Tuesday afternoon. Many other flights headed to Vancouver were also been cancelled. Monitor YVR's website and check with your airline if you had planned to travel tonight or tomorrow.
Highway travel advisories in effect
Drive B.C. issued widespread travel advisories for highways across the south coast and beyond on Tuesday.
Drivers were being warned to expect winter conditions on the Trans-Canada from West Vancouver to Hope, the Coquihalla between Hope and Merritt, and highways 17 and 99 from the ferries through the Lower Mainland and Fraser Valley.
The advisories will be in effect until at least Thursday in much of the region.
How much snow will we get?
Weather Network meteorologist Tyler Hamilton says up to 20 centimetres of snow will fall over the Lower Mainland over a 12-hour period.
North Vancouver, Coquitlam and Maple Ridge are expected to get the heaviest snowfall, with up to 20 cm forecasted by Environment Canada, while Vancouver, Burnaby, New Westminster, Surrey, Langley and Abbotsford could get between 10 to 15 cm of snow.
The North Shore mountains could get up to 50 cm of snow. Whistler is also expected to get a massive dump.
Areas south of the Fraser River — like Delta and White Rock — will be spared the brunt of the impact and likely see around 10 cm of snow.
Vancouver weather forecast: Snow, rain, wind … more snow?
The snow is expected taper off to rain or flurries Wednesday morning for Metro Vancouver and the Fraser Valley east to Abbotsford. For areas further east, however, the snow is expected to taper off Wednesday afternoon.
Temperatures are expected to rise above freezing on Wednesday, so there will be a lot of slush that is likely to lead to power outages.
Temperatures will cool again on Thursday, with some light rain or flurries expected.
Hamilton is forecasting another snow event on Friday, which could also be significant.
"It's not a one and done," said Hamilton. "We are likely going to see a couple of snowfall events this week."
Will any schools be closed on Wednesday?
With any major snowfall in Metro Vancouver, there's always the possibility of school closures. We'll be monitoring the districts on Wednesday morning and will update this list with any public school and post-secondary school closures. (Note: The link won't work unless there are closures announced on Wednesday morning.)
Winter weather tips and tricks
Watch: Snow shovelling safety tips
Before you put on your winter woolies and grab that snow shovel, watch this video for tips on how to clear that driveway safely.
1. Walk like a penguin when the path is icy: Point your feet outward and relax your knees. Holding your arms away from your sides to maintain your balance, walk slowly and flat-footed, taking short steps.
2. Put kitty litter in your pockets or a zip-lock bag: If you find yourself faced with icy walks, icy steps or slippery slopes, sprinkle litter to improve traction. Sand works, too. Avoid commercial de-icers, which should be handled with gloves.
3. Get out the ski poles: They are a good way to add stability when you walk. Check the garage, there is nearly always a set of ski poles around. Buy ice picks if you use a cane.
4. Step to the side: If your path looks icy, you may get better traction by walking on snow or grass. If you have to climb on accumulated snow to get in the car, keep a good grip on the door.
5. Choose footwear with winter treads made of natural rubber: Avoid dress shoes with smooth soles, and put away your high-heeled boots, they can be deadly. Wear a long, heavy coat to cushion your fall.
— Postmedia files
6 tips for safe winter driving
Motorists who plan to travel by car during snowy conditions should pack an emergency medical kit that includes a supply of food, water and warm blankets. You should also have a shovel, ice-scraper and brush in your vehicle at all times.
Here are some other winter driving tips:
• Remove all the snow and ice from the car windows, tail lights and headlights before setting out.
• Go slowly. Never speed in wintery conditions. Give yourself extra time.
• Gradual starts and stops are the way to go when traveling in the snow. Never slam on the brakes. Instead, tap the brakes or downshift, gradually coming to a stop. This will prevent skidding as well as rear-enders.
• Avoid sudden acceleration. Flooring the gas pedal causes the wheels to spin in snow, often causing the car to get stuck. Avoiding complete stops can help drivers avoid getting stuck in the snow.
• Never try to overtake a snowplow unless you are certain it is completely safe.
— Postmedia files
Watch: Cold weather safety: 7 things to know
Even with central heating, some rooms can benefit from the use of space heaters. However, precautions should be taken to minimize fire risk.
Use space heaters in an enclosed space, in the corner of the room while keeping doors to the room shut to keep warmth in, according to B.C. Hydro. Never leave the device unattended or use within three feet of anything combustible. It should be plugged directly into an outlet.
To ensure it won't tip over, use it on a level floor and never go to sleep with the heater on. Turn it off when you leave the room.
Check for drafts in the home and apply weatherstripping, as well as window coverings, to prevent cold air gusts coming in.
Watch these seven cold-weather safety tips from Environment Canada:
Sources: Canadian Institute for Health Information, Canada Safety Council, Marshfield Clinic.
Snowstorm forecast to bring 20 cm or more to parts of Metro Vancouver

Walk like a penguin and other safety tricks for icy conditions