But he said Taiwan is not expecting the world to save it from a Chinese invasion that seems increasingly likely. More than ever, Taiwan has the 'will to fight'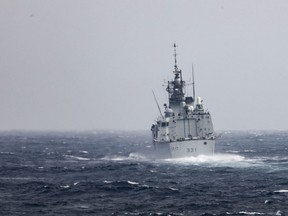 The Royal Canadian Navy Halifax-class frigate HMCS Vancouver (FFH 331) transits the Taiwan Strait with guided-missile destroyer USS Higgins (DDG 76) while conducting a routine transit on Sept. 20, 2022.
Photo by Mass Communication Specialist 1st Class Donavan K. Patubo/U.S.Navy via AP
Taiwan's foreign minister urged Canada Thursday to continue sending its warships through the troubled waters of the Taiwan Strait, saying his country welcomes such support as it readies for a Chinese invasion that seems increasingly likely.
Jaushieh Joseph Wu said he'd also like Canada to work with Taiwan in promoting democratic values worldwide, and use the Indo-Pacific strategy being drafted by the Liberal government to align their strategic interests.
Sign up to receive the daily top stories from the National Post, a division of Postmedia Network Inc.
By clicking on the sign up button you consent to receive the above newsletter from Postmedia Network Inc. You may unsubscribe any time by clicking on the unsubscribe link at the bottom of our emails. Postmedia Network Inc. | 365 Bloor Street East, Toronto, Ontario, M4W 3L4 | 416-383-2300
Thanks for signing up!
A welcome email is on its way. If you don't see it, please check your junk folder.
The next issue of NP Posted will soon be in your inbox.
But he said the island is not expecting Canada or the international community generally to save it from the China threat. More than ever, Taiwan and its people have the "will to fight" on their own if necessary, and take great inspiration from Ukraine and its surprising resistance to the attack by Russia, said Wu.
In the end, said the foreign minister, "it's our belief that democracy will prevail."
Asked how middle-power countries like Canada could help amid the escalating tension in the region, he called in part for closer economic ties between Ottawa and Taipei.
But Wu also singled out how one Canadian and one American warship sailed last week through the Strait, the 180-kilometre-wide body of water that separates the island from mainland China. It was the second time in less than a year the two countries had carried out such a joint mission.
"It shows Canadian interests in maintaining peace and stability in this area," the minister told a group of international journalists on a week-long tour funded by his department. "We hope the Canadian government can continue to do that, to show it is taking actions to make sure the emphasis on peace and stability in the Taiwan Strait is backed up by action."
China's People's Liberation Army took a different view of the ships' journey through the Strait, saying it had "warned them" and stating that it resolutely counters "all threats and provocations" and defends its territorial integrity.
Canada plays a generally careful balancing act with Taiwan. Under the one-China policy it and most other nations follow, Ottawa neither accepts nor rejects Beijing's claim to the island. But it affords diplomatic recognition only to mainland China.
Odds of China invading Taiwan up 'drastically,' government think tank says

Last Canadian cabinet minister to visit Taiwan on China's more aggressive foreign policy
Conflict between democratically governed Taiwan — which considers itself a sovereign nation — and the People's Republic has escalated in recent weeks. China insists Taiwan is an errant province and President Xi Jinping has repeatedly said the territories must be "reunited," refusing to rule out using force to make that happen.
Last month, China encircled the island with warships and fired missiles overhead in what it said was a protest against the visit to Taipei by Nancy Pelosi, speaker of the U.S. House of Representatives.
President Joe Biden later pledged that the States would defend Taiwan if it was attacked by China.
But Wu said he believes Pelosi's visit was just a "pretext" for Beijing to try out its military capabilities against Taiwan.
"They used this to practice their playbook for their future invasion," he said.
The minister said Taiwan realizes it must be ready for war given the sabre-rattling that China has practiced over the last three years, frequently sending military planes into Taiwan's "air-defence" zone and naval ships into Taiwan's side of the median line dividing the Strait. Cyber warfare and disinformation campaigns have added to the pressure, he said.
In preparing for the possibility of attack, Taiwanese people have kept a close eye on Ukraine, said Wu, and its ability to hold out against a much-bigger nation that dwarfs it in military might.
"The will to fight here in Taiwan is higher than ever … especially after seeing what happened in Ukraine," he said. "This is our people, this is our land, this is our country, this is our democratic way of life. We are not going to give it to an authoritarian regime like China."
Wu praised Canada for promoting its inclusion in multi-lateral bodies like the World Health Organization and Montreal-based International Civil Aviation Organization, roles often blocked in recent years by China. And he said he hopes Canada soon signs an investment protection agreement that's long been negotiated between the jurisdictions.
Wu also called for an alliance between them in encouraging liberal ideals globally.
"Taiwan and Canada share the same values of freedom and democracy and protection of human rights," he told the news-media group. "We hope we can engage Canada more … to promote freedom and democracy and human rights in other parts of the world."
(The National Post is in Taiwan at the invitation and with the support of the Taiwanese Ministry of Foreign Affairs, which has no input on the coverage.)